BRC ZONE MESA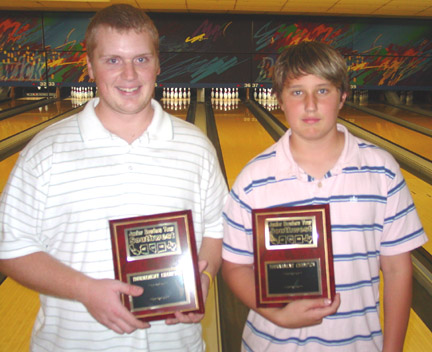 champs Chris Weyrauch & Justin Givler
Chris Weyrauch ended a long victory drought, while Justin Givler tasted victory for the first time, in exciting JBT SW action at BRC Zone Mesa.
A condensed version of the extremely popular new 'Best in the West' format was used for the event, which used a matchplay point system to determine the eight finalists in each division. This produced many heartstopping moments all over the bowling center for the six hours of matches, which we hope was an exciting change of pace for our final event of the regular season.
The scratch finals opened with the 8 bowlers rolling one game, from which the top 4 advanced. In that game, top point-scorers Mike Armstrong (234) and Chris Weyrauch (214) advanced, along with Kevin Saunders (226) and Theo Douthit (221). Lanndyn Carnate (195), Savahna Porter (202), Eric Rubin (158), and Brandon Donnelly (210) were eliminated, finishing 5th-8th.
In the round of four, Saunders led with a 218, and Weyrauch followed with 214, eliminating Douthit (212) and Armstrong (193), setting up the title match. In the finale, Weyrauch doubled in the tenth to lock up a 243-223 win, good four his fourth career JBT title, and first since 2003.
The handicap division had a 3-way tie for the eighth and final spot, and in that rolloff Brandon Davis struggled to 158, while Joey Longo defeated big brother Brandon Longo by one pin, 212-211, to advance. In the first round of the finals, Kayla Frederick (246), Justin Givler (244), Samatha Aguilar (280), and Keanan Barton (216) all advanced, while top scorer Jay Prewitt (212), Chelsea Zemelka (198), Jason Moore (176), and Longo (199), were all eliminated.
Givler got hot in the round of four, firing a 228 to lead the scoring, followed by Frederick's 200 to join Justin in the final, ousting Barton (187) and Aguilar (184). In the finale, Givler outlasted Frederick 200-181, to claim the first title of his JBT career.
The field is now set for the 2006 JBT SW Arizona Invitational Tournament, the season's final event, featuring a guaranteed minimum $1,000 first place scholarship in each division. Top season-long point scorers also qualify for the 2006 JBT SW Touring Players' Championship, featuring a guaranteed minimum $2,000 first place scholarship per division!
Thanks to everyone at Zone Mesa for another great visit to one of our favorite centers. 102 entrants shared in over $1,500 in scholarships awarded. Please continue to help spread the word about the terrific benefits of bowling JBT SW events!
BRC Zone Mesa- final results and optional scholarship winners
6/4/2006
Arizona Conference
Scratch Division
rank
name
city, state
score
prize
1
Chris Weyrauch
Chandler, AZ
31
$200
2
Kevin Saunders
Goodyear, AZ
27
$147
3
Mike Armstrong
Tucson, AZ
37
$75
4
Theo Douthit
San Diego, CA
23
$107
5
Lanndyn Carnate
Glendale, AZ
29
$50
6
Savahna Porter
Yuma, AZ
27
$75
7
Eric Rubin
Phoenix, AZ
25
$40
7
Brandon Donnelly
Lake Havasu City, AZ
25
$40
9
Miguel Lopez
Peoria, AZ
21
$25
10
Chris Varholdt
Tempe, AZ
21
$20
11
Josh Blanchard
Fresno, CA
21
$16
12
Eric Warren
Phoenix, AZ
21
13
Chris McHenry
Tucson, AZ
21

14
Bryanna Caldwell
Tucson, AZ
19
$15
15
Brian Weyrauch
Tempe, AZ
19

16
Greg Garbera
Glendale, AZ
19

17
Steven Black
Phoenix, AZ
17
$37
18
Greg Shoaf
Phoenix, AZ
17

19
Mike Kremer
Peoria, AZ
17
$37
20
BJ Baker
Tempe, AZ
17
21
Foster Phandanouvong
San Diego, CA
17

22
Curtis Jensen
Freemont, CA
17

23
Robert Majeske
Tucson, AZ
17

24
Zach Simon (yay bowling!)
Scottsdale, AZ
15

25
Bill Grant
Rio Rancho, NM
15

26
Matt Erb
Phoenix, AZ
15

27
Mike Cross
Tucson, AZ
15

28
Dan Bodinet
Phoenix, AZ
15

29
Philip Stephens
Phoenix, AZ
15

30
Tiffany Chi
Prescott, AZ
14

31
Andy Byer
Albuquerque, NM
13

32
Labriel Leach
Tucson, AZ
13

33
Jerod FLorez
Bosque Farms, NM
11

34
Kevin Narciso
Phoenix, AZ
11

35
Jeremy Medina
Santa Fe, NM
11
36
Dan Eagy
Phoenix, AZ
11
37
Justin Medina
Santa Fe, NM
11
38
Kris Beach
Freeport, IL
9
39
Amanda Albani
Phoenix, AZ
9

40
Jonathan Pletcher
Chandler, AZ
9

41
Marc Algeri
Glendale, AZ
9

42
Amanda Falk
Tucson, AZ
9
43
Tyler Addotta
Tucson, AZ
7

44
Elias Ewert
Chandler, AZ
7

45
Kevin Schoenfeld
Phoenix, AZ
7

46
Melissa Del Rio
Tucson, AZ
7
47
Kyle King
Phoenix, AZ
7

48
Rachelle Davis
Tucson, AZ
7

49
Brian Ballard
San Diego, CA
7
50
Megan Withey
Glendale, AZ
7
51
DeShaun Jefferson
Phoenix, AZ
5

52
Merrell Hughes
Chandler, AZ
5

53
Tom Anderson
Chandler, AZ
5

54
Cameron Smith
Santee, CA
5

Handicap Division
rank
name
city, state
score
prize
1
Justin Givler
Phoenix, AZ
26
$200
2
Kayla Frederick
Chandler, AZ
36
$100
3
Keanon Barton
Phoenix, AZ
34
$117
4
Samantha Aguilar
Tucson, AZ
26
$60
5
Jay Prewitt
Chandler, AZ
38
$50
6
Chelsea Zemelka
Phoenix, AZ
32
$40
7
Jason Moore
Phoenix, AZ
26
$30
8
Joey Longo
Phoenix, AZ
24
$30
9
Brandon Longo
Phoenix, AZ
24
$21
10
Ricky Davis
Mesa, AZ
24
$14
11
Kaitlin Mayall
Chula Vista, CA
22

11
Rebeca Reguero
Phoenix, AZ
22

11
Kyle Frederick
Chandler, AZ
22

14
Cris Boyle
Mesa, AZ
20

14
Kylae Kane
Phoenix, AZ
20

14
Kyle Vitzthum
Glendale, AZ
20

17
Steven Pizzi
Avondale, AZ
18

17
Bryce Techmer
Chandler, AZ
18

17
Matt Payne
Phoenix, AZ
18

17
Justus Trader
Prescott Valley, AZ
18

17
Joshua Shoup
Phoenix, AZ
18

22
Michael Curry
Phoenix, AZ
16

22
Gino Salaverria
Phoenix, AZ
16

22
Bryanna Dawson
Chandler, AZ
16

22
Mike Aguilar
Tucson, AZ
16

26
Alex Ellis
Phoenix, AZ
15

26
Barbara Lampkin
Tucson, AZ
15

28
Bethany Baker
Tempe, AZ
14

28
Amy Hammann
Phoenix, AZ
14

28
Corbin Farris
Phoenix, AZ
14
28
Emmanuel Durazo
Phoenix, AZ
14
28
Eric Vitzthum
Glendale, AZ
14

33
Rebecca Bodinet
Phoenix, AZ
12

33
Bo LaLonde
Phoenix, AZ
12

35
Rane Lacona
Phoenix, AZ
10

35
Ty Prewitt
Chandler, AZ
10

35
CJ Crowley
Mesa, AZ
10

35
Cameran Short
Newton, KS
10

35
Tim Radney
Mesa, AZ
10

35
Kylee Bonneville
Mesa, AZ
10

41
Chris Spinner
Mesa, AZ
8
$21
41
Courtney Dutton
Chandler, AZ
8

41
Nicholas Lee
Tucson, AZ
8
41
Justin White
Phoenix, AZ
8
45
Zach Huglin
Gilbert, AZ
6
High Female: Savahna Porter
Ball Winner: Foster Phandanouvong
TOTAL AWARDED THIS EVENT: $1,574