BEST IN THE WEST XIII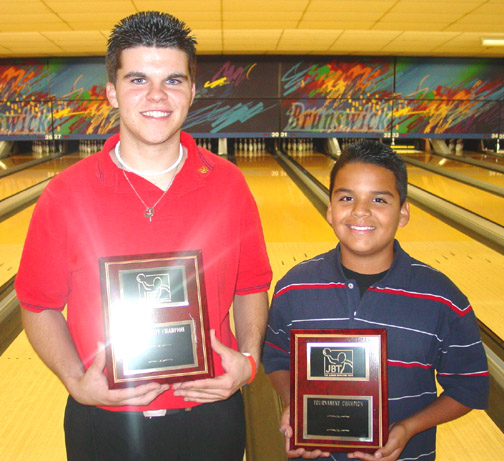 champs Josh Blanchard & Anthony Cruz
Josh Blanchard and Anthony Cruz captured major victories in unique and exciting action in the Best in the West Junior Matchplay Challenge, presented by the Junior Bowlers Tour. Over $5,000 in scholarships were awarded.
A packed house of 122 bowlers competed in 'eliminator brackets' for seven hours on Saturday, accumulating points as they went, with the top 60% point scorers returning for Sunday's competition. Eliminators continued on Sunday as the tension mounted, with every game getting more crucial before a final cut to the top 6 in each division.
In the scratch division, Blanchard and Robyn Ashley tied for the sixth and final spot, and Josh was able to win that rolloff 248-176 to advance to the finals. Seeds 3-6 then played, with the top two scores advancing. In that round, Blanchard's 199 was good enough to advance, as was Brian Weyrauch's 233, with Chris Varholdt (188) and Sam Cuevas (147) being eliminated.
Brian and Josh then joined the top two seeds, Cameron Smith and Brandon Allred, for another round. Blanchard easily advanced with a big 268, and Smith bowed out with 173. Then, after Weyrauch finished with 202, all he could do was watch as Allred needed a mark in the tenth to advance. After leaving a 2-pin, Brandon stunned the crowd (and himself) by missing it, and Weyrauch advanced to the final.
Brian had already had an outstanding event, rolling 300 and 290 on the house pattern on Saturday, and more than holding his own on the PBA Viper pattern on Sunday. However, Blanchard was getting stronger and stronger as the tournament went on. Josh, a junior Team USA member, put on a clinic in the final, defeating Weyrauch 233-202 for his sixth career JBT title, and a very nice $600 scholarship prize.
The handicap finals, following the same format, saw #5 Cruz (220) and #6 Mike May (273) advance out of round one, while #3 Kyle Frederick (209) and #4 Bryce Techmer (210) were eliminated.
Round two was another typically high-scoring match, with top seed Blake Kalaf (251) and Cruz (226) escaping fine efforts from May (226) and #2 seed Kyle Vitzthum (220) to reach the title match.
Kalaf had been at or near the top of the leaderboard for most of the event, the best performance of his JBT career. However, he was up against a tough customer in Cruz, a veteran JBT bowler who has been near victory many times. Anthony was able to string strikes late in the game for a 247-216 win, and a long-awaited first JBT title. He did this throwing an Ebonite bowling ball, so an extra $100 was added for a $700 scholarship windfall for the San Diego bowler.
Not to be lost in the shuffle was an amazing three-game performance by 13 year-old James Hawkins, Jr. The Anaheim, CA kegler with a very unique 'both-handed' style, bowling in the handicap division, put together an 810 3-game series, en route to a tie for 7th place. The set was only the 10th 800 series in our 400+ tournament history!
Big thanks to Tim Brenden, Mike, Denise, and the terrific staff at BRC Zone Mesa for their usual great job hosting our events. Want in on the fun? Come on out to the next JBT event, it's as simple as that!
Best in the West- final results and optional scholarship winners
11/26/2006
All Conference
Scratch Division
rank
name
city, state
points
prize
1
Josh Blanchard
Fresno, CA
57
$675
2
Brian Weyrauch
Tempe, AZ
58
$485
3
Brandon Allred
Las Vegas, NV
69
$320
4
Cameron Smith
Santee, CA
62
$180
5
Sam Cuevas
Lubbock, TX
61
$135
6
Chris Varholdt
Chandler, AZ
61
$100
7
Robyn Ashley
Farmington, NM
57
$90
8
Forrest Holland
Escondido, CA
56
$80
9
Andy Reynoso
Las Vegas, NV
54
$70
10
Chris Weyrauch
Tempe, AZ
53
$60
11
Andy Byer
Albuquerque, NM
52
$30
12
Labriel Leach
Tucson, AZ
51

13
Kyle King
Phoenix, AZ
48

14
Derek Thurber
Phoenix, AZ
45
$45
14
Preston Fukumizu
Los Angeles, CA
45

16
April Urban
Henderson, NV
44
$15
17
Ken McElvaney
Los Angeles, CA
41

18
Matt Zang
Tucson, AZ
40
$10
19
Matthew Jones
Canoga Park, CA
39

20
Theo Douthit
San Diego, CA
37
$135
21
Kris George
Glendale, AZ
36
$45
21
Matt Harris
Los Angeles, CA
36

21
Brent Larsen
Glendale, AZ
36

24
Tyler Addotta
Tucson, AZ
34

25
Jerod Florez
Bosque Farms, NM
30

26
Jeff Callahan
Puyallup, WA
29

27
Zach Simon
Scottsdale, AZ
28
$25
28
Eduardo Perez
Peoria, AZ
27
28
Marc Burris
Tucson, AZ
27
30
Michael Cross
Tucson, AZ
25
30
Dan Bodinet
Phoenix, AZ
25
30
Kevin Schoenfeld
Phoenix, AZ
25
33
Allie Ijams
Mission Viejo, CA
23
$15
34
Kevin Narciso
Phoenix, AZ
22
35
DJ Sloan
Las Vegas, NV
16
35
Shane Peck
Riverside, CA
16
37
Christian Jensen
Anthem, AZ
14
37
Chelsea Zemelka
Phoenix, AZ
14
37
Miguel Lopez
Peoria, AZ
14
37
Justin White
Phoenix, AZ
14
37
Tyler Shipman
Phoenix, AZ
14
42
Nicholas Lee
Tucson, AZ
12
42
Greg Garbera
Glendale, AZ
12
$45
42
Rachelle Davis
Tucson, AZ
12
$15
42
Adam Reynoso
Las Vegas, NV
12
42
Matt McHann
Las Vegas, NV
12
42
Bill Grant
Rio Rancho, NM
12
42
Bryanna Dawson
Phoenix, AZ
12
42
CJ Crowley
Gilbert, AZ
12
42
Eric Rubin
Phoenix, AZ
12
51
Marc Algeri
Phoenix, AZ
10
51
Kylee Bonneville
Mesa, AZ
10
51
Almanda Albani
Phoenix, AZ
10
51
Will Jackson
Gardena, CA
10
51
Jeff Mathews
Las Vegas, NV
10
$15
51
Chris McHenry
Tucson, AZ
10
57
Randy Cote
Tucson, AZ
8
57
Steph Merrell
Rio Rancho, NM
8
59
Bear Wiltfang
Lake Havasu City, AZ
0
60
Manny Lakhan
Los Angeles, CA
0

Handicap Division
rank
name
city, state
points
prize
1
Anthony Cruz
San Diego, CA
59
$700
2
Blake Kalaf
Chandler, AZ
73
$400
3
Kyle Vitzthum
Glendale, AZ
67
$250
4
Mike May
San Diego, CA
58
$150
5
Kyle Frederick
Chandler, AZ
67
$125
6
Bryce Techmer
Phoenix, AZ
61
$155
7
Brian Castelloe
Carlsbad, CA
55
$150
7
James Hawkins, Jr.
Anaheim, CA
55
$145
9
Kyle Bridgman
Kingman, AZ
54
$85
10
Chris Huglin
Gilbert, AZ
50
$65
11
Joshua Shoup
Tolleson, AZ
46
$75
11
Jake Huff
Chandler, AZ
46
$30
13
Taylor Knight
Phoenix, AZ
45
$15
14
Greg Shoaf
Chandler, AZ
43
15
Zach Huglin
Gilbert, AZ
41

16
Shalynne Schmid
Indio, CA
39

16
Anthony Tripi
Tolleson, AZ
39

18
Jay Prewitt
Chandler, AZ
37

19
Martika Cabezas
Cathedrail City, CA
36

19
Kaitlin Mayall
Chula Vista, CA
36
$60
19
Alex Baker
Albuquerque, NM
36

22
Kyle Klein
Phoenix, AZ
35

23
Robert Atherton
Glendale, AZ
34

24
Jacob Abstender
Phoenix, AZ
33

25
Brandon Longo
Phoenix, AZ
32

26
Taylor King
Phoenix, AZ
31
$15
27
Danny Varholdt
Chandler, AZ
30

27
Benjamin Rumley
Mesa, AZ
30

29
David Fritz
San Diego, CA
29

29
Emmanuel Durazo
Phoenix, AZ
29
$15
31
Courtney Dutton
Chandler, AZ
28
32
Jordan Bell
Phoenix, AZ
27
$15
33
Tanya Nason
Sierra Vista, AZ
26

34
Rebeca Reguero
Phoenix, AZ
25
$20
35
Samantha Aguilar
Tucson, AZ
22

35
Ashley Olriksen
Albuquerque, NM
22

37
Cody Vanderweyst
Glendale, AZ
16

38
Kyle Karpovich
Chandler, AZ
15

39
Sandy Truman
Phoenix, AZ
14
39
Kayla Frederick
Chandler, AZ
14
39
Guy Prewitt
Chandler, AZ
14
39
Rebecca Bodinet
Phoenix, AZ
14
43
Brooks Gould
Gilbert, AZ
12
43
Pamela Perez
Peoria, AZ
12
43
Eric Vitzthum
Glendale, AZ
12
43
Jonah Seawright
Albuquerque, NM
12
43
Kristen Lee
Tucson, AZ
12
43
Jordan Vanderweyst
Glendale, AZ
12
43
Derek Black
Mesa, AZ
12
50
Bethany Baker
Tempe, AZ
10
50
Gino Salaverria
Phoenix, AZ
10
50
Nicholas Rumley
Mesa, AZ
10
50
Justin Givler
Phoenix, AZ
10
50
Devon McCormick
Tucson, AZ
10
50
Dennan Boscarino
Phoenix, AZ
10
50
Justin Jordan
Mesa, AZ
10
57
Amy Johnson
Mesa, AZ
8
57
Cris Boyle
Mesa, AZ
8
57
Keanon Barton
Phoenix, AZ
8
57
Susy Monteith
Orange, CA
8
57
Arik Canning
Mesa, AZ
8
62
Jared Boscarino
Phoenix, AZ
6

Cuts: scratch 16 points; handicap 16 points
Ebonite Ball Winner: Forrest Holland
TOTAL AWARDED THIS EVENT: $5,035