CACTUS BOWL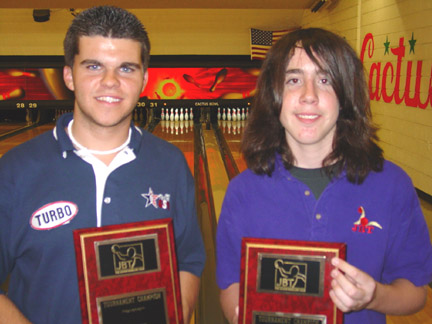 champs Josh Blanchard & Josh Shoup
Josh Blanchard claimed a landmark title, while Josh Shoup finally won his first, in exciting JBT action at Cactus Bowl.
The scratch division used our mulligan format, allowing three 'do-overs' in the qualifying round, and they came in handy for everyone, as the PBA's Viper pattern proved to be extremely challenging, in contrast to the four 300 games rolled last time the JBT visited Cactus and bowled on the house pattern.
Matt Jones had no problem in the opening round of the stepladder finals, though, rolling a big 248 to oust defending champ Greg Garbera (196) and fellow Californian Ken McElvaney (164). Jones was good again in round two, rolling 194 to beat Andy Byer (191) and Mike Cross (169). In the semifinal match, BJ Baker struggled to 177, while Blanchard opened in the tenth for 221 to give Jones a chance. Matt couldn't get the double he needed, finishing with 217, and advancing Josh to the title match. Meanwhile, the loss prevented BJ from recapturing the point lead from Christian Jensen, who has had a red-hot spring to grab the top spot, no matter what I announced at Bedroxx.
Top seed Kevin Saunders proved his versatility again by leading the largest scratch field in a few months thanks to an impressive 738 semifinal set. However, he had his hands full with Junior Team USA member Blanchard, a fellow wizard on all conditions. Both struggled, however, on the deteriorating pattern. Josh never did strike on the left lane, but stayed clean, and that turned out to be good enough for a 191-183 win. The victory was the 10th of his fantastic career, only the 13th bowler in JBT history to reach that milestone.
Alysha Vessey, a member of the state champ Sahuaro girls' high school team, opened the stepladder finals with a 221 game that beat Daniel Cotten (205) and Cody Vanderweyst (202). Rebeca Reguero then fired a big 233 in round two to defeat Vessey (182) and Anthony Tripi (157). In a close semifinal match, Shoup came up with a strike in the tenth for 215 to edge Reguero (211) and also beat Lee Kirby (162), sending Josh to the finals.
Top seed William Witt won his only other JBT appearance, at Ft Huachuca in January, and found himself back in the finals again.

This match was to be a different story than his previous title tilt, as the determined Shoup, who has come so close to victory before, finally closed the deal with a 186-163 victory and a sweet first JBT title.
115 bowlers competed in the event, and we hope everyone who attended had a great time, and will spread the word about the great benefits of bowling JBT. Everyone who finished in the top 5 qualifies for the 2007 Arizona Invitational Tournament, the regular season's year end event, featuring a guaranteed minimum $1,000 first place scholarship in each division. Top season-long point scorers also qualify for the 2007 JBT Touring Players' Championship, featuring a guaranteed minimum $2,000 first place scholarship per division!
Big thanks to everyone at Cactus for their usual terrific job hosting JBT events. Over $2,800 in scholarships were awarded. Want in on the fun? Come on out to the next JBT event, it's as simple as that!
Cactus Bowl- final results and optional scholarship winners
5/19/2007
Arizona Conference
Scratch Division
rank
name
city, state
prize
1
Josh Blanchard
Fresno, CA
$425
2
Kevin Saunders
Goodyear, AZ
$210
3
BJ Baker
Tempe, AZ
$185
4
Matt Jones
Canoga Park, CA
$134
5
Andy Byer
Albuquerque, NM
$85
6
Mike Cross
Tucson, AZ
$80
7
Greg Garbera
Tempe, AZ
$115
8
Ken McElvaney
Chatsworth, CA
$50
9
Shane Peck
Riverside, CA
$30
10
Mike Armstrong
Tucson, AZ
$40
11
Kyle King
Phoenix, AZ
$75
12
Theo Douthit
San Diego, CA

13
Tom Anderson
Chandler, AZ
$60
14
Miguel Lopez
Peoria, AZ

15
Brian Weyrauch
Tempe, AZ

16
Kevin Narciso
Phoenix, AZ
17
Kris George
Glendale, AZ

18
Chris Davenport
Tucson, AZ

19
Elias Ewert
Chandler, AZ

20
Tyler Shipman
Chandler, AZ
21
Matt Cormack
Woodland Hills, CA
$30
22
Amanda Falk
Tucson, AZ
23
JR Monteith
Orange, CA

24
Bill Grant
Rio Rancho, NM
25
Matt Zang
Tucson, AZ
26
Bear Wiltfang
Lake Havasu City, AZ
27
Brian Ballard
San Diego, CA

28
Shawn Whitelaw
Tucson, AZ
29
Kevin Schoenfeld
Peoria, AZ

$45

30
Ken Lange
Tucson, AZ
31
Cameron Smith
Santee, CA
$15
32
Jeremy Medina
Santa Fe, NM
33
Delano Coveris
Sierra Vista, AZ

34
Timothy Crosswhite
Tucson, AZ
35
Dan Bodinet
Maricopa, AZ
36
Jordan Ferrer
Henderson, NV
37
Melissa Del Rio
Tucson, AZ
38
Christian Jensen
Anthem, AZ
39
Justin White
Phoenix, AZ
40
Holly Gordon
Tucson, AZ
41
Lana Lycan
Santee, CA
42
Kris Beach
Freeport, IL
43
Will McPherson
Chandler, AZ

44
Eric Rubin
Phoenix, AZ
45
Marc Burris
Tucson, AZ
46
Nicholas Lee
Tucson, AZ
47
Marc Algeri
Phoenix, AZ
$10
48
Chris Varholdt
Chandler, AZ
49
Erica Lockhart
Tucson, AZ
50
Andy Holick
Tucson, AZ
51
Allie Ijams
Mission Viejo, CA
52
Ernest Cook
Phoenix, AZ
53
Chris McHenry
Tucson, AZ
54
Chris Weyrauch
Chandler, AZ
55
Amanda Albani
Phoenix, AZ
56
Tera Bolton
Tucson, AZ
57
Randy Cote
Tucson, AZ
58
Jon Reed
Tucson, AZ
59
Rane Lacona
Phoenix, AZ
60
Mike Aguilar
Tucson, AZ
61
Bryanna Dawson
Phoenix, AZ
62
Francisco Peralta
Tucson, AZ
Handicap Division
rank
name
city, state
prize
1
Josh Shoup
Tolleson, AZ
$255
2
William Witt
Ft Huachuca, AZ
$125
3
Rebeca Reguero
Phoenix, AZ
$120
4
Lee Kirby
Chandler, AZ
$75
5
Alysha Vessey
Tucson, AZ
$55
6
Anthony Tripi
Avondale, AZ
$105
7
Daniel Cotton
Glendale, AZ
$35
8
Cody Vanderweyst
Glendale, AZ
$45
9
Rachel Lynn
Peoria, AZ
10
Kristen Lee
Tucson, AZ

11
Devon McCormick
Tucson, AZ

12
Kyle Klein
Phoenix, AZ

13
Kevin Farthing
Tucson, AZ
$14
14
Natalie Mounier
Phoenix, AZ
$15
15
Bethany Baker
Tempe, AZ
$39
16
Jacob Smith
Tucson, AZ
$15
17
Jordan Vanderweyst
Glendale, AZ
18
Jacob Guerrero
Tucson, AZ

19
Keaton Karpovich
Chandler, AZ
$15
20
Samantha Aguilar
Tucson, AZ

21
Matt Payne
Phoenix, AZ
$45
22
Jarrod Davenport
Tucson, AZ
$50
23
Michael Owens
Phoenix, AZ

24
Mike May
San Diego, CA
$11
25
Brandon Longo
Chandler, AZ

26
Joey Longo
Chandler, AZ
27
Ashley Collins
Tucson, AZ
$30
28
Sandy Truman
Phoenix, AZ
$15
29
James Hawkins Jr
Anaheim, CA
$30
30
Aurora Popple
El Paso, TX

31
Bobby Gil
Green Valley, AZ

32
Courtney Dutton
Chandler, AZ

33
Michael Kenny
Prescott Valley, AZ
$15
34
Rebecca Bodinet
Maricopa, AZ

35
Chelsea Zemelka
Phoenix, AZ

36
Kyle Karpovich
Chandler, AZ
$15
37
Brittney Levins
Tucson, AZ

38
Eric Vitzthum
Glendale, AZ
39
Tim Ribbeck
Sahuarita, AZ
$15
40
Ashley Olriksen
Albuquerque, NM

41
Taylor Knight
Phoenix, AZ
42
Rachelle Davis
Tucson, AZ
43
Matt Erb
Phoenix, AZ

44
Darcie Staggs
Bullhead City, AZ
45
Gino Salaverria
Phoenix, AZ
$30
46
Jay Prewitt
Chandler, AZ

47
Kyle Frederick
Chandler, AZ
48
Bryce Techmer
Chandler, AZ
49
Holly Emery
Gilbert, AZ
50
Joey Gordon
Tucson, AZ
51
Selena Coveris
Tucson, AZ
52
Jay Girkin
Phoenix, AZ

Ball Winner: Matt Payne
TOTAL AWARDED THIS EVENT: $2,869