FIESTA LANES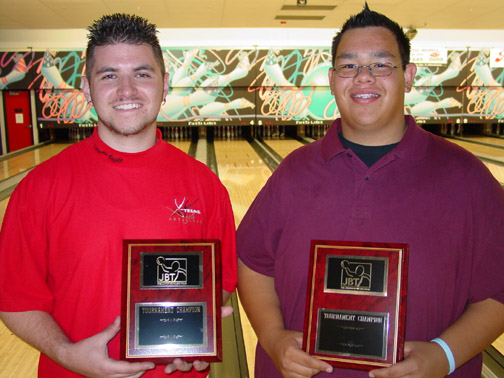 champs Andy Byer & Derek Valencia
Andy Byer claimed an important victory, while Derek Valencia made it two in a row, in exciting JBT action at El Paso's Fiesta Lanes.
The scratch division's stepladder finals began in dramatic fashion, as Christian Jensen and Stephen Gaucin ended up in a 212 tie thanks to Jensen's open tenth frame. Gaucin took advantage to win the rolloff 10-9 to advance. Byer then stopped Gaucin 212-209, and followed with a 219-169 win over Nathan Shock to reach the title match.
Top seed Justin Medina had already made JBT history on the day, firing not one but TWO 300 games on the day, only the second bowler to accomplish that feat in our SW conferences. However, he found himself in a battle with the always-tough Byer, who needed the win to pad his potential Bowler of the Year stats. In a stunning turn of events, needing a strike in the tenth to shut Andy out, Medina clipped his ankle and the ball fell into the gutter. Justin amazingly composed himself enough to make the spare, thus forcing Andy to double for the win. Byer was up to the task, flushing two shots for the 223-218 win, the 16th title of his JBT career.
Valencia climbed the 8-person handicap stepladder, a daunting task, to claim his second straight NM-TX title. He began with a big 250 game in round one to defeat Sam Zermeno (225) and Amber Robinson (205). In round two, his 211 was good enough to beat Kailynn Sanders (202) and LJ Matthews (197). The semifinal match was a thriller, as Tomas Reyes fired 190, but could only watch as Valencia and Kyla Casuas tied at 207. In the two-frame rolloff, Kyla forced Derek to double, which Valencia indeed did to reach the title match.
Top seed Carlos Mendez used a big game 8 to capture the top seed, but found himself in an entertainnig battle with Valencia, with both bowlers throwing clutch shot after clutch shot late in the game. In the end, Carlos' tenth frame dou8ble forced the same from Valencia, and again Derek was up to the task, striking out for a 254-248 win and the title.
Everyone who finished in the top 5 qualifies for the 2007 JBT NM-TX Invitational Tournament, the regular season's year end event, featuring a guaranteed minimum $1,000 first place scholarship in each division. Top season-long point scorers also qualify for the 2007 JBT Touring Players' Championship, featuring a guaranteed minimum $2,000 first place scholarship per division!
Over $1,800 in scholarships was awarded to the field, and we appreciate the great turnout as we head towards the thrilling finish to the season!
Fiesta Lanes- final results and optional scholarship winners
5/5/2007
NM-TX Conference
Scratch Division
rank
name
city, state
score
prize
1
Andy Byer
Albuquerque, NM
p 278
$250
2
Justin Medina
Santa Fe, NM
p 408
$177
3
Nathan Shock
Thornton, CO
p 310
$81
4
Stephen Gaucin
El Paso, TX
p 254
$66
5
Christian Jensen
Anthem, AZ
p 277
$70
6
Chris Weyrauch
Chandler, AZ
p 192
$106
7
Brian Weyrauch
Tempe, AZ
p 163
8
Geoffrey Young
Denton, TX
p 149
$45
9
William Entsminger
El Paso, TX
p 131
$15
10
Bill Grant
Rio Rancho, NM
p 92
$45
11
Nicholas Lee
Tucson, AZ
m 35

12
Jonathan Frederick
El Paso, TX
m 50

13
Jerod Florez
Bosque Farms, NM
m 3

14
Jeremy Medina
Santa Fe, NM
m 11

15
Josh Reyes
El Paso, TX
m 65

16
Travis Turner
Amarillo, TX
m 73

17
Tyler Carbajal
El Paso, TX
m 89

18
Thomas Gutierrez
Albuquerque, NM
m 93

19
Zachary Barnard
Albuquerque, NM
m 106
$5
20
Paul Carper
Paul Carper
m 107
$5
21
Michelle Snyder
Alamogordo, NM
m 189

Handicap Division
rank
name
city, state
prize
1
Derek Valencia
Albuquerque, NM
p 122
$383
2
Carlos Mendez
El Paso, TX
p 199
$100
3
Tomas Reyes
El Paso, TX
p 191
$85
4
Kyla Casaus
Roswell, NM
p 152
$60
5
LJ Matthews
Las Cruces, NM
p 151
$50
6
Kailynn Sanders
Roswell, NM
p 127
$40
7
Sam Zermeno
El Paso, TX
p 117
$30
8
Amber Robinson
El Paso, TX
p 122
$25
9
Dillon Bridge
El Paso, TX
p 112
$20
10
Sabrina Vargas
Albuquerque, NM
p 112
$26
11
Sara Vargas
Albuquerque, NM
p 111
$15
12
Kristina Casaus
Roswell, NM
p 111
13
Amanda Miles
El Paso, TX
p 107

14
Ashley Olriksen
Albuquerque, NM
p 105
$16
15
Dakota Quarles
El Paso, TX
p 93

16
Sophie Diaz
Santa Fe, NM
p 92
$15
17
Kendra Jones
Roswell, NM
p 86
$15
18
Alicia Chahine
El Paso, TX
p 85
$15
19
Billy Read
Albuquerque, NM
p 57
20
Cassie Bacoccini
Albuquerque, NM
p 54

21
Olivia Silva
Albuquerque, NM
p 46
$15
22
Dakota Corbell
Roswell, NM
p 24

23
Debbie Read
Albuquerque, NM
p 22

24
Ahkeen Williams
Las Cruces, NM
p 15

25
Kirstie Jones
Roswell, NM
p 7

26
Nathan Hughes
San Jose, NM
m 29
$30
27
Juamai Cupeles
El Paso, TX
inc card

28
Rodolfo Rubio
El Paso, TX
p 18

29
Bobby Morgan
El Paso, TX
p 15
$11
30
Debbie Jarzemba
Albuquerque, NM
p 12
31
Monty Samaniego
Las Cruces, NM
p 12

32
Kayla Jones
Roswell, NM
p 10

33
Diego Borron
El Paso, TX
p 9

34
Aurora Popple
El Paso, TX
p 7

35
Janeyl Carper
Rio Rancho, NM
p 3

36
Raul Rubio
El Paso, TX
even

37
Alyssa Williams
El Paso, TX
m 2

38
Justin Oertel
Albuquerque, NM
m 3
39
Dakota Samaniego
Las Cruces, NM
m 4

40
Ryan Scheer
Rio Rancho, NM
m 17
41
Brandy Main
Roswell, NM
m 19
42
Kendal Sanders
Roswell, NM
m 20
43
Kara Casaus
Roswell, NM
m 23
$5
44
Aaron Fort
Las Cruces, NM
m 24
45
Christina Krueger
El Paso, TX
m 26
46
Michael Hinojosa
Las Cruces, NM
m 27
47
Krista Casaus
Roswell, NM
m 30
$5
48
Seth Jaramillo
Bernalillo, NM
m 34
49
Alexis Bourjaily
El Paso, TX
m 34
50
Andrew Esparza
El Paso, TX
m 54
51
Leo Guzman
El Paso, TX
m 55
52
Peter Cane
Albuquerque, NM
m 72
53
Kelsey Jones
Roswell, NM
m 125

Ball Winner: Dakota Corbell
TOTAL AWARDED THIS EVENT: $1,851