GLENFAIR LANES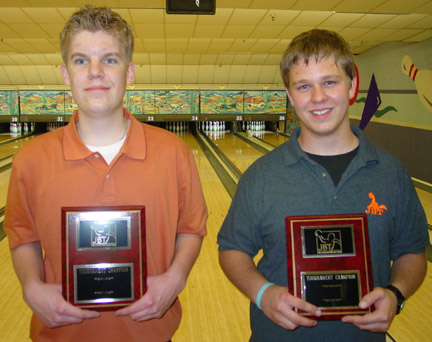 champs Christian Jensen & Guy Prewitt
Christian Jensen remained red-hot, while Guy Prewitt won for the first time, in exciting JBT Arizona Conference action at Glenfair Lanes.
One of the most demanding conditions of the year was laid out, testing bowler's spare games and versatility and providing a refreshing challenge to some recent strike-a-thons. Shane Peck opened the scratch finals by doubling in the tenth frame for a 191-180 victory over Chris Weyrauch. Peck remained hot in round two, coasting to a 219-172 win over Melissa Del Rio, who we were thrilled to have back in the finals after a long absence. Marc Algeri then spared in the tenth for a 180-173 win over Peck to advance to the title match.
Christian Jensen, the top seed, is on a major-league tear on tour with two titles in the last month, and fired a brilliant 630 in the semis to grab the lead here. However, the scores went down on the unrelenting pattern as the pressure went up. In a true grindout, Jensen came up with the 174-168 win, good for the tenth title of his JBT career, joining only ten other bowlers to reach this great level. He also has climbed right back into the heart of the Bowler of the Year race, which should really heat up this spring.
Kyle Karpovich, the 2006 Main Event champ, opened the handicap stepladder with a 232 game that defeated Shawn Peters (201) and last event's champ Matt Erb (152). Natalie Mounier then beat Karpovich (193) and Cris Boyle (159), and then fired a 212 semifinal game, defeating Diandra Mack (191) and Kari Rogers (180) to reach the title match.
Mounier was looking to add a singles crown to her doubles title with Nick Powanda, but faced a tough task in beating top seed Guy Prewitt. After a slow start, Guy found the roll he had been on all day, and cruised to a 228-205 victory and his first JBT title.
97 bowlers competed in the event. Everyone who finished in the top 5 qualifies for the 2007 JBT Arizona Invitational Tournament, the regular season's year end event, featuring a guaranteed minimum $1,000 first place scholarship in each division. Top season-long point scorers also qualify for the 2007 JBT Touring Players' Championship, featuring a guaranteed minimum $2,000 first place scholarship per division!
Big thanks to Di Tormanen and everyone at Glenfair for their usual fantastic job hosting our event. Over $2,200 in scholarships was awarded. Want in on the fun? Come on out to the next JBT event, it's as simple as that!
Glenfair Lanes- final results and optional scholarship winners
2/24/2007
Arizona Conference
Scratch Division
rank
name
city, state
prize
1
Christian Jensen
Anthem, AZ
$360
2
Marc Algeri
Phoenix, AZ
$100
3
Shane Peck
Riverside, CA
$60
4
Melissa Del Rio
Tucson, AZ
$50
5
Chris Weyrauch
Chandler, AZ
$50
6
JR Monteith
Orange, CA
$30
7
Kevin Schoenfeld
Phoenix, AZ
$30
8
Tom Anderson
Chandler, AZ

9
DeShaun Jefferson
Phoenix, AZ
10
Eric Warren
Phoenix, AZ
$20
11
BJ Baker
Tempe, AZ
$135
12
Mike Cross
Tucson, AZ
$11
13
Bear Wiltfang
Lake Havasu City, AZ
$15
14
Miguel Lopez
Peoria, AZ

15
Mike Ingeman
Phoenix, AZ

16
Greg Garbera
Glendale, AZ

17
Theo Douthit
Phoenix, AZ

18
Justin White
Phoenix, AZ

19
Kris George
Glendale, AZ
$95
20
Eric Rubin
Phoenix, AZ
$30
21
Kyle King
Phoenix, AZ
$30
22
Bryan Caldwell
Phoenix, AZ
23
Ernest Cook
Phoenix, AZ

24
Emily Ornelas
Phoenix, AZ
25
Zach Simon
Scottsdale, AZ
26
Nicholas Lee
Tucson, AZ
27
Michael Aguilar
Tucson, AZ

28
Amanda Albani
Phoenix, AZ
29
Dan Bodinet
Maricopa, AZ

30
Jonathan Pletcher
Chandler, AZ
31
Bryanna Dawson
Chandler, AZ
32
David Johnston
Glendale, AZ
33
Elias Ewert
Chandler, AZ

34
Brian Weyrauch
Tempe, AZ
35
Rane Lacona
Chandler, AZ
36
Randy Cote
Tucson, AZ
Handicap Division
rank
name
city, state
prize
1
Guy Prewitt
Chandler, AZ
$304
2
Natalie Mounier
Phoenix, AZ
$115
3
Diandra Mack
Glendale, AZ
$75
4
Kari Rogers
Glendale, AZ
$60
5
Kyle Karpovich
Chandler, AZ
$50
6
Cris Boyle
Mesa, AZ
$55
7
Shawn Peters
Phoenix, AZ
$35
8
Matt Erb
Phoenix, AZ
$39
9
Matt Payne
Phoenix, AZ
10
Alicia Sullivan
Kingman, AZ
$5
11
Anthony Gredinger
Glendale, AZ

12
Derek Gredinger
Glendale, AZ
13
Robert DePrater
Glendale, AZ

14
Jay Prewitt
Chandler, AZ

15
Brittany Riccelli
Surprise, AZ
$50
16
Daniel Cotton
Glendale, AZ

17
Taylor King
Phoenix, AZ
$145
18
Eric Vitzthum
Glendale, AZ

19
Josh Shoup
Tolleson, AZ
$45
20
Darcie Staggs
Bullhead City, AZ

21
Gino Salaverria
Phoenix, AZ
$50
22
Eric Demo
San Diego, CA

23
Sandy Truman
Phoenix, AZ
$15
24
CJ Crowley
Gilbert, AZ
$25
25
Taylor Knight
Phoenix, AZ
$30
26
David Price
Safford, AZ
$42
27
Bryce Techmer
Chandler, AZ
$15
28
Rachelle Davis
Tucson, AZ
$30
29
Cody Vanderweyst
Glendale, AZ

30
Pamela Perez
Peoria, AZ
31
Rachel Lynn
Peoria, AZ

32
Tyler Johnson
Phoenix, AZ

33
Austen Christensen
Avondale, AZ

34
Robert Atherton
Glendale, AZ

35
Dylan Taylor
Scottsdale, AZ

36
Daniel Sosa
Peoria, AZ

37
Rebeca Reguero
Phoenix, AZ

38
Emmanuel Durazo
Phoenix, AZ
39
Josh Martel
Peoria, AZ

40
Justin Givler
Phoenix, AZ

41
Jordan Vanderweyst
Glendale, AZ
42
Chris Spinner
Mesa, AZ
43
Michael Kenny
Prescott Valley, AZ

44
Courtney Dutton
Chandler, AZ
45
Bethany Baker
Tempe, AZ
$30
46
Rebecca Bodinet
Maricopa, AZ

47
Blake Kalaf
Chandler, AZ
48
Andrew Esparza
El Paso, TX
49
Nicki Nunez
Peoria, AZ
50
Kyle Vitzthum
Glendale, AZ
51
Brandon Longo
Chandler, AZ
52
Kyle Hansen
Phoenix, AZ
53
Anthony Tripi
Avondale, AZ
54
Kyle Klein
Peoria, AZ

55
Joey Longo
Chandler, AZ
56
Dillon Brand
Phoenix, AZ
57
Chelsea Zemelka
Phoenix, AZ
58
Holly Emery
Queen Creek, AZ
59
James Hawkins Jr
Anaheim, CA
$20
60
Kyle Frederick
Chandler, AZ
61
Greg Shoaf
Chandler, AZ

Ball Winner: Randy Cote
TOTAL AWARDED THIS EVENT: $2,265