GOLD COAST LANES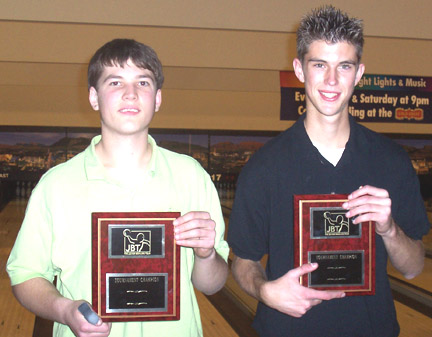 champs Bobby Majdanski & Logan Kennedy
Veteran JBT bowlers Bobby Majdanski and Logan Kennedy broke through for their first JBT titles in exciting JBT Survivor Format action at Gold Coast Lanes.
After the first five games, in Survivor an equal number of bowlers are put on each pair, with the lowest score eliminated from each pair, each game, until only one Survivor remains. Shane Peck dominated the scratch division qualifying, averaging nearly 257 for the first four games, but couldn't keep the momentum going, and was eliminated in round two. In semifinal matches, Majdanski ended Alyssa Madrid's great run 236-189, while Cayson Coyle ended Cameron Smith's fine day 224-205, setting up the title match.
Majdanski has been close to victory before, but left no doubt this time, as he tossed 10 strikes in a 278-198 triumph over Coyle, finally breaking into the JBT singles winner's circle.
In the handicap division, 16 semifinalists were whittled down to four, and the top qualifiers did better than they often do in this format, with the top 3 qualifiers all reaching the semifinals. In the semis, top seed Mike May defeated Josh Chefalo 238-204, while #14 qualifier Logan Kennedy defeated #3 Taylor McKenrick, 243-168, setting up a rematch of the Suncoast title match earlier this season.
The title match featured lots of strikes by two bowlers very familiar with this situation by now. This time though, a determined Kennedy was not to be stopped, and he came up with a huge 283-241 victory for a long-awaited first career JBT title.
62 bowlers competed in the event, so we hope everyone who attended had a great time, and will spread the word about the great benefits of bowling JBT. Everyone who finished in the top 5 qualifies for the 2007 JBT Mojave Invitational Tournament, the regular season's year end event, featuring a guaranteed minimum $1,000 first place scholarship in each division. Top season-long point scorers also qualify for the 2007 JBT Touring Players' Championship, featuring a guaranteed minimum $2,000 first place scholarship per division!
Big thanks to everyone at Gold Coast for their usual terrific job hosting our events. Over $1,600 in scholarships were awarded. Want in on the fun? Come on out to the next JBT event, it's as simple as that!
Gold Coast- final results and optional scholarship winners
12/3/2006
Mojave Conference
Scratch Division
rank
name
city, state
prize
1
Bobby Majdanski
Las Vegas, NV
$200
2
Cayson Coyle
Las Vegas, NV
$135
3
Cameron Smith
Santee, CA
$85
4
Alyssa Madrid
Las Vegas, NV
$40
5
Brandon Watts
Lake Havasu City, AZ
$103
6
JR Monteith
Orange, CA

7
Jeff Mathews
Las Vegas, NV

8
Jordan Ferrer
Henderson, NV

9
Shane Peck
Riverside, CA
$275
10
Christian Jensen
Anthem, AZ
$43
11
Andy Reynoso
Las Vegas, NV
12
April Urban
Henderson, NV

13
Kalani Diliner
Las Vegas, NV

14
Stephen Ashley
Las Vegas, NV

15
Allie Ijams
Mission Viejo, CA
$15
16
Forrest Holland
Escondido, CA

17
DJ Sloan
Las Vegas, NV

18
Nathan Panaligan
N. Las Vegas, NV

19
Brandon Allred
Las Vegas, NV

20
Chris Kagawa
Las Vegas, NV

21
Kris George
Glendale, AZ

22
Eddie Schaub
Las Vegas, NV
$15
23
Matt McHann
Las Vegas, NV

24
Paolo Castro
Las Vegas, NV

25
Ryan Yadao
Las Vegas, NV

26
Joe Claspell
Lake Havasu City, AZ

27
David Beisswenger
Las Vegas, NV

28
Adam Reynoso
Las Vegas, NV

29
Hannah Chipman
Las Vegas, NV

30
Kris Del Campo
Las Vegas, NV

Handicap Division
rank
name
city, state
prize
1
Logan Kennedy
Las Vegas, NV
$215
2
Mike May
San Diego, CA
$185
3
Josh Chefalo
Las Vegas, NV
$120
4
Taylor McKenrick
Henderson, NV
$60
5
Bryce Gross
Las Vegas, NV
$20
6
Ricky Overton
Las Vegas, NV
7
Zach Hattori
Las Vegas, NV
$5
8
Melissa Huether
Las Vegas, NV
$20
9
Casey Rosenberg
Las Vegas, NV
$20
10
Sarah Ansteth
Las Vegas, NV

11
Bethany Baker
Tempe, AZ

12
Brian Grupe
Las Vegas, NV
$20
13
Alesha Pannier
Lake Havasu City, AZ
$10
14
Paul Huether
Las Vegas, NV
$40
15
James Hawkins Jr.
Anaheim, CA

16
Tyler Szelinski
Henderson, NV

17
Josh Shoup
Tolleson, AZ

18
Donovan Koff
Las Vegas, NV

19
Kyle Akers
Kingman, AZ
20
Cameron Peck
Riverside, CA
$15
21
Sasha Black
Fort Mohave, AZ

22
Joshua Ferrer
Henderson, NV

23
Brandon Dauphinais
Henderson, NV

24
Sean Huggins
Las Vegas, NV
$15
25
Alicia Sullivan
Kingman, AZ

26
Brandon Surko
Las Vegas, NV

27
Jacob Abstender
Las Vegas, NV

28
Aaron Szelinski
Henderson, NV

29
Justin Claspell
Lake Havasu City, AZ

30
Josh Melnick
Las Vegas, NV

31
Shani Snowden
Las Vegas, NV
32
Dacrie Staggs
Bullhead City, AZ

Cuts: scratch +45; handicap +28

Ebonite Ball Winner: Forrest Holland
TOTAL AWARDED THIS EVENT: $1,719