GREEN VALLEY LANES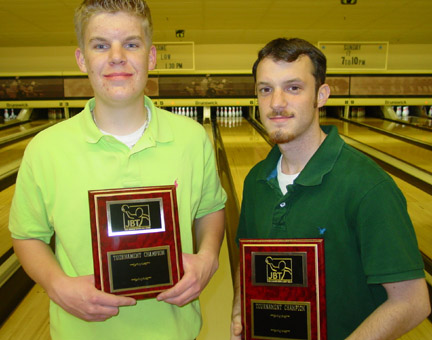 champs Christian Jensen & Matt Erb
Christian Jensen captured his second consectutive Arizona Conference title, while Matt Erb captured his second ever win, in exciting JBT action at Green Valley Lanes.
Scores were exceedingly high all day, highlighted by a 300 from Greg Shoaf in qualifying, and Shane Peck's 299 in the seminfinals. Top scratch qualifier BJ Baker stayed red-hot all day en route to a +450 8-game total, the 5th highest in JBT history.
Greg Garbera doubled in the tenth frame of the first round of the scratch stepladder for a 193-191 win over Peck. Garbera then went spare, next-eleven for a 290-211 win over Kevin Saunders, before Jensen stopped him 224-210 to reach the finale.
The battle between these two veterans was close throughout, but it was spares, not strikes, that determined the outcome. Christian missed a 7-pin in the sixth frame to hand BJ the lead, but BJ returned the favor by missing a 7-pin of his own in the ninth, giving Jensen the room he needed for a 235-214 victory, the ninth of his JBT career.
Bobby Gil, with a 77 league average, once again proved that JBT events are for any age and any average by winning round one of the handicap finals 214-212 over Tim Ribbeck. Gil then got by Justin Givler 229-197, before rolling his high game of the day in a 276-163 defeat of Erica Lockhart to reach the title match.
Top seed Matt Erb had put on a clinic in the semifinals, coming the closest of all bowlers to the $1,000 bonus available for anyone rolling 800 in three consecutive games (790), en route to by far his best 8-game performance, +410. Erb seemed to be less intimidated by the huge handicap difference he had to make up (87 pins), and he continued his strike barrage with a 267-200 win, good for his second career JBT win.
Kyle King and Kris George both came oh-so-close to hitting the $2,007 PowerBowl jackpot, each getting to the last shot, getting a $50 consolation scholarship for their efforts.
75 bowlers competed in the event. Everyone who finished in the top 5 qualifies for the 2007 JBT Arizona Invitational Tournament, the regular season's year end event, featuring a guaranteed minimum $1,000 first place scholarship in each division. Top season-long point scorers also qualify for the 2007 JBT Touring Players' Championship, featuring a guaranteed minimum $2,000 first place scholarship per division!
Big thanks to Bill O'Rourke and everyone at Green Valley Lanes for a terrific job hosting a JBT event for the first time since 2000. Over $2,100 in scholarships was awarded. Want in on the fun? Come on out to the next JBT event, it's as simple as that!
Green Valley Lanes- final results and optional scholarship winners
3/3/2007
Arizona Conference
Scratch Division
rank
name
city, state
score
prize
1
Christian Jensen
Anthem, AZ
p 287
$323
2
BJ Baker
Tempe, AZ
p 450
$350
3
Greg Garbera
Tempe, AZ
p 239
$105
4
Kevin Saunders
Goodyear, AZ
p 287
$110
5
Shane Peck
Riverside, CA
p 274
$75
6
Lana Lycan
San Diego, CA
p 215
$20
7
Brian Weyrauch
Tempe, AZ
p 212
$20
8
Miguel Lopez
Peoria, AZ
p 184
$15
9
Randy Cote
Tucson, AZ
p 178

10
JR Monteith
Orange, CA
p 176
11
Will McPherson
Phoenix, AZ
p 171
$45
12
Bryanna Dawson
Chandler, AZ
p 170
13
Eric Rubin
Phoenix, AZ
p 156
$28
14
Nicholas Lee
Tucson, AZ
p 144

15
Kyle King
Phoenix, AZ
p 126
$95
16
Dan Delano
Phoenix, AZ
p 110

17
Brian Ballard
San Diego, CA
p 34

18
Mike Aguilar
Tucson, AZ
m 51

19
Justin White
Phoenix, AZ
p 4
$15
20
Kris George
Glendale, AZ
p 3
$80
21
Forrest Holland
Escondido, CA
m 4

22
Tim Burns
Coram, NY
m 5

23
Chris McHenry
Tucson, AZ
m 6

24
Chris Weyrauch
Chandler, AZ
m 6
$15
25
David Johnston
Glendale, AZ
m 51

26
Melissa Del Rio
Tucson, AZ
m 60

27
Chris Davenport
Tucson, AZ
m 63

28
Kevin Schoenfeld
Phoenix, AZ
m 77
29
Mike Ingeman
Phoenix, AZ
m 84
30
Chris Varholdt
Chandler, AZ
m 93
31
Ernest Cook
Phoenix, AZ
m 100

32
Tera Bolton
Tucson, AZ
m 118
33
Mike Kremer
Peoria, AZ
m 128
Handicap Division
rank
name
city, state
score
prize
1
Matt Erb
Phoenix, AZ
p 410
$200
2
Bobby Gil
Green Valley, AZ
p 228
$100
3
Eric Lockhart
Tucson, AZ
p 268
$60
4
Justin Givler
Phoenix, AZ
p 258
$40
5
Tim Ribbeck
Green Valley, AZ
p 231
$110
6
Mike May
San Diego, CA
p 208
$121
7
Courtney Dutton
Chandler, AZ
p 196

8
Justin Newkirk
Tucson, AZ
p 187

9
Bryce Techmer
Tempe, AZ
p 183

10
Sam Aguilar
Tucson, AZ
p 178

11
Taylor Knight
Phoenix, AZ
p 177
$15
12
Rachelle Davis
Tucson, AZ
p 166
$15
13
Anthony Tripi
Avondale, AZ
p 150
$15
14
Josh Shoup
Tolleson, AZ
p 147
$110
15
Daniel Koenigslieb
Green Valley, AZ
p 131

16
Rebeca Reguero
Phoenix, AZ
p 124
$30
17
Eric Vitzthum
Glendale, AZ
p 111

18
Michael Srncik
Green Valley, AZ
p 110

19
Kyle Vitzthum
Glendale, AZ
p 101
20
David Price
Safford, AZ
p 95

21
Kyle Klein
Phoenix, AZ
p 85
$30
22
Greg Shoaf
Phoenix, AZ
p 68
$30
23
Chelsea Zemelka
Phoenix, AZ
p 67

24
Bethany Baker
Tempe, AZ
p 60

25
Jacob Smith
Tucson, AZ
p 53

26
Aaron Bennett
Tucson, AZ
p 45

27
Cris Boyle
Mesa, AZ
p 43

28
Holly Emery
Gilbert, AZ
p 43

29
Dillon Brand
Phoenix, AZ
p 38

30
Taylor King
Phoenix, AZ
p 34
$15
31
Matt Payne
Phoenix, AZ
p 26
$30
32
Kyle Frederick
Chandler, AZ
p 25

33
Daniel Cotten
Glendale, AZ
p 19

34
Rebecca Bodinet
Phoenix, AZ
m 2

35
Joey Longo
Phoenix, AZ
m 3

36
Dylan Taylor
Scottsdale, AZ
m 9
37
Matt Aguilar
Tucson, AZ
m 9
38
Logan Bennett
Tucson, AZ
m 23
39
Jay Prewitt
Chandler, AZ
m 40
40
William Cornett
Sahuarita, AZ
m 67
41
Brandon Longo
Chandler, AZ
m 85
42
Shawn Peters
Tucson, AZ
m 88
Ball Winner: Bill O'Rourke
Impact Challenge Winner: Joshua Shoup
TOTAL AWARDED THIS EVENT: $2,187