LONDON BRIDGE DAYS- DESERT OPEN MARATHON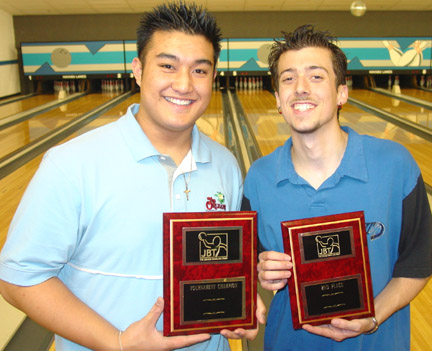 champ Nathan Panaligan & runner-up Bill Grant
Nathan Panaligan continued a dominant early season by capturing the JBT's London Bridge Days - Desert Open Junior Marathon, hosted by Havasu Lanes.
A ten game qualifier held on grueling lane conditions resulted in a 174 average being good enough to make the round of 32 matchplay on Sunday, where best-of-7 matches meant bowlers could roll as many as 33 games on the weekend.
After a phenomenal qualifying round which he easily led, top seed Christian Jensen fell to #32 seed Lana Lycan in round one. Lana would carry that momentum all the way into the round of eight, where she came through with two consecutive one pin wins in games six and seven to defeat Andy Reynoso 4-3 to reach the final four. In other round of eight matches, #5 Panaligan defeated #12 Cayson Coyle 4-2, #3 Bill Grant got by #14 Justin White 4-2, and #7 won four straight after dropping the first two games to beat #2 Kevin Saunders 4-3.
In the final four, Panaligan finally stopped Lycan's brilliant run, 211-166. In the other semi, New Mexicans Grant and Byer fought to a 179 tie (one of an extraordinary amount of ties on the day), and Bill won the rolloff 10-7 to advance to the title match.
Grant has had a great beginning to the season with a win and the money lead, but Panaligan hadn't lost in his previous two starts, and nothing was to change this time, with a 204-153 win over Bill, good for his third straight win to open the season, and his 10th career JBT title. Even better, the win pushed Nathan over the $10,000 mark in career JBT scholarship earnings.
London Bridge Days / Desert Open- final results and optional scholarship winners
10/28-29/2006
All Conference
rank
name
city, state
prize
1
Nathan Panaligan
N. Las Vegas, NV
$500
2
Bill Grant
Rio Rancho, NM
$480
3
Andy Byer
Albuquerque, NM
$230
4
Lana Lycan
San Diego, CA
$200
5
Kevin Saunders
Goodyear, AZ
$180
6
Cayson Coyle
Las Vegas, NV
$135
7
Justin White
Phoenix, AZ
$100
8
Andy Reynoso
Las Vegas, NV
$100
9
JR Monteith
Orange, CA
$105
10
Kyle King
Phoenix, AZ
$105
11
Brian Ballard
San Diego, CA
$75
12
Bear Wiltfang
Lake Havasu City, AZ
$75
13
Chris Weyrauch
Chandler, AZ
$90
14
DJ Sloan
Las Vegas, NV
$75
15
Nick Vinyard
Vista, CA
$90
16
Ricky Overton
Las Vegas, NV
$75
17
Christian Jensen
Anthem, AZ
$215
18
Brandon Allred
Las Vegas, NV

19
Brian Makan
Tempe, AZ
$75
20
Eddie Schaub
Las Vegas, NV
$45
21
Kevin Narciso
Phoenix, AZ
$30
22
DeShaun Jefferson
Phoenix, AZ

23
Forrest Holland
Escondido, CA
$5
24
Brandon Watts
Lake Havasu City, AZ
$5
25
Jeremy Medina
Santa Fe, NM
$20
26
Joe Claspell
Lake Havasu City, AZ

27
Dan Bodinet
Phoenix, AZ

28
Ryan Jacobson
Las Vegas, NV

29
Adam Reynoso
Las Vegas, NV
$15
30
Alesha Pannier
Lake Havasu City, AZ

31
Amanda Albani
Phoenix, AZ

32
Alyssa Madrid
Las Vegas, NV

33
Jerod Florez
Bosque Farms, NM
$20
34
Matthew McHann
Las Vegas, NV
$10
35
Marc Algeri
Phoenix, AZ
36
Mike May
San Diego, CA
37
Jeff Mathews
Las Vegas, NV
38
BJ Baker
Anthem, AZ
39
Cameron Smith
Santee. CA

40
Jordan Ferrer
Henderson, NV

41
Jake Huff
Chandler, AZ

42
Sarah Ansteth
Las Vegas, NV
43
Taelor "The Nail" McKenrick
Henderson, NV

44
Rebecca Bodinet
Phoenix, AZ

45
Rane Lacona
Phoenix, AZ

46
Kyle Akers
Kingman, AZ
$5
47
Ashley Olriksen
Albuquerque, NM

48
Bradley Hansen
Huntington Beach, CA

49
Daniel Hansen
Huntington Beach, CA
50
Stephanie Merrell
Rio Rancho, NM
Ball Winner: Jeff Mathews
TOTAL AWARDED THIS EVENT: $3,085

"London Bridge is...

...falling down, falling down, falling down..."