HILINE LANES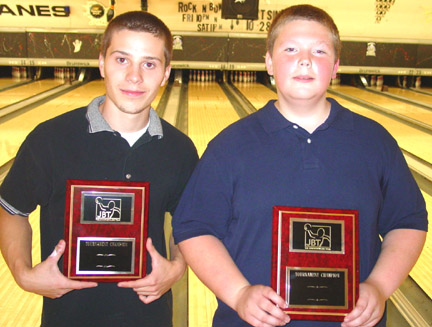 champs Rob Edwards & Sam Burns
Rob Edwards couldn't wait to throw the first ball in the history of the JBT's Pacific Northwest Conference, so he raced to the foul line ahead of everyone- and left a 7-count washout. That was one of his rare mistakes, though, as he, along with handicap champ Sam Burns, captured their first JBT titles in exciting action at Hiline Lanes.
The scratch division finals opened with a thriller, as Nicholas Amrein and Matthew Kemper tied at 202. In the one shot rolloff, Kemper struck to advance 10-9. In round two, another exciting match came down to the tenth frame, where Daniel Carroll spared a ten-pin for a 229-225 win over Kemper. In the semifinals, Carroll lost the momentum and Jake Klemsen took advantage for a 248-165 win that advanced him to the title match.
Top qualifier Edwards had remained steady all day, and did so as well in the title match, staying in control in the late frames for a 227-200 win over Klemsen and his first JBT title.
Prior to the title match, the handicap finals were all about Travis McAllister. He began in round one with a 229-218 win over Clay Bult. He then followed with a 206-171 triumph over Amanda Richards, then defeated Brandon Nylund 248-207 to reach the title match.
Top qualifier Burns had already had a great day, but faced a tough challenge in the determined McAllister. In the end, though, Burns struck in the tenth to ensure a 216-210 win, and his first career JBT title. He also nearly doubled his first place prize for throwing Ebonite equipment and wearing Etonic shoes, taking advantage of our terrific sponsors' bonus offers.
36 bowlers competed in the event, and we hope everyone who attended had a great time, and will spread the word about the great benefits of bowling JBT. Everyone who finished in the top 5 qualifies for the 2007 JBT Pacific Northwest Invitational Tournament, the regular season's year end event, featuring a guaranteed minimum $1,000 first place scholarship in each division. Top season-long point scorers also qualify for the 2007 JBT Touring Players' Championship, featuring a guaranteed minimum $2,000 first place scholarship per division!
Big thanks to everyone at Hiline for their tremendous hospitality in hosting our inaugural Pacific Northwest event. Over $1,300 in scholarships were awarded. Want in on the fun? Come on out to the next JBT event, it's as simple as that!
Hiline Lanes- final results and optional scholarship winners
10/7/2006
Pacific Northwest Conference
Scratch Division
rank
name
city, state
score
prize
1
Rob Edwards
Vancouver, WA
p 289
$242
2
Jake Klemsen
Milwaukie, OR
p 217
$115
3
Daniel Carroll
Salem, OR
p 175
$80
4
Matthew Kemper
Hillsboro, OR
p 155
$30
5
Nicholas Amrein
Hillsboro, OR
p 121
$35
6
Jordan Plunkett
Everett, WA
p 39
7
Cameron Weier
Federal Way, WA
p 2
$70
8
Matthew West
Gresham, OR
m 52
$15
9
Josh Jackson
Everett, WA
m 57
$15
10
Mike Kennedy
Maple Valley, WA
m 64
$20
11
Tyler Cruz
Tacoma, WA
m 74
12
Sam Neves
Woodway, WA
m 92
13
Kevin Nagasawa
Renton, WA
m 52
14
Katrina Everett
Kirkland, WA
m 55
15
Tristan Curtis
Fife, WA
m 55
$10
16
Cody Stone
Tigard, OR
m 62
17
Catherine Rawsthorne
Federal Way, WA
m 70
18
Adam Nadasky
Puyallup, WA
m 75
$15
19
Ashley Brock
Tacoma, WA
m 102
20
Dean Richards
Tacoma, WA
m 108
21
Tiffany King
Surprise, AZ
m 114
22
Kirk Williams
Oregon City, OR
m 149
$15
23
Kristin Keller
Tacoma, WA
m 181
24
Todd Hoppfner
Tacoma, WA
m 182
Handicap Division
rank
name
city, state
score
prize
1
Sam Burns
Federal Way, WA
p 210
$375
2
Travis McAllister
Tacoma, WA
p 56
$160
3
Brandon Nylund
Kent, WA
p 102
$50
4
Amanda Richards
Tacoma, WA
p 66
$30
5
Clay Bult
Woodinville, WA
p 28
$26
6
Robert Powell
Kent, WA
p 13
$8
7
Danielle Mansonarez
Tacoma, WA
m 5
8
John Young III
Seattle, WA
m 73
9
Kyle Frederick
Chandler, AZ
m 80
$5
10
Robert Preston
Sammamish, WA
m 123
11
Thomas Nylund
Kent, WA
m 149
$15
12
Kayla Frederick
Chandler, AZ
m 161
Cuts: scratch - 52; handicap - 3
Ebonite Ball Winner: Jack McNeel
TOTAL AWARDED THIS EVENT: $1,331