GIRLS' INVITATIONAL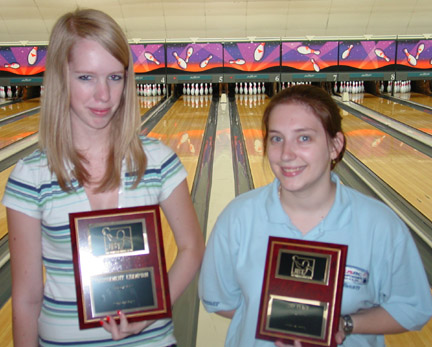 champ Courtney Dutton & Rachelle Davis
Courtney Dutton captured her 4th career title in the first ever JBT Girls' Invitational, held at AMF Christown.
A great atmosphere was enjoyed by all involved as our dedicated high average girls finally had an event to call all their own. The 25-girl fiels was cut to 12 after 6 games of qualifying. In round one of matchplay, Dutton defeated Amanda Albani 421-374, Amanda Falk beat Melissa DelRio 440-336, Rebecca Bodinet outlasted Chelsea Zemelka 427-423, and Arisha Piper got by Sharla Jucutan 434-363.
Round two saw four amazingly competitive matches all decided by 10 pins or less. The "blowout" was girls points leader Allie Ijams getting by Falk 342-332. In other matches, Dutton beat Urban 409-406, Rachelle Davis beat Piper 434-426, and Bodinet squeezed out a 378-375 decision over Lana Lycan.
Down to one game semifinal matches, Davis best Bodinet 247-167, and Dutton bested Ijams 205-180, setting up the title match.
Courtney had appeared on the verge of elimination many times throughout the day, but always seemed to answer with a string of strikes. This match was no different, as Dutton won the game 212-188 for the title.
Girls Invitational- final results and optional scholarship winners
8/11/2007

Scratch Division
rank
name
city, state
prize
1
Courtney Dutton
Chandler, AZ
$615
2
Rachelle Davis
Tucson, AZ
$415
3
Allie Ijams
Flagstaff, AZ
$370
4
Rebecca Bodinet
Maricopa, AZ
$250
5
April Urban
Las Vegas, NV
$170
5
Lana Lycan
San Diego, CA
$125
5
Amanda Falk
Tucson, AZ
$125
5
Arisha Piper
Pico Rivera, CA
$230
9
Amanda Albani
Phoenix, AZ
$75
9
Melissa Del Rio
Tucson, AZ
$75
9
Chelsea Zemelka
Phoenix, AZ
$75
9
Sharla Jucutan
San Diego, CA
$75
13
Michelle Snyder
Alamogordo, NM

14
Alicia Sullivan
Kingman, AZ

15
Kaitlin Silva
Canyon Country, CA

16
Darcie Staggs
Bullhead City, AZ

17
Alesha Pannier
Lake Havasu City, AZ

18
Catherine Rawsthorne
Seattle, WA

19
Tera Bolton
Tucson, AZ

20
Kaitlin Mayall
Chula Vista, CA

21
Bethany Baker
Tempe, AZ

22
Martika Cabezas
Palm Springs, CA

23
Tiffany King
Surprise, AZ

24
Rebeca Reguero
Phoenix, AZ

25
Breezy Sharma
Lake Havasu City, AZ

TOTAL AWARDED THIS EVENT: $2,600