MOJAVE INVITATIONAL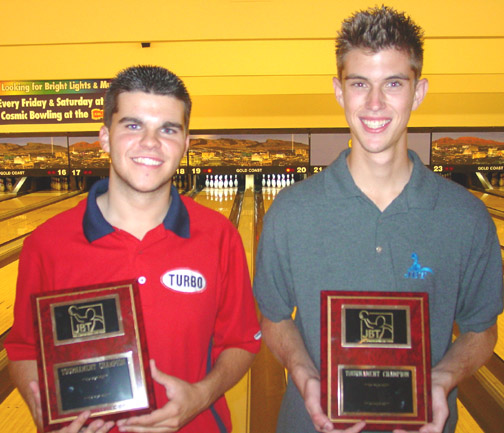 champs Josh Blanchard and Logan Kennedy
Josh Blanchard, Fresno CA, and Logan Kennedy, Las Vegas, captured $1,000 scholarships each as champions of the JBT Mojave Conference Invitational, held at Gold Coast. A tremendous $7,540 was awarded to a 77 qualifier field.
33 scratch and 44 scratch qualifiers battled for 16 finals spots in each division, where bowlers competed in grueling triple-elimination matchplay the rest of the day. In the scratch division, upsets were the name of the day in matchplay, as top seed Kyle King, #3 Brandon Allred, #4 Christian Jensen, and #5 Jeremy Medina were all eliminated by round four.
In round six, 8 bowlers remained. In those matches, Blanchard handed #16 Bill Grant his second loss, #2 Kevin Saunders eliminated #12 Eddie Schaub, #11 Cayson Coyle eliminated #9 DJ Sloan, and #15 Brandon Watts ousted #13 Andy Reynoso.
In round seven, the undefeated Blanchard earned a bye, while Saunders eliminated Grant, and Coyle eliminated Watts. In round eight, it was Cayson's turn for a much-needed bye, while Blanchard handed Kevin loss #2. Then, with three bowlers still remaining, Saunders enjoyed a second bye, while Saunders eliminated Coyle, setting up a title match situation where Saunders would have to beat Blanchard three straight times to swipe the title away.
Blanchard had only bowled one game under 200 on the demanding conditions all day, but picked a bad time for the second, as Kevin won game one 224-180. In game two, a very well-bowled contest had neither bowler taking more than a one-pin lead until Sauders' double in the 8th and ninth. But a tenth frame nine-count gave Blanchard a chance to double in the tenth for the win, and the veteran cane through with the hits for a 207-206 win, and his eleventh JBT title.
In the handicap finals, the top seeds struggled as well, with #1 Josh Chefalo, #3 Troy Graydon, and #5 Donovan Koff all out quickly. Only #2 Mike May stuck around a long time, but he fell in round six to #13 Kennedy. In other round six matches, #15 Sean Huggins handed #10 Sean Caliebe his first loss, #16 Dan Hansen ended #6 Alicia Sullivan's day, and #8 Kyle Bridgman eliminated #4 Drew Stern.
In round seven, Caliebe enjoyed a bye, while Kennedy handed Huggins loss #2, and Hansen eliminated Bridgman. In round eight, Huggins eliminated Hansen, while Kennedy pushed Caliebe to the brink with his second loss. Now with three bowlers left, Kennedy got the bye, while Huggins eliminated Caliebe, setting up a finale where Huggins would have to beat Logan in two straight to win the tournament.
Kennedy, who has a knack of coming up big in big events, wanted none of the second match, coming on strong at the end of game one for the win and the title, the second of his JBT career.
Everybody go tell poor Bryce Gross to cheer up- in one of the worst bad luck cases despite great bowling we've ever seen, he missed the finals cut by just one pin, and then missed being the Last Chance winner by just 4 pins-- yeeeouch!
Thanks as always to Gold Coast for a top-notch job hosting our events. Please spread the word about everything JBT does that you won't find anywhere else, keep up to date all summer on bowljbt.com, and we'll see you at our summer events, or in September for the start of the 2007-08 Mojave Conference season!
Mojave Invitational- final results and optional scholarship winners
6/3/2007
Mojave Conference
Scratch Division
rank
name
city, state
prize
1
Josh Blanchard
Fresno, CA
$1,045
2
Kevin Saunders
Goodyear, AZ
$595
3
Cayson Coyle
Las Vegas, NV
$345
4
Brandon Watts
Lake Havasu City, AZ
$265
5
Bill Grant
Rio Rancho, NM
$150
6
DJ Sloan
Las Vegas, NV
$200
7
Eddie Schaub
Las Vegas, NV
$100
8
Andy Reynoso
Las Vegas, NV
$75
9
Jordan Ferrer
Henderson, NV
$75
10
Kris George
Glendale, AZ
$155
11
JR Monteith
Orange, CA
$200
12
Christian Jensen
Anthem, AZ
$185
13
Jeremy Medina
Santa Fe, NM
$80
14
Andy Byer
Albuquerque, NM
$125
15
Kyle King
Phoenix, AZ
$150
16
Brandon Allred
Las Vegas, NV
$120
17
Jordan Katz
Las Vegas, NV
18
Jerod Florez
Bosque Farms, NM

19
Chris Kagawa
Las Vegas, NV

20
Allie Ijams
Mission Viejo, CA

21
Dan Bodinet
Maricopa, AZ
22
Nathan Panaligan
N. Las Vegas, NV
23
Michael Cross
Tucson,AZ
24
BJ Baker
Tempe, AZ

25
Forrest Holland
Escondido, CA
26
Joe Claspell
Lake Havasu City, AZ
27
Kevin Narciso
Phoenix, AZ
$15
28
Chris Kutcher
Las Vegas, NV

29
Shane Peck
Riverside, CA

30
Alyssa Madrid
Las Vegas, NV
31
Cameron Smith
Santee, CA
32
April Urban
Henderson, NV

33
Kary Nguyen
Las Vegas, NV
Handicap Division
rank
name
city, state
prize
1
Logan Kennedy
Las Vegas, NV
$1,100
2
Sean Huggins
Las Vegas, NV
$550
3
Sean Caliebe
Las Vegas, NV
$300
4
Dan Hansen
Huntington Beach, CA
$200
5
Kyle Bridgman
Kingman, AZ
$150
6
Mike May
San Diego, CA
$205
7
Drew Stern
Northridge, CA
$225
8
Alicia Sullivan
Kingman, AZ
$105
9
Josh Shoup
Tolleson, AZ
$90
10
Justin Claspell
Lake Havasu City, AZ
$75
11
Zach Hattori
Las Vegas, NV
$200
12
Troy Graydon
Las Vegas, NV
$50
13
Brandon Owen
Las Vegas, NV
$50
14
Taylor McKenrick
Henderson, NV
$130
15
Josh Chefalo
Las Vegas, NV
$65
16
Donovan Koff
Las Vegas, NV
$50
17
Bryce Gross
Las Vegas, NV

18
Wesley Low
Palmdale, CA

19
Sarah Ansteth
Las Vegas, NV
$15
20
James Hawkins Jr
Anaheim, CA
$45
21
Ashley Olriksen
Albuquerque, NM

22
Bethany Baker
Tempe, AZ
$15
23
Kaitlin Mayall
Chula Vista, CA
$15
24
Kyle Akers
Kingman, AZ

25
Brittany Humann
Las Vegas, NV

26
Susy Monteith
Orange, CA

27
Ryan Yadao
Las Vegas, NV

28
Eric Vitzthum
Glendale, AZ
$10
29
Melissa Huether
Las Vegas, NV
$15
30
Alesha Pannier
Lake Havasu City, AZ
31
Taylor King
Phoenix, AZ

32
Ricky Overton
Las Vegas, NV
$15
33
Joseph Pherreigo
Ft Mohave, AZ

34
Darcie Staggs
Bullhead City, AZ

35
Josh Ferrer
Henderson, NV

36
Paul Huether
Las Vegas, NV

37
Brian Grupe
Las Vegas, NV
38
Cameron Peck
Riverside, CA
39
Chelsea Zemelka
Phoenix, AZ
40
Nick Patrick
Las Vegas, NV
41
Michael Webber
Kingman, AZ
42
Victor Pherreigo
Ft Mohave, AZ
43
Justus Trader
Prescott Valley, AZ
44
Taylor Ray
Las Vegas, NV

Ball Winner: Melissa Huether
TOTAL AWARDED THIS EVENT: $7,540