BRC KYRENE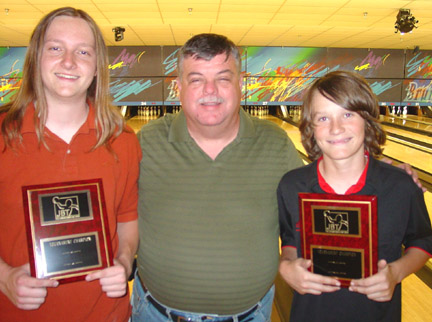 Scratch champ Kevin Saunders, Steve Bodinet of Home Helpers-Direct Link, handicap champ Kyle Frederick
Kevin Saunders came up big again on a tough condition, while Kyle Frederick grabbed control of the handicap division in exciting Arizona Conference JBT action at BRC Kyrene Lanes, presented by Home Helpers-Direct Link.
The scratch division stepladder finals opened with a great potential for the first three-way tie match in JBT history. Unfortunately for Kyle King, after Theo Douthit and Kevin Narciso tied at 191, King opened in the tenth for 178, setting up a one-shot rolloff which Theo won 10-9 to advance. In round two, Bill Grant escaped with a 189 game to advance over Douthit (167) and Cameron Smith (170).
The semifinal match featured three of our biggest stars. Kevin Saunders rolled a 220 to win the match over Grant (171) and Steven Black (180), but that fact was overshadowed by the fact that that game wraps up the unparalleled JBT career of Steven Black, who announced plans to go adult after this event (he won that event, an ACBA, the next day!). Steven bowled the second JBT event ever held in 1997 (the first, that he missed, ironically was at Kyrene), so it really is the end of an era for our Tour. Among his many phenomenal stats, Black finishes with 256 events bowled (nobody else has 200), 42 titles (second is 22), 141 top-5 finishes (second is 58), 5 Bowler of the Year awards, and $38,758 in career JBT scholarship earnings- what an amazing mountain of statistics for this talented bowler.
Saunders faced top-seed Chris Weyrauch for the title. Chris also led at Cliff Castle on a similarly demanding pattern, so he was full of confidence all day long, easily leading the 75-player field. However, after a three-bagger to open, he hit his ankle on a spare attempt, and the title match was downhill from there. Kevin, who is always in the hunt on our tougher conditions, took advantage, capturing his 8th career JBT title with a 225-190 victory.
The handicap division finals opened with Barbara Lampkin squeaking by with a 183 game that edged Blake Kalaf (181) and Keaton Karpovich (176), who bravely stayed in the game despite a torn thumb. In a much higher scoring round two, Holly Emery marked in the tenth for a 231 game that beat Lampkin (210) and Joshua Shoup (218). In a close semifinal battle, Anthony Tripi shot a 224 to reach the title match over Emery (187) and Jason Moore (221).
Top qualifier Kyle Frederick is almost always in a bowling center these days, and it paid off for him by leading the field on the grueling pattern. After a few title match disappointments in the second half of last year, Frederick remained in control the entire game, cruising to 237-186 win over Tripi. The victory was the third of his JBT career, and vaults him to an early lead in the handicap division points race.
Kris Zahn of Arizona High School bowling also raffled off an Ebonite bowling ball at the event. She is working hard to expand high school bowling in our state, which JBT supports 100%. You can get lots more information from Kris by contacting her at kris@kriszahn.com.
A near-record 138 bowlers competed in the event. Everyone who finished in the top 5 qualifies for the 2007 JBT Arizona Invitational Tournament, the regular season's year end event, featuring a guaranteed minimum $1,000 first place scholarship in each division. Top season-long point scorers also qualify for the 2007 JBT Touring Players' Championship, featuring a guaranteed minimum $2,000 first place scholarship per division!
Big thanks to everyone at Kyrene for their usual terrific job hosting our events. Over $3,600 in scholarships was awarded. Want in on the fun? Come on out to the next JBT event, it's as simple as that!
BRC Kyrene Lanes- final results and optional scholarship winners
9/16/2006
Arizona Conference
Scratch Division
rank
name
city, state
score
prize
1
Kevin Saunders
Goodyear, AZ
p 160
$365
2
Chris Weyrauch
Chandler, AZ
p 263
$240
3
Steven Black
Phoenix, AZ
p 140
$260
4
Bill Grant
Rio Rancho, NM
p 93
$140
5
Cameron Smith
Santee, CA
p 104
$125
6
Theo Douthit
San Diego, CA
p 79
$140
7
Kevin Narciso
Phoenix, AZ
p 91
$105
8
Kyle King
Phoenix, AZ
p 88
$95
9
Rane lacona
Phoenix, AZ
p 45
$40
10
Will McPherson
Chandler, AZ
p 29
$35
11
Andy Byer
Albuquerque, NM
p 23
$70
12
Elias Ewert
Chandler, AZ
m 43
$25
13
Kyle Ruzylo
Oceanside, CA
m 77
$20
14
Labriel Leach
Tucson, AZ
m 91
$15
15
DeShaun Jefferson
Phoenix, AZ
m 94

16
BJ Baker
Tempe, AZ
m 103

17
Miguel Lopez
Peoria, AZ
m 108

18
JR Monteith
Orange, CA
m 112

19
Greg Garbera
Phoenix, AZ
m 115
$45
20
Jonathan Pletcher
Chandler, AZ
m 117

21
Tiffany Chi
Prescott, AZ
m 130

22
Kevin Schoenfeld
Phoenix, AZ
m 139
$45
23
Kros George
Glendale, AZ
m 144
$30
24
Christian Jensen
Anthem, AZ
m 146
$30
25
Forrest Holland
Vista, CA
m 147

26
Brian Makan
Tempe, AZ
m 162

27
Jerod Florez
Bosque Farms, NM
m 165

28
Chris Davenport
Tucson, AZ
m 170

29
Dan Bodinet
Phoenix, AZ
m 176

30
Eric Warren
Phoenix, AZ
m 178
$30
31
Bear Wiltfang
Lake Havasu City, AZ
m 184
$120
32
Merrell Hughes
Chandler, AZ
m 197

33
Tyler Shipman
Phoenix, AZ
m 212
34
Jordan Ferrer
Henderson, NV
m 226
$15
35
Nicholas Lee
Tucson, AZ
m 235

36
Shane Lien
San Diego, CA
m 239

37
Jeff Millmier
Phoenix, AZ
m 246
38
Brent Larsen
Phoenix, AZ
m 297
$30
39
Brian Ballard
San Diego, CA
m 140
40
Randy Cote
Tucson, AZ
m 143

41
Michael Cross
Tucson, AZ
m 158

42
Randy Blunck
Phoenix, AZ
m 158
43
Jeff Mathews
Las Vegas, NV
m 161
44
Dan Eagy
Phoenix, AZ
m 164
45
Amanda Albani
Phoenix, AZ
m 164
46
Marc Algeri
Phoenix, AZ
m 166
47
Brian Weyrauch
Tempe, AZ
m 175
48
Rachelle Davis
Tucson, AZ
m 175

49
Emily Ornelas
Phoenix, AZ
m 178

50
Matt Zang
Tucson, AZ
m 186

51
Marc Burris
Tucson, AZ
m 194
52
Kylee Bonneville
Mesa, AZ
m 198
53
Rebekah Gottlieb
Tempe, AZ
m 200
54
Matt Erb
Phoenix, AZ
m 211
55
Bryan Caldwell
Glendale, AZ
m 214

56
Tom Anderson
Chandler, AZ
m 214
57
Zach Simon
Scottsdale, AZ
m 229
58
Justin White
Phoenix, AZ
m 230
59
Bryanna Dawson
Chandler, AZ
m 233
60
Lana Lycan
San Diego, CA
m 234
61
Melissa Del Rio
Tucson, AZ
m 238
62
Paul Anderson
Chandler, AZ
m 241
63
David Johnston
Glendale, AZ
m 243
64
Matt Ward
Phoenix, AZ
m 243
65
Kevin Magyar
Phoenix, AZ
m 247
66
Tiffany King
Surprise, AZ
m 247
67
Steven Sheffey
Glendale, AZ
m 250
68
Steven Pizzi
Avondale, AZ
m 256
69
Mike Kremer
Peoria, AZ
m 257
70
Chris Varholdt
Chandler, AZ
m 277
71
Michael Aguilar
Tucson, AZ
m 285
72
Steph Merrell
Albuquerque, NM
m 309
73
Shane Peck
Riverside, CA
m 355
74
Corbin Farris
Phoenix, AZ
m 390
75
Chris Davis
Phoenix, AZ
m 396
Handicap Division
rank
name
city, state
score
prize
1
Kyle Frederick
Chandler, AZ
p 100
$425
2
Anthony Tripi
Avondale, AZ
p 72
$235
3
Jason Moore
Phoenix, AZ
p 36
$125
4
Holly Emery
Phoenix, AZ
p 9
$100
5
Joshua Shoup
Surprise, AZ
p 20
$80
6
Barbara Lampkin
Tucson, AZ
m 2
$100
7
Blake Kalaf
Chandler, AZ
m 18
$60
8
Keaton Karpovich
Chandler, AZ
m 29
$50
9
Chelsea Zemelka
Phoenix, AZ
m 48
$115
10
Justin Givler
Phoenix, AZ
m 50
$30
11
Karissa Tafoya
Phoenix, AZ
m 51
$50
12
Rebeca Reguero
Phoenix, AZ
m 65
$120
13
Nicole Rossetti
Chandler, AZ
m 66

14
Taylor Knight
Phoenix, AZ
m 69
$30
15
Emmanuel Durazo
Phoenix, AZ
m 74
$5
16
Eric Vitzthum
Glendale, AZ
m 77

17
Bethany Baker
Tempe, AZ
m 79

18
Susan Kurzeka
Albuquerque, NM
m 79

19
Daniel Cotten
Glendale, AZ
m 85
$12
20
Kayla Goad
Phoenix, AZ
m 87

21
Bryce Techmer
Phoenix, AZ
m 94

22
Courtney Dutton
Chandler, AZ
m 106

23
Alesha Pannier
Lake Havasu City, AZ
m 115
$15
24
Justus Trader
Prescott Valley, AZ
m 133

25
Anthony Cruz
San Diego, CA
m 158
$15
26
Robert Atherton
Glendale, AZ
m 167

27
Adam Lebbs
Oro Valley, AZ
m 190

28
Brittany Crowell
Glendale, AZ
m 194

29
Kyle Klein
Phoenix, AZ
m 204

30
Justin Newkirk
Tucson, AZ
m 218
31
Dennan Boscarino
Phoenix, AZ
m 222
$15
32
Amy Dorsey
Prescott Valley, AZ
m 122

33
CJ Crowley
Gilbert, AZ
m 122

34
Joey Longo
Phoenix, AZ
m 129

35
Rebecca Bodinet
Phoenix, AZ
m 131

36
David Price
Safford, AZ
m 132

37
Sean Baker
Tempe, AZ
m 133
$30
38
Christopher Spinner
Mesa, AZ
m 133

39
Taylor King
Phoenix, AZ
m 133
$30
40
Cris Boyle
Mesa, AZ
m 135
$15
41
James Hawkins, Jr.
Anaheim, CA
m 137

42
Kyle Vitzthum
Glendale, AZ
m 138
43
Danny Varholdt
Chandler, AZ
m 143
44
Kyle Karpovich
Chandler, AZ
m 148
45
Jordan Bell
Phoenix, AZ
m 150
$15
46
Brandon Longo
Phoenix, AZ
m 152
47
Rachel Lynn
Peoria, AZ
m 154
48
Stephanie Ankebrant
Tempe, AZ
m 163
49
Justin Rainer
Chandler, AZ
m 168
50
Jake Huff
Chandler, AZ
m 168
51
Justin Jordan
Mesa, AZ
m 172
52
Greg Shoaf
Chandler, AZ
m 174
53
Vance Varholdt
Chandler, AZ
m 190
54
Alex Ellis
Phoenix, AZ
m 190
55
Tim Radney
Mesa, AZ
m 191
56
Jay Prewitt
Chandler, AZ
m 195
57
Tyler Boscarino
Alpine, CA
m 197
58
Jewels Giordano
Phoenix, AZ
m 205
59
Susy Monteith
Orange, CA
m 218
60
Guy Prewitt
Chandler, AZ
m 229
61
Jonathan Crowell
Glendale, AZ
m 252
62
Andrew Dorsey
Prescott Valley, AZ
m 264
63
Jared Boscarino
Phoenix, AZ
m 336
Cuts: scratch -138; handicap -120
Ebonite Ball Winner: Kyle Frederick's family
TOTAL AWARDED THIS EVENT: $3,697