THE ORLEANS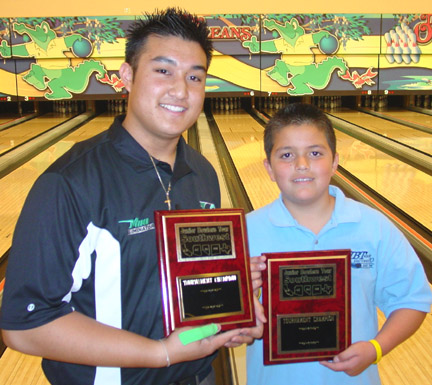 champs Nathan Panaligan & Cameron Peck
Nathan Panaligan and Cameron Peck started a new season of Mojave Conference JBT action with even more success in an exciting JBT event at The Orleans.
The scratch division finals was all about 13-year old Jordan Katz prior to the title match. He began with a 217-214 win over JR Monteith in round one. He followed that with a 214-169 triumph over Cameron Smith, and advanced to the title match with a 257-204 win over Justin Medina.
Top qualifier Panaligan had won the season opener in each of the last two seasons, but both those events were at Suncoast. The change of venue didn't slow him down one bit, though, as he cruised to a 223-184 win over Katz. The win was the eighth of his JBT career, and nudged him nearer to the $10,000 mark in career JBT earnings. So, Nathan continues his present domination, but perhaps we saw a piece of the future in the very impressive Katz.
Kyle Bridgman won round one of the handicap finals with a 220-169 win over Taelor McKenrick. Peck then took over, winning round two 191-146 over Bridgman, then defeating James Hawkins Jr. 239-208 to reach the title match.
Top seed Joshua Ferrer was looking to join his brother Jordan as JBT champs, but was unable to stop Peck's momentum in the finale. Cameron defeated Joshua 209-189 to claim his sixth career JBT title.
Only 76 bowlers competed in the event, so we hope everyone who attended had a great time, and will spread the word about the great benefits of bowling JBT. Everyone who finished in the top 5 qualifies for the 2007 JBT Mojave Invitational Tournament, the regular season's year end event, featuring a guaranteed minimum $1,000 first place scholarship in each division. Top season-long point scorers also qualify for the 2007 JBT Touring Players' Championship, featuring a guaranteed minimum $2,000 first place scholarship per division!
Big thanks to everyone at The Orleans for their usual terrific job hosting our events. Over $1,800 in scholarships were awarded. Want in on the fun? Come on out to the next JBT event, it's as simple as that!
The Orleans- final results and optional scholarship winners
9/24/2006
Mojave Conference
Scratch Division
rank
name
city, state
score
prize
1
Nathan Panaligan
N. Las Vegas, NV
p 316
$350
2
Jordan Katz
Las Vegas, NV
p 200
3
Justin Medina
Santa Fe, NM
p 208
$100
4
Cameron Smith
Santee, CA
p 203
$130
5
JR Monteith
Orange, CA
p 200
$90
6
DJ Sloan
Las Vegas, NV
p 188
$90
7
Brandon Allred
Las Vegas, NV
p 173
$40
8
Kyle King
Phoenix, AZ
p 160
$30
9
Eric Warren
Phoenix, AZ
p 128
$35
10
Shane Peck
Riverside, CA
p 96
$110
11
Joe Claspell
Lake Havasu City, AZ
p 90
12
Kevin Schoenfeld
Phoenix, AZ
p 68

13
Emily Ornelas
Phoenix, AZ
p 59

14
Matt McHann
Las Vegas, NV
p 47

15
Brandon Watts
Lake Havasu City, AZ
p 46
$30
16
Andy Reynoso
Las Vegas, NV
p 34

17
Chris Kagawa
Las Vegas, NV
p 22

18
Ryan Jacobson
Las Vegas, NV
p 9

19
Andy Byer
Albuquerque, NM
m 30

20
Jeremy Medina
Santa Fe, NM
m 34

21
Eric Rubin
Phoenix, AZ
m 35

22
Hannah Chipman
Las Vegas, NV
m 65

23
Jeff Mathews
Las Vegas, NV
m 104
$45
24
Bobby Majdanski
Las Vegas, NV
inc card

25
Brian Pepper
Thousand Oaks, CA
m 54

26
Brian Ballard
San Diego, CA
m 57

27
Cayson Coyle
Las Vegas, NV
m 63
$15
28
April Urban
Henderson, NV
m 63

29
Allie Ijams
Mission Viejo, CA
m 65
$30
30
Jordan Ferrer
Henderson, NV
m 87

31
Sean Khureya
Las Vegas, NV
m 90

32
Forrest Holland
Vista, CA
m 96

33
Greg Garbera
Phoenix, AZ
m 100

34
Jessica Hetkowski
Las Vegas, NV
m 113

35
Justin Spurrier
Las Vegas, NV
m 116

36
Christian Jensen
Anthem, AZ
m 116

37
Kary Nugyen
Las Vegas, NV
m 117
38
Eddie Schaub
Las Vegas, NV
m 120
39
Jerod Florez
Bosque Farms, NM
m 121
40
Kris George
Glendale, AZ
m 122
41
Dan Fasanella
Las Vegas, NV
m 126
42
Alyssa Madrid
Las Vegas, NV
m 137
43
Kris Del Campo
Las Vegas, NV
m 139
44
Paolo Castro
Las Vegas, NV
m 161
45
Tim Lee
Las Vegas, NV
m 166
46
Blaine Hellman
Lake Havasu City, AZ
m 229

Handicap Division
rank
name
city, state
score
prize
1
Cameron Peck
Riverside, CA
p 173
$200
2
Joshua Ferrer
Henderson, NV
p 204
$100
3
James Hawkins, Jr.
Anaheim, CA
p 186
$90
4
Kyle Bridgman
Kingman, AZ
p 107
$40
5
Taelor McKenrick
Henderson, NV
p 106
$65
6
Susy Monteith
Orange, CA
p 93
7
Eric Sheather
Riverside, CA
p 57

8
Kevin Foss
Las Vegas, NV
p 40
$8
9
Ryan Yadao
Las Vegas, NV
p 35
$15
10
Ricky Overton
Las Vegas, NV
p 35

11
Ashley Olriksen
Las Vegas, NV
p 23

12
Alesha Pannier
Lake Havasu City, AZ
m 11

13
Sean Huggins
Las Vegas, NV
m 65
$20
14
Justin King
Henderson, NV
m 67

15
Michael May
San Diego, CA
m 82

16
Merrill Hill
Las Vegas, NV
m 95
$40
17
Paul Huether
Las Vegas, NV
m 16

18
Logan Kennedy
Henderson, NV
m 16

19
Bryce Hackney
Las Vegas, NV
m 35
20
Troy Graydon
Las Vegas, NV
m 43

21
Alicia Sullivan
Kingman, AZ
m 44

22
Darcie Staggs
Bullhead City, AZ
m 45

23
Kelly White
Las Vegas, NV
m 62

24
Alex Katz
Las Vegas, NV
m 62

25
Aubrey Calabrese
Las Vegas, NV
m 76

26
Courtney Dutton
Chandler, AZ
m 95

27
Zach Hattori
Las Vegas, NV
m 97

28
Donovan Koff
Las Vegas, NV
m 138

29
Sarah Ansteth
Las Vegas, NV
m 157

30
Melissa Huether
Las Vegas, NV
m 171

Cuts: scratch - 57; handicap - 11
Ebonite Ball Winner: Kyle Bridgman
TOTAL AWARDED THIS EVENT: $1,719