TOWN & COUNTRY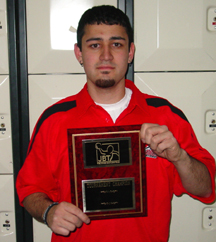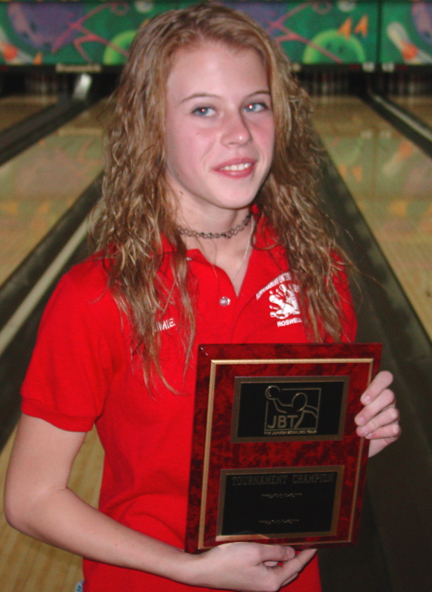 champs Jeremy Medina and Kimberly Amerson
Jeremy Medina and Kimberly Amerson were the true survivors of exciting JBT survivor format action at Roswell's Town & Country Entertainment.
This format is a true test of mental and physical endurance, as after our normal cut, we bowl matches with the lowest score on each pair being eliminated, over and over until only one survivor remains.
Eventually the scratch division was chopped down to the final four. On a much more demanding lane condition than the previous day, Sam Cuevas came up with a great game to beat Stephen Gaucin 221-156. In the other semifinal, Jeremy Medina was also rock solid, beating Andy Byer 211-182 to advance to the final survivor match.
The only blemish on Medina's long and successful JBT career has been a lack of victories, but Jeremy wanted to hear none of that as he blasted the front four strikes en route to a 211-182 win and his 2nd career title.
In the handicap division, six bowlers eventually remained, and in that round Mason Holman, the lone male remaining, eliminated Meagan Shipler 194-183, Amerson ousted Kara Casaus 233-186, while Kendra Jones beat Krista Casuas 224-210, but Krista survived as the highest losing score since an odd number of survivors were left.
With four bowlers now left, Amerson eliminated Casaus for good 229-174, while Jones defeated Holman 204-185, to set up the finale.
The title match between good friends Kendra and Kimberly (go figure, two girls named "K" in Roswell) was slow at first, but both bowlers really picked it up in the late frames, with Amerson marking in the tenth for a 219-207 win and her first career title.
Everyone who finished in the top 5 qualifies for the 2007 JBT NM-TX Invitational Tournament, the regular season's year end event, featuring a guaranteed minimum $1,000 first place scholarship in each division. Top season-long point scorers also qualify for the 2007 JBT Touring Players' Championship, featuring a guaranteed minimum $2,000 first place scholarship per division!
Big thanks once again to Brian Casaus and the whole Roswell crew for another terrific job hosting our event. Over $1,500 in scholarships was awarded to a near-sellout 91 bowler field!
Town & Country (Sunday)- final results and optional scholarship winners
1/7/2007
New Mexico-Texas Conference
Scratch Division
rank
name
city, state
prize
1
Jeremy Medina
Santa Fe, NM
$300
2
Sam Cuevas
Lubbock, TX
$125
3
Andy Byer
Albuquerque, NM
$120
4
Stephen Gaucin
El Paso, TX
$58
5
Justin Medina
Santa Fe, NM
$73
6
Nathan Shock
Thornton, CO
$60
7
JR Monteith
Orange, CA
$18
8
Zach Barnard
Albuquerque, NM
9
Bill Grant
Rio Rancho, NM
$15
10
Mike Cross
Tucson, AZ
11
Michelle Snyder
Alamogordo, NM
$35
12
Josh Wilks
Roswell, NM

13
Paul Carper
Rio Rancho, NM

14
Octavio Ruiz
Roswell, NM

15
Shane Peck
Riverside, CA
$10
16
Charlie Elliott
Santa Fe, NM

17
Josh Arceo
Albuquerque, NM

18
William Entsminger
El Paso, TX
$10
19
Christina Waldron
Albuquerque, NM

20
Jerod Florez
Bosque Farms, NM
21
Randy Cote
Tucson, AZ
22
Stephanie Merrell
Rio Rancho, NM

Handicap Division
rank
name
city, state
prize
1
Kimberly Amerson
Roswell, NM
$245
2
Kendra Jones
Roswell, NM
$100
3
Mason Holman
Roswell, NM
$90
4
Krista Casaus
Roswell, NM
$55
5
Kara Casaus
Roswell, NM
$45
6
Meagan Shipler
Roswell, NM
$35
7
Kassi Willis
Roswell, NM
$16
8
Kayla Jones
Roswell, NM
9
Ahkeen Williams
Las Cruces, NM

10
Brandon Dye
Roswell, NM

11
Miranda Ruiz
Roswell, NM

12
Glenn Gumbrecht
Clovis, NM
$20
13
Dakota Corbell
Roswell, NM

14
James Scott
Roswell, NM

15
Sabrina Vargas
Albuquerque, NM

16
Arielle Palma
Roswell, NM

17
Kristina Casuas
Roswell, NM
$15
18
Shawna Bellman
Albuquerque, NM
$15
19
Peter Cane
Albuquerque, NM
20
Charles Morales
Roswell, NM

21
Taylor Woodward
Roswell, NM

22
Diego Lucero
Santa Fe, NM

23
Brandy Main
Roswell, NM

24
Weston Marton
Rio Rancho, NM
$19
25
Kyla Casaus
Roswell, NM

26
Alyssa Williams
Las Cruces, NM

27
Carlos Abeyta
Alcalde, NM

28
Cheyenne Masterson
Roswell, NM

29
Julian Ortega
Roswell, NM

30
Nathan Hughes
San Jose, NM
$36
31
Daniel Lopez
Roswell, NM
32
Seth Jaramillo
Albuquerque, NM

33
Cameron Meredith
Roswell, NM

34
Travis Turner
Amarillo, TX

35
Jamar McDaniel
Rio Rancho, NM

36
Wendy Shelton
Albuquerque, NM
37
Daniel Aguilar
Roswell, NM
38
Chris Schreyer
Alamogordo, NM
$10
39
Ashley Olriksen
Albuquerque, NM
40
Jerrico Palma
Roswell, NM
41
Justin Roach
Roswell, NM
42
Sara Vargas
Albuquerque, NM
43
Tevynn Laws
Albuquerque, NM
44
Justin Shipler
Roswell, NM
45
Colten Willis
Roswell, NM
46
Annalicia Martinez
Roswell, NM
47
Tad Scott
Roswell, NM
48
Joseph Palma
Roswell, NM
49
Janeyl Carper
Rio Rancho, NM

Ball Winner: Nathan Hughes
TOTAL AWARDED THIS EVENT: $1,575