SOUTH PLAINS LANES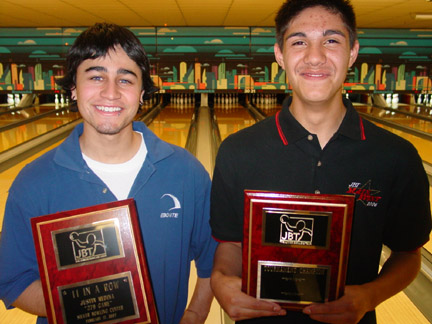 champs Justin Medina & Sam Zermeno

Justin Medina and Sam Zermeno picked up JBT titles in exciting West Texas JBT action at Lubbock's South Plains Lanes.

Medina climbed the ladder en route to his fifth career JBT triumph. He began with what turned out to be his toughest match, a 223-212 win over Bill Grant. He then had fairly easy wins over William Enstminger (257-215) and Nathan Shock (221-180), to advance to the title match.

Top qualifier Sam Cuevas had absolutely dominated the field in his hometown, leading by over 150 pins. However, the carry he had during the day disappeared in the title match as he fell victim to a slew of 9-counts. Justin took advantage for a 227-184 win and the title.

Ashley Olriksen made her first NM-TX finals a success by winning round one of the handicap stepladder finals 259-217 over Doug Cherry. Forrest Lockhart then defeated Olriksen in a high scoring battle 256-239, before Zermeno squeaked by Forrest in the semifinals 201-194 to reach the title match.

Top seed Travis Turner started the day with a 289 game and regained the lead in time for the finals, but found himself in a battle with Zermeno, who clearly learned from his first title match experience in February. Despite a nervous tenth frame, Sam had enough for a 214-209 win, good for his first career JBT title.

Everyone who finished in the top 5 qualifies for the 2007 JBT NM-TX Invitational Tournament, the regular season's year end event, featuring a guaranteed minimum $1,000 first place scholarship in each division. Top season-long point scorers also qualify for the 2007 JBT Touring Players' Championship, featuring a guaranteed minimum $2,000 first place scholarship per division!

Big thanks to Mr. Jim McClain and everyone at South Plains for a great job hosting our event. Over $1,500 in scholarships was awarded to the field!
South Plains Lanes- final results and optional scholarship winners
3/10/2007
NM-TX Conference
Scratch Division
rank
name
city, state
prize
1
Justin Medina
Santa Fe, NM
$220
2
Sam Cuevas
Lubbock, TX
$222
3
Nathan Shock
Thornton, CO
$85
4
William Entsminger
El Paso, TX
$75
5
Bill Grant
Rio Rancho, NM
$40
6
Troy Gaudette
Abilene, TX
$24
7
Jeremy Medina
Santa Fe, NM

8
Zach Wilkinson
Amarillo, TX
$10
9
Andy Byer
Albuquerque, NM
$30
10
Brian Collier
Amarillo, TX

11
Jerod Florez
Bosque Farms, NM

12
Andrew Chandler
Lubbock, TX

13
Paul Carper
Rio Rancho, NM

14
Anthony Johnson
Amarillo, TX

15
Matt Hutchinson
Escondido, CA

16
Dan Romero
Santa Fe, NM
17
Glenn Gumbrecht
Clovis, NM

Handicap Division
rank
name
city, state
prize
1
Sam Zermeno
El Paso, TX
$236
2
Travis Turner
Amarillo, TX
$100
3
Forrest Lockhart
Lubbock, TX
$70
4
Ashley Olriksen
Albuquerque, NM
$95
5
Doug Cherry
Lubbock, TX
$55
6
Sara Vargas
Albuquerque, NM
$30
7
Staci Gleason
Lubbock, TX
$35
8
Sydney Bowerman
Amarillo, TX
9
Matt McDonald
Lubbock, TX

10
Nathan Hughes
San Jose, NM
$65
11
Wendy Shelton
Albuquerque, NM
$45
12
Carlos Abeyta
Alcalde, NM

13
Robbie Swope
Lubbock, TX

14
Kat Swindell
Amarillo, TX

15
Jory Dunavin
Lubbock, TX

16
Kyla Collier
Amarillo, TX

17
Diego Lucero
Santa Fe, NM
$10
18
Marlee Wall
Lubbock, TX

19
Joseph Lynch
Lubbock, TX

20
Mike Romero
Santa Fe, NM

21
Janeyl Carper
Rio Rancho, NM
$15
22
Kaycie Wertz
Lubbock, TX
$15
23
Brittany Tyson
Lubbock, TX

24
Brandon Gill
Albuquerque, NM

25
Coy Gleason
Lubbock, TX
$20
26
Rachel Thompson
Albuquerque, NM

27
Brady Wertz
Lubbock, TX

28
Stephanie Barela
Albuquerque, NM
$15
29
Lacey Shelton
Albuquerque, NM

30
Sabrina Vargas
Albuquerque, NM
31
Chelsea Johnson
Lubbock, TX

32
Amanda Jarzemba
Santa Fe, NM

33
Olivia Silva
Albuquerque, NM

34
Debbie Jarzemba
Santa Fe, NM

35
Michael Hurt
Lubbock, TX

36
Corey Roundtree
Lubbock, TX
37
Elizabeth Romero
Santa Fe, NM
38
Jacob Gill
Albuquerque, NM
39
Amanda Johnson
Rio Rancho, NM
$5
40
Isaiah Johnson
Lubbock, TX
41
Tevynn Laws
Albuquerque, NM
42
Rusty Wilkinson
Amarillo, TX
43
Jonathan Nicholson
Amarillo, TX

Ball Winner: Jeff Wertz
TOTAL AWARDED THIS EVENT: $1,517