SAM'S TOWN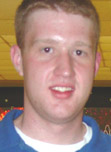 champs BJ Baker & Kyle Akers

21 was BJ Baker's lucky number in Vegas this week, while "1" worked just fine for Kyle Akers, in exciting JBT Mojave Conference action at Sam's Town.

The scratch division used the exciting Survivor format, where semifinalists roll low-score-out matches until only one person stands. A ridiculously high-scoring condition made any score vulnerable. The field was thusly whittled down to eight. In those matches, red-hot Jordan Ferrer (who rolled 300 the day before and 299 in qualifying) defeated Kris George 192-182, Cayson Coyle got by Kyle King 199-178, BJ Baker eliminated points leader JR Monteith 213-199, and Brandon Allred defeated Justin Spurrier 258-226.

In the semifinals, Coyle ousted Allred 247-194, while Baker defeated Ferrer 204-161, setting up the finale.

Baker, the previous day's winner in San Diego, was looking to pull off the extremely rare feat of winning twice in one weekend, only achieved five times before in JBT history. A refocused BJ was more than up to the task, whipping Coyle 249-168 for the win. The victory was the 21st title of his JBT career, what better place than Vegas to snag that one?

In round one of the handicap finals, a boyfriend-girlfriend battle took place (no, no- on the lanes), as Ricky Overton defeated Taylor McKenrick 229-217. Taylor Ray then took care of Overton 228-181. Akers then beat Ray 205-181 to reach the title match for the first time.

Top qualifier Sean Huggins continues to quietly improve in JBT action, and averaged well over 200 on the day to nab the top seed. However, he struggled in the finale, and Akers, who was having his best JBT ever, came through for a 195-135 victory, the fist title of his JBT career.

76 bowlers competed in the event, so we hope everyone who attended had a great time, and will spread the word about the great benefits of bowling JBT. Everyone who finished in the top 5 qualifies for the 2007 JBT Mojave Invitational Tournament, the regular season's year end event, featuring a guaranteed minimum $1,000 first place scholarship in each division. Top season-long point scorers also qualify for the 2007 JBT Touring Players' Championship, featuring a guaranteed minimum $2,000 first place scholarship per division!

Big thanks to everyone at Sam's Town for hosting our event. Over $2,000 in scholarships were awarded. Want in on the fun? Come on out to the next JBT event, it's as simple as that!
Sam's Town- final results and optional scholarship winners
3/18/2007
Mojave Conference
Scratch Division
rank
name
city, state
prize
1
BJ Baker
Tempe, AZ
$280
2
Cayson Coyle
Las Vegas, NV
$235
3
Jordan Ferrer
Henderson, NV
$60
4
Brandon Allred
Las Vegas, NV
$50
5
Justin Spurrier
Las Vegas, NV
$35
6
Kyle King
Phoenix, AZ
$50
7
Kris George
Glendale, AZ
$85
8
JR Monteith
Orange, CA

9
Cameron Smith
Santee, CA
$70
10
Nathan Panaligan
N. Las Vegas, NV
$55
11
Bobby Majdanski
Las Vegas, NV
$15
12
Chris Kagawa
Las Vegas, NV

13
Andy Reynoso
Las Vegas, NV
$85
14
Brandon Watts
Lake Havasu City, AZ

15
Kalani Dilliner
Las Vegas, NV

16
DJ Sloan
Las Vegas, NV

17
Lana Lycan
San Diego, CA

18
Shane Peck
Riverside, CA
$15
19
Jeff Mathews
Las Vegas, NV
$45
20
Forrest Holland
Escondido, CA

21
Chris Weyrauch
Chandler, AZ
22
Kary Nguyen
Las Vegas, NV
23
Joe Claspell
Lake Havasu City, AZ
24
Adam Reynoso
Las Vegas, NV

25
Paolo Castro
Las Vegas, NV
26
David Beisswenger
Las Vegas, NV
27
April Urban
Henderson, NV
$15
28
Jordan Ono
Pearl City, HI

29
Ryan Yadao
Las Vegas, NV
30
Alyssa Madrid
Las Vegas, NV
31
Christian Jensen
Anthem, AZ
32
Kris Del Campo
Las Vegas, NV
33
Brian Ballard
San Diego, CA
34
Allie Ijams
Mission Viejo, CA
35
Sean Khureya
Las Vegas, NV
$15
36
Jordan Katz
Las Vegas, NV
37
Chris Kutcher
Las Vegas, NV
Handicap Division
rank
name
city, state
prize
1
Kyle Akers
Kingman, AZ
$380
2
Sean Huggins
Las Vegas, NV
$155
3
Taylor Ray
Las Vegas, NV
$60
4
Ricky Overton
Las Vegas, NV
$40
5
Taylor McKenrick
Henderson, NV
$30
6
Paul Huether
Las Vegas, NV
$20
7
Troy Graydon
Las Vegas, NV

8
Keaton Karpovich
Chandler, AZ
$45
9
Kaitlin Mayall
Chula Vista, CA
$5
10
Kyle Bridgman
Kingman, AZ
$75
11
James Hawkins
Anaheim, CA
$5
12
Zach Hattori
Las Vegas, NV
13
Taylor King
Phoenix, AZ

14
Mike May
San Diego, CA

15
Melissa Huether
Las Vegas, NV

16
Greg Shoaf
Chandler, AZ
$15
17
Kevin Foss
Pahrump, NV

18
Alicia Sullivan
Kingman, AZ

19
Logan Kennedy
Henderson, NV

20
Teofisto Cipriaso
Las Vegas, NV
$15
21
Kristin Cathcart
Ft Mohave, AZ

22
Darcie Staggs
Bullhead City, AZ

23
Sean Caliebe
Ft Mohave, AZ

24
Justin Claspell
Lake Havasu City, AZ

25
Alesha Pannier
Lake Havasu City, AZ
$15
26
David Opdyke
Las Vegas, NV

27
Cris Boyle
Mesa, AZ

28
Sarah Ansteth
Las Vegas, NV

29
Donovan Koff
Las Vegas, NV

30
Joshua Shoup
Tolleson, AZ
31
Sasha Black
Ft Mohave, AZ
$15
32
Brandon Owen
Las Vegas, NV

33
Bryce Gross
Las Vegas, NV

34
Bethany Baker
Tempe, AZ

35
Taylor Aldridge
Las Vegas, NV

36
Brian Grupe
Las Vegas, NV

37
Kyle Karpovich
Chandler, AZ
38
Tim Johnson
Las Vegas, NV
39
Casey Bybee
Las Vegas, NV

Ball Winner: Bethany Baker
TOTAL AWARDED THIS EVENT: $2,030