SANTA CRUZ LANES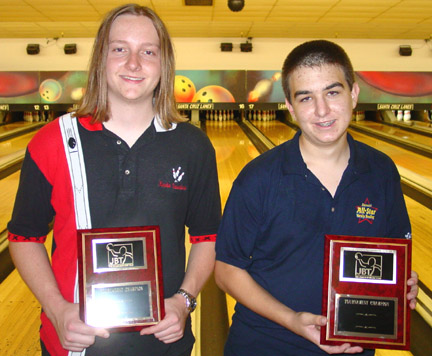 champs Kevin Saunders & Chris Spinner
Kevin Saunders continued a great start to his 06-07 JBT season, while Chris Spinner tasted victory for the first time, in exciting JBT action at Santa Cruz Lanes.
Zach Simon fired the only 300 game of the day, his first ever, en route to an 11th place finish. Jeremy Medina opened the finals with a 224 game that eliminated Will McPherson (193) and BJ Baker (160). Brian Weyrauch then escaped with a round-two 184 that beat Medina (166) and Kyle King (177). In a thrilling semifinal, Brian filled 20 in the tenth for a 247 game that beat Andy Byer's 246, while Miguel Lopez finished 4th with a 145.
Top qualifier Saunders took over the lead in the matchplay round, but Weyrauch had fired 750 in the semis himself to set up an interesting title match. After a close beginning, Saunders pulled away in the late frames for a 244-179 victory and his 8th career JBT title. He also remained atop the points lead with the big day.
Courtney Dutton opened the high scoring handicap finals with a 248 that edged Taylor Knight (242) and Mike May (173). Dutton was solid in round two also, firing a 243 to beat Rachelle Davis (222) and Brandon Longo (189). A thrilling semifinal saw rookie Ashley Collins blast a 260, but incredibly it wasn't enough as Spinner came up with a 273 (while Dutton had a fine 223), advancing Chris to the title match.
Top qualifier Cris Boyle had trumped all this scoring with the 5th highest 8-game handicap total (+410) in JBT history. However, Boyle unfortunately struggled in the title match, and Spinner took advantage for a 231-168 victory and his first career JBT title.
118 bowlers competed in the event. Everyone who finished in the top 5 qualifies for the 2007 JBT Arizona Invitational Tournament, the regular season's year end event, featuring a guaranteed minimum $1,000 first place scholarship in each division. Top season-long point scorers also qualify for the 2007 JBT Touring Players' Championship, featuring a guaranteed minimum $2,000 first place scholarship per division!
Big thanks to Dale Schnell and everyone at Santa Cruz for their usual terrific job hosting our events. Over $2,300 in scholarships was awarded. Want in on the fun? Come on out to the next JBT event, it's as simple as that!
Santa Cruz Lanes- final results and optional scholarship winners
11/4/2006
Arizona Conference
Scratch Division
rank
name
city, state
score
prize
1
Kevin Saunders
Goodyear, AZ
p 285
$235
2
Brian Weyrauch
Tempe, AZ
p 227
$130
3
Andy Byer
Albuquerque, NM
p 247
$150
4
Miguel Lopez
Peoria, AZ
p 242
$120
5
Kyle King
Phoenix, AZ
p 218
$95
6
Jeremy Medina
Santa Fe, NM
p 161
$40
7
Will McPherson
Chandler, AZ
p 190
$35
7
BJ Baker
Tempe, AZ
p 165
$30
9
Labriel Leach
Tucson, AZ
p 147
$55
10
JR Monteith
Orange, CA
p 140
$20
11
Zach Simon
Scottsdale, AZ
p 133
12
Kenneth Lange
Tucson, AZ
p 130

13
Jeff Millmier
Phoenix, AZ
p 116
$30
14
Greg Geering
Phoenix, AZ
p 110

15
Matt Ward
Phoenix, AZ
p 108

16
Nick Powanda
San Diego, CA
p 108

17
Bryanna Dawson
Phoenix, AZ
p 102
$40
18
Kevin Narciso
Phoenix, AZ
p 93

19
Forrest Holland
Escondido, CA
p 87

20
Nicholas Lee
Tucson, AZ
p 83

21
Eric Rubin
Phoenix, AZ
p 35
$15
22
Jerod Florez
Bosque Farms, NM
p 23

23
Marc Burris
Tucson, AZ
p 11
$15
24
Matt Zang
Tucson, AZ
p 2

25
Dan Bodinet
Phoenix, AZ
m 9

26
Chris Davenport
Tucson, AZ
m 29

27
Rane Lacona
Phoenix, AZ
m 37

28
Corbin Farris
Phoenix, AZ
m 51
$30
29
Jonathan Pletcher
Phoenix, AZ
m 53
$25
30
DeShaun Jefferson
Phoenix, AZ
inc card
$10
31
Chris Varholdt
Chandler, AZ
m 14

32
Christian Jensen
Anthem, AZ
m 15

33
Randy Cote
Tucson, AZ
m 16

34
Shane Lien
San Diego, CA
m 19

35
Tom Anderson
Chandler, AZ
m 19
36
Justin Medina
Santa Fe, NM
m 21
37
Bill Grant
Rio Rancho, NM
m 22
38
Lee Stark
Sierra Vista, AZ
m 34
39
Melissa Del Rio
Tucson, AZ
m 35

40
Greg Garbera
Phoenix, AZ
m 35

41
Bear Wiltfang
Lake Havasu City, AZ
m 35

42
Justin White
Phoenix, AZ
m 35
43
Chris McHenry
Tucson, AZ
m 47
$45
44
Holly Gordon
Tucson, AZ
m 55

45
Stephanie Merrell
Rio Rancho, NM
m 59

46
Lana Lycan
San Diego, CA
m 66

47
Michael Cross
Tucson, AZ
m 67

48
Kevin Schoenfeld
Phoenix, AZ
m 81

49
Mathew Hunt
Tucson, AZ
m 82
50
Andy Reignier
Tucson, AZ
m 83
51
Francisco Peralta
Tucson, AZ
m 86

52
Chris Weyrauch
Tempe, AZ
m 89

53
Joey DiFebbo
Tucson, AZ
m 96

54
Elias Ewert
Chandler, AZ
m 109

55
David Johnston
Glendale, AZ
m 118

56
Megan Withey
Glendale, AZ
m 123
57
Tyler Addotta
Tucson, AZ
m 133
58
Jacob Smith
Tucson, AZ
m 170
59
Michael Aguilar
Tucson, AZ
m 185
Handicap Division
rank
name
city, state
score
prize
1
Chris Spinner
Mesa, AZ
p 282
$200
2
Cris Boyle
Mesa, AZ
p 410
$130
3
Ashley Collins
Tucson, AZ
p 280
$90
4
Courtney Dutton
Chandler, AZ
p 222
$60
5
Rachelle Davis
Tucson, AZ
p 256
$110
6
Brandon Longo
Chandler, AZ
p 256
$85
7
Taylor Knight
Phoenix, AZ
p 197
$50
8
Mike May
San Diego, CA
p 195
$30
9
Kevin Farthing
Tucson, AZ
p 176
$25
10
Justin Newkirk
Tucson, AZ
p 172
$72
11
Cheslea Zemelka
Phoenix, AZ
p 164
$140
12
Guy Prewitt
Chandler, AZ
p 155

13
Joshua Shoup
Tolleson, AZ
p 148

14
Rebecca Bodinet
Phoenix, AZ
p 148

15
Matthew Aguilar
Tucson, AZ
p 147

16
Serena Stark
Sierra Vista, AZ
p 141
$30
17
Ashley Olriksen
Albuquerque, NM
p 133

18
Holly Emery
Mesa, AZ
p 120

19
Vance Varholdt
Chandler, AZ
p 119

20
Matt Erb
Tempe, AZ
p 117

21
Bethany Baker
Tempe, AZ
p 107

22
Daniel Cotten
Glendale, AZ
p 102
$45
23
Steven Pizzi
Avondale, AZ
p 85

24
Jacob Guerrero
Tucson, AZ
p 62

25
Bryce Techmer
Tempe, AZ
p 54

26
Devon McCormick
Tucson, AZ
p 52
$15
27
Jessica Reed
Tucson, AZ
p 50

28
Greg Shoaf
Chandler, AZ
p 40

29
Kristen Lee
Tucson, AZ
p 10

30
Marcus Stanley
Tucson, AZ
inc card
31
Rachel Lynn
Peoria, AZ
p 28
$30
32
Shawn Vickery
Tucson, AZ
p 25

33
Justin Givler
Phoenix, AZ
p 25

34
David Price
Safford, AZ
p 24

35
Kyle Frederick
Chandler, AZ
p 24

36
Blake Kalaf
Chandler, AZ
p 24
$60
37
Kayla Frederick
Chandler, AZ
p 23

38
Joey Longo
Chandler, AZ
p 20

39
Barbara Lampkin
Tucson, AZ
p 6

40
Robert Atherton
Glendale, AZ
p 5

41
Melissa Pursell
Tucson, AZ
p 3

42
Keanon Barton
Mesa, AZ
m 1

43
Jon Reed
Tucson, AZ
m 1
44
Rebeca Reguero
Phoenix, AZ
m 4
45
CJ Crowley
Gilbert, AZ
m 9

46
Eric Vitzthum
Glendale, AZ
m 10
47
Heather Hicks
Tucson, AZ
m 11
48
Erica Pursell
Tucson, AZ
m 13
49
Kyle Karpovich
Chandler, AZ
m 13
50
Austin Yearwood
El Paso, TX
m 28
51
Taylor King
Phoenix, AZ
m 38
52
Anthony Tripi
Avondale, AZ
m 44
53
Jay Prewitt
Chandler, AZ
m 49
54
Matt Payne
Phoenix, AZ
m 63

55
Karissa Tafoya
Phoenix, AZ
m 64

56
Cody Vanderweyst
Phoenix, AZ
m 65
57
Samantha Aguilar
Tucson, AZ
m 83
58
Jordan Vanderweyst
Phoenix, AZ
m 136
59
Joey Gordon
Tucson, AZ
m 165
cuts: scratch -14; handicap plus 30
Ball Winner: Robert Atherton's family
TOTAL AWARDED THIS EVENT: $2,327