SILVER BOWLING CENTER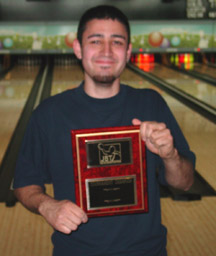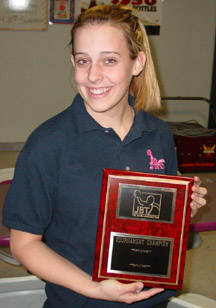 champs Jeremy Medina & Debbie Read
Debbie Read and Jeremy Medina captured titles in exciting JBT New Mexico-Texas Conference action in Silver City.
The scratch division bowlers tore up the lanes with lots of strikes all day, and the assistance of our 'mulligan' format, which allowed bowlers to earn crucial 'do-overs', resulting in a score of +305 needed just to make the finals. Dan Bodinet, who has been red-hot lately, continued the streak with a 226-214 win over Mike Cross in round one. Medina then stopped Bodinet 221-197, then got extremely lucky to get by BJ Baker, 257-246, when BJ failed to strike in the tenth despite three chances thanks to the mulligans.
Top qualifier Stephen Gaucin hardly needed any extra help scoring, as he torched the lanes all day long to easily nab the top seed. However, it was Stephen who had the carry problems in the title match, while Medina, who combined with his brother Justin has an ugly record against Stephen (and JBT alumni George), threw the ball great en route to a 227-203 win, good for his 4th career JBT title.
Peter Cane opened the handicap division stepladder with a 217-213 win over Skylar Miller. Cane then rolled on with a 221-193 win over Jonathan Frederick, before Debbie Read stopped Cane, 209-201, to reach he first title match.
Top seed Sam Zermeno was having his best tournament in his JBT career, but struggled early in the title match, and Read took advantage for a 222-184 win and her first career JBT victory, joining her brother William as JBT champs in their first season bowling our events.
Everyone who finished in the top 5 qualifies for the 2007 JBT NM-TX Invitational Tournament, the regular season's year end event, featuring a guaranteed minimum $1,000 first place scholarship in each division. Top season-long point scorers also qualify for the 2007 JBT Touring Players' Championship, featuring a guaranteed minimum $2,000 first place scholarship per division!
Big thanks to everyone at Silver for a great job hosting our events. Over $1,700 in scholarships was awarded to a 56 player field!
Silver Bowling Center- final results and optional scholarship winners
2/17/2007
NM-TX Conference
Scratch Division
rank
name
city, state
prize
1
Jeremy Medina
Santa Fe, NM
$300
2
Stephen Gaucin
El Paso, TX
$130
3
BJ Baker
Tempe, AZ
$179
4
Dan Bodinet
Maricopa, AZ
$50
5
Mike Cross
Tucson, AZ
$39
6
Bill Grant
Rio Rancho, NM
$15
7
Kris George
Glendale, AZ

8
BJ Eichensehr
El Paso, TX

9
Rachelle Davis
Tucson, AZ
$30
10
Andy Byer
Albuquerque, NM
$15
11
Justin Medina
Santa Fe, NM
$72
12
Nathan Shock
Thornton, CO
$15
13
Allie Ijams
Mission Viejo, CA

14
Randy Cote
Tucson, AZ

15
Dan Romero
Santa Fe, NM
16
William Entsminger
El Paso, TX

17
Josh Brown
Albuquerque, NM

18
Labriel Leach
Tucson, AZ

19
Matt Erb
Phoenix, AZ

20
Paul Carper
Rio Rancho, NM
$10
21
Jerod Florez
Bosque Farms, NM
$12
22
Michelle Snyder
Alamogordo, NM
23
Steph Merrell
Albuquerque, NM
Handicap Division
rank
name
city, state
prize
1
Debbie Read
Albuquerque, NM
$350
2
Sam Zermeno
El Paso, TX
$154
3
Peter Cane
Albuquerque, NM
$75
4
Jonathan Frederick
El Paso, TX
$55
5
Skylar Miller
Silver City, NM
$44
6
Ryan Scheer
Rio Rancho, NM
$15
7
Bethany Baker
Tempe, AZ
$45
8
John Freeman
Silver City, NM
$15
9
Amanda Lathan
Silver City, NM

10
Jamar McDaniel
Albuquerque, NM
$45
11
Debbie Jarzemba
Santa Fe, NM

12
LJ Mathews
Las Cruces, NM

13
Nick Hernandez
Silver City, NM

14
RJ Bellman
Albuquerque, NM

15
Rebecca Bodinet
Maricopa, AZ

16
Megan McClean
Silver City, NM
$15
17
Mike Romero
Santa Fe, NM

18
Ramona Allen
Silver City, NM

19
Kayla Goodwin
Bayard, NM

20
Brittany Allen
Silver City, NM

21
Wendy Shelton
Albuquerque, NM

22
Tevynn Laws
Albuquerque, NM

23
William Read
Albuquerque, NM

24
Shawna Bellman
Albuquerque, NM

25
Nathan Hughes
San Jose, NM

26
Blake Brown
Albuquerque, NM

27
Austin Yearwood
Las Cruces, NM

28
Ashley Olriksen
Albuquerque, NM

29
Stephanie Barela
Santa Fe, NM

30
Diego Lucero
Santa Fe, NM
31
Janeyl Carper
Rio Rancho, NM

32
Amanda Jarzemba
Santa Fe, NM

33
Taylor Cruz
Santa Fe, NM

Ball Winner: Tami Cole
TOTAL AWARDED THIS EVENT: $1,706