SHAKE, RATTLE & BOWL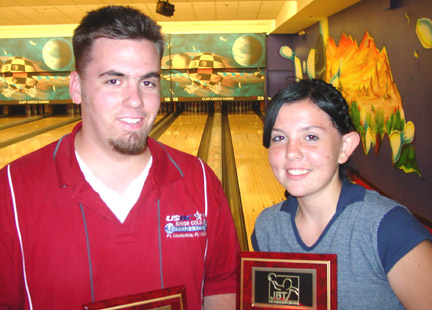 champs Theo Douthit & Rachel Lynn
Theo Douthit and Rachel Lynn opened the 11th season of Arizona Conference JBT action with commanding victories at Cliff Castle Casino's Shake, Rattle, and Bowl.
The scratch division stepladder finals opened with Bill Grant reversing last season's awful matchplay luck with a 210 game that defeated Brandon Allred's 169 and Kyle King's 150.
The tables were turned in round two, though, as Steven Black's 248 was just enough to get by Grant (243) and Mojave Bowler of the Year Nathan Panaligan's 186. Douthit then took over in the semifinals, posting a big 267 to oust Black (a fine 235) and Jeremy Medina (151) to reach the title match.
Top seed BJ Baker, the 2-time defending all-conference Bowler of the Year, was looking to begin 06-07 right where he left off last season, but ran into a buzzsaw in the confident Douthit. Theo got out to an early lead and never looked back, cruising to a 227-195 win, and his 10th career JBT title. He becomes only the 9th bowler with ten or more career JBT wins, and with his $310 scholarship payday, becomes the 8th player to top $10,000 in career JBT scholarship earnings—wow!
Steven Pizzi started up a new season in fine fashion as well, with a 227 game to win round one of the finals over Guy Prewitt (207) and Tiffany King (186). The AZ Handicap Bowler of the Year runner-up then doubled in the tenth for a 243 to edge Jewels Giordano (233) and Michael Kenny (187) in round two. David Price then took over in the semifinal, as the Safford resident blasted a 236 to beat Pizzi (185) and Jacob Fischer (149) to reach the title match.
Top qualifier Rachel Lynn was celebrating her birthday in style, by cruising to the top seed over a large field. Even though Price rolled a fine game, Rachel came up even bigger, winning the match 260-230 for her 3rd career JBT title. She also cashed in on bonus scholarship opportunities by wearing Etonic shoes and rolling Ebonite bowling balls, two of our major sponsors, resulting in a payday of over $500 for one day's bowling.
129 bowlers competed in the event. Everyone who finished in the top 5 qualifies for the 2007 JBT Arizona Invitational Tournament, the regular season's year end event, featuring a guaranteed minimum $1,000 first place scholarship in each division. Top season-long point scorers also qualify for the 2007 JBT Touring Players' Championship, featuring a guaranteed minimum $2,000 first place scholarship per division!
Big thanks to everyone at Cliff Castle for a terrific job hosting our event, which awarded over $3,200 in scholarships!
Cliff Castle (Saturday)- final results and optional scholarship winners
9/2/2006
Arizona Conference
Scratch Division
rank
name
city, state
score
prize
1
Theo Douthit
San Diego, CA
p 287
$310
2
BJ Baker
Tempe, AZ
p 311
$260
3
Steven Black
Phoenix, AZ
p 223
$110
4
Jeremy Medina
Santa Fe, NM
p 261
$155
5
Bill Grant
Rio Rancho, NM
p 168
$60
6
Nathan Panaligan
N. Las Vegas, NV
p 183
$105
7
Brandon Allred
Las Vegas, NV
p 175
$100
7
Kyle King
Phoenix, AZ
p 164
$65
9
Chris Varholdt
Chandler, AZ
p 156
$30
10
Kevin Schoenfeld
Phoenix, AZ
p 150
$40
11
April Urban
Henderson, NV
p 146
$20
12
Greg Garbera
Phoenix, AZ
p 137
$20
13
Chris Weyrauch
Chandler, AZ
p 128
$15
14
Shane Peck
Riverside, CA
p 113
$110
15
DeShaun Jefferson
Phoenix, AZ
p 108
$55
16
Adam Reynoso
Las Vegas, NV
p 105

17
Kevin Saunders
Goodyear, AZ
p 94

18
Andy Byer
Albuquerque, NM
p 75
$40
19
Jeff Mathews
Las Vegas, NV
p 69
$45
20
Labriel Leach
Tucson, AZ
p 59
21
Eric Rubin
Phoenix, AZ
p 55

22
DJ Sloan
Las Vegas, NV
p 40

23
Will McPherson
Chandler, AZ
p 37

24
Bear Wiltfang
Lake Havasu City, AZ
p 35

25
Marc Algeri
Phoenix, AZ
p 29

26
Eddie Schaub
Las Vegas, NV
p 10

27
Brian Makan
Tempe, AZ
even

28
Christian Jensen
Anthem, AZ
m 87
$15
29
Eric Warren
Phoenix, AZ
m 114

30
Jerod FLorez
Bosque Farms, NM
m 125

31
Brandon Watts
Lake Havasu City, AZ
m 26
$15
32
Zach Simon
Scottsdale, AZ
m 36
$15
33
Foster Phandanouvong
San Diego, CA
m 40

34
CJ Lee
Gilbert, AZ
m 43

35
Dan Eagy
Phoenix, AZ
m 44
36
Jonathan Pletcher
Phoenix, AZ
m 45
37
Shane Lien
San Diego, CA
m 54
38
Bryan Caldwell
Glendale, AZ
m 54
39
Dan Bodinet
Phoenix, AZ
m 56

40
Jordan Ferrer
Henderson, NV
m 58

41
Melissa Del Rio
Tucson, AZ
m 58

42
Emily Ornelas
Phoenix, AZ
m 64
43
Cameron Smith
Santee, CA
m 82

44
Kris George
Glendale, AZ
m 82

45
Ricky Overton
Las Vegas, NV
m 84

46
Brian Weyrauch
Tempe, AZ
m 84
$15
47
Matt Zang
Tucson, AZ
m 84
$30
48
Elias Ewert
Chandler, AZ
m 99

49
Philip Stephens
Phoenix, AZ
m 100
50
Megan Withey
Glendale, AZ
m 101
51
Rachelle Davis
Tucson, AZ
m 107

52
Kevin Narciso
Phoenix, AZ
m 131

53
Jeff Millmier
Phoenix, AZ
m 132

54
Mike Kremer
Peoria, AZ
m 138

55
Bryanna Dawson
Chandler, AZ
m 141

56
Nicholas Lee
Tucson, AZ
m 144
57
Amanda Albani
Phoenix, AZ
m 153
58
Rebecca Bodinet
Phoenix, AZ
m 154
59
Andy Reynoso
Las Vegas, NV
m 172
60
David Johnston
Glendale, AZ
m 183
61
Matt Erb
Phoenix, AZ
m 207
62
Charlie Elliott
Santa Fe, NM
m 232
63
Mike Aguilar
Tucson, AZ
m 256
64
Steph Merrell
Albuquerque, NM
m 271
65
Alyssa Madrid
Las Vegas, NV
dnf
Handicap Division
rank
name
city, state
score
prize
1
Rachel Lynn
Peoria, AZ
p 188
$510
2
David Price
Safford, AZ
p 159
$155
3
Steven Pizzi
Avondale, AZ
p 127
$100
4
Jacob Fischer
Phoenix, AZ
p 148
$75
5
Michael Kenny
Prescott Valley, AZ
p 144
$95
6
Jewels Giordano
Phoenix, AZ
p 143
$135
7
Guy Prewitt
Chandler, AZ
p 143
$75
8
Tiffany King
Surprise, AZ
p 143
$70
9
Susan Kurzeka
Albuquerque, NM
p 126
$35
10
Jeff Goad
Phoenix, AZ
p 94
$30
11
Jay Prewitt
Chandler, AZ
p 81
$40
12
Nicole Stanczak
Phoenix, AZ
p 80
$20
13
Chelsea Zemelka
Phoenix, AZ
p 80
$20
14
Taylor King
Phoenix, AZ
p 77
$30
15
Rane Lacona
Phoenix, AZ
p 75
$30
16
Joey Longo
Phoenix, AZ
p 69

17
Susy Monteith
Orange, CA
p 67

18
Justin Givler
Phoenix, AZ
p 66

19
Kyle Frederick
Chandler, AZ
p 63
$5
20
Kayla Frederick
Chandler, AZ
p 61
$15
21
Jenny Phandanouvong
San Diego, CA
p 50
$15
22
Corbin Farris
Phoenix, AZ
p 44
$15
23
Dylan Taylor
Scottsdale, AZ
p 41

24
Brian Webb
Phoenix, AZ
p 34

25
Kayla Goad
Phoenix, AZ
p 33

26
Eric Vitzthum
Phoenix, AZ
p 23

27
Brent Larsen
Phoenix, AZ
p 18

28
Holly Emery
Queen Creek, AZ
p 8

29
Bo LaLonde
Chandler, AZ
p 5

30
Lana Lycan
San Diego, CA
m 65
31
Justus Trader
Prescott Valley, AZ
p 17
32
Randy Blunck
Phoenix, AZ
p 5

33
Randy Vallancourt
Phoenix, AZ
p 3

34
Rebeca Reguero
Phoenix, AZ
even
$40
35
Daniel Cotten
Glendale, AZ
m 3
$70
36
Kristen Lee
Tucson, AZ
m 5

37
Jordan Bell
Phoenix, AZ
m 7

38
Dennan Boscarino
Phoenix, AZ
m 10

39
Alicia Sullivan
Kingman, AZ
m 10
$15
40
Brandon Longo
Phoenix, AZ
m 11

41
Kyle Vitzthum
Phoenix, AZ
m 19

42
Kyle Bridgman
Kingman, AZ
m 20

43
Bryce Techmer
Phoenix, AZ
m 21
44
Andrew Dorsey
Prescott Valley, AZ
m 24
45
Joshua Shoup
Tolleson, AZ
m 25
$5
46
Kaitlin Mayall
Chula Vista, CA
m 27
47
Dylan McKenna
Phoenix, AZ
m 29
48
Amy Dorsey
Prescott Valley, AZ
m 31
49
Courtney Dutton
Chandler, AZ
m 31
50
James Hawkins
Anaheim, CA
m 38
51
Alex Powell
Phoenix, AZ
m 43
52
Ashley Olriksen
Las Vegas, NV
m 44
53
Danny Varholdt
Phoenix, AZ
m 48
54
Cameron Peck
Riverside, CA
m 54
55
Mark Mares
Los Lunas, NM
m 55
$15
56
Jeff Kilmer
Phoenix, AZ
m 83
57
Taylor Knight
Phoenix, AZ
m 101
58
Amanda Vadnais
Prescott Valley, AZ
m 106
59
Bethany Baker
Tempe, AZ
m 116
60
Justin Basom
San Diego, CA
m 130
61
Taelor McKenrick
Henderson, NV
m 187
62
Beau McKenna
Phoenix, AZ
m 208
63
Marc Munguia
Phoenix, AZ
m 336
64
Jared Boscarino
Phoenix, AZ
m 532
cuts: scratch -23; handicap plus 21
Ball Winner: Eric Warren's family
TOTAL AWARDED THIS EVENT: $3,245