SHAKE, RATTLE, & BOWL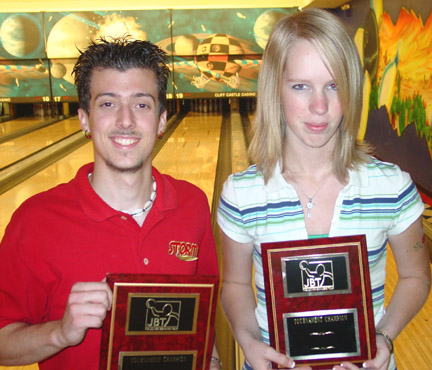 champs Bill Grant & Courtney Dutton
Perhaps no other format besides our Invitationals is as much of a mental and physical test as our Survivor format, and Bill Grant and Courtney Dutton proved they had what it takes to survive in JBT action at Cliff Castle Casinoís Shake, Rattle, and Bowl.
After our normal 5-game qualifier, an even number of bowlers are put on each pair, with the lowest score on each pair eliminated, so you donít have to be the best, you just canít be the worst! This eventually whittles down to head-to-head matches. With six bowlers remaining in the scratch division, Bill Grant eliminated Zach Simon 188-180; Brandon Allred defeated Emily Ornelas 218-170; and Chris Weyrauch took care of KevinNarciso 199-186, but the fortunate Narciso still advanced as the highest losing score.
In the round of four, Grant squeaked by Allred 188-183, and Weyrauch finally eliminated Narciso 208-180, to set up the title match. In that match, Grant recovered from an early deficit to charge back and defeat Weyrauch 242-198. The win was the 7th of Grantís career, and ended a string of bad beats in title matches dating to last season.
The handicap division was eventually whittled down to eight survivors. In that round, Dutton eliminated Susan Kurzeka 226-186, Joey Longo took care of Eric Vitzthum 204-169, Daniel Cotten ousted Guy Prewitt 220-202, and Jewels Giordano, having a great weekend, beat Ericís brother Kyle Vitzthum 224-190.
In the round of four, Cotten defeated Longo 201-196, while Dutton won a thriller with Giordano, 235-228, to set up the title match.
Cotten had literally had brain surgery less than three months ago, and has the scar to prove it, so itís an amazing story that heís even bowling, let alone reaching JBT title matches! The finale was a very close affair, with Dutton closing the gap in the late frames. Needing 9-spare-strike to tie the title match, Dutton slammed a clutch double instead to take a 218-199 victory, and her 3rd career JBT title.
Everyone who finished in the top 5 qualifies for the 2007 JBT Arizona Invitational Tournament, the regular season's year end event, featuring a guaranteed minimum $1,000 first place scholarship in each division. Top season-long point scorers also qualify for the 2007 JBT Touring Players' Championship, featuring a guaranteed minimum $2,000 first place scholarship per division!
Big thanks to Mr. Phil Oates and everyone at Cliff Castle for a terrific job hosting our event, which awarded over $2,900 in scholarships!
Cliff Castle (Sunday)- final results and optional scholarship winners
9/3/2006
Arizona Conference
Scratch Division
rank
name
city, state
prize
1
Bill Grant
Rio Rancho, NM
$225
2
Chris Weyrauch
Chandler, AZ
$215
3
Brandon Allred
Las Vegas, NV
$145
4
Kevin Narciso
Phoenix, AZ
$75
5
Emily Ornelas
Phoenix, AZ
$60
6
Zach Simon
Scottsdale, AZ
$50
7
Kyle King
Phoenix, AZ
$210
7
Eric Rubin
Phoenix, AZ
$50
9
BJ Baker
Tempe, AZ
$45
10
Andy Byer
Albuquerque, NM
$145
11
Steven Black
Phoenix, AZ
$80
12
Andy Reynoso
Las Vegas, NV
$16
13
Jerod FLorez
Bosque Farms, NM
$15
14
Will McPherson
Chandler, AZ

15
Nicholas Lee
Tucson, AZ

16
Cameron Smith
Santee, CA
$15
17
Christian Jensen
Anthem, AZ
$60
18
Mark Mares,
Los Lunas, NM

19
Theo Douthit
San Diego, CA
$30
20
DeShaun Jefferson
Phoenix, AZ
21
Kevin Saunders
Goodyear, AZ
$150
22
Elias Ewert
Chandler, AZ
$15
23
Kris George
Glendale, AZ

24
Brian Weyrauch
Tempe, AZ

25
Rachelle Davis
Tucson, AZ
$15
26
Dan Eagy
Phoenix, AZ

27
Tyler Shipman
Phoenix, AZ

28
Matt Erb
Phoenix, AZ

29
Kevin Schoenfeld
Phoenix, AZ

30
Shane Peck
Riverside, CA

31
Tom Anderson
Chandler, AZ

32
Ricky Overton
Las Vegas, NV
$5
33
Mike Kremer
Peoria, AZ

34
Brian Makan
Phoenix, AZ

35
DJ Sloan
Las Vegas, NV
36
Eddie Schaub
Las Vegas, NV
$15
37
Dan Bodinet
Phoenix, AZ
38
Jeremy Medina
Santa Fe, NM
39
Bear Wiltfang
Lake Havasu City, AZ

40
Lana Lycan
San Diego, CA

41
Greg Garbera
Phoenix, AZ

42
Shane Lien
San Diego, CA
43
Chris Varholdt
Chandler, AZ

44
Melissa Del Rio
Tucson, AZ

45
Michael Aguilar
Tucson, AZ

46
Jeff Mathews
Las Vegas, NV

47
Jonathan Pletcher
Phoenix, AZ

48
Foster Phandanouvong
San Diego, CA

49
David Johnston
Glendale, AZ
50
Jordan Ferrer
Henderson, NV
51
Corbin Farris
Phoenix, AZ

52
Megan Withey
Glendale, AZ

53
Charlie Elliott
Santa Fe, NM

54
Labriel Leach
Tucson, AZ

55
Stephanie Merrell
Albuquerque, NM

56
April Urban
Henderson, NV
Handicap Division
rank
name
city, state
prize
1
Courtney Dutton
Chandler, AZ
$325
2
Daniel Cotten
Glendale, AZ
$140
3
Jewels Giordano
Phoenix, AZ
$205
4
Joey Longo
Phoenix, AZ
$75
5
Guy Prewitt
Chandler, AZ
$90
6
Kyle Vitzthum
Phoenix, AZ
$55
7
Susan Kurzeka
Albuquerque, NM
$40
8
Eric Vitzthum
Phoenix, AZ
$30
9
James Hawkins
Anaheim, CA
$55
10
Kristen Lee
Tucson, AZ
$20
11
Rachel Lynn
Peoria, AZ
$18
12
David Price
Safford, AZ
$16
13
Tiffany King
Surprise, AZ
$60
14
Jenny Phandanouvong
San Diego, CA

15
Jay Prewitt
Chandler, AZ

16
Alicia Sullivan
Kingman, AZ

17
Ashley Olriksen
Las Vegas, NV

18
Kaitlin Mayall
Chula Vista, CA
$15
19
Karissa Tafoya
Chandler, AZ
$15
20
Cameron Peck
Riverside, CA

21
Chelsea Zemelka
Phoenix, AZ
$62
22
Rane Lacona
Phoenix, AZ
$25
23
Taelor McKenrick
Henderson, NV
$20
24
Rebeca Reguero
Phoenix, AZ
$45
25
Nicole Stanczak
Phoenix, AZ

26
Justin Basom
San Diego, CA

27
Justin Givler
Phoenix, AZ

28
Kayla Goad
Phoenix, AZ

29
Danny Varholdt
Chandler, AZ

30
Holly Emery
Queen Creek, AZ
31
Kyle Frederick
Chandler, AZ
32
Justus Trader
Prescott Valley, AZ

33
Alex Powell
Phoenix, AZ

34
Joshua Shoup
Tolleson, AZ
$15
35
Taylor Knight
Phoenix, AZ

36
Bethany Baker
Tempe, AZ

37
Philip Stephens
Phoenix, AZ

38
Kyle Bridgman
Kingman, AZ

39
Bryce Techmer
Phoenix, AZ

40
Taylor King
Phoenix, AZ

41
Dylan McKenna
Phoenix, AZ

42
Bo LaLonde
Phoenix, AZ

43
Rebecca Bodinet
Phoenix, AZ
44
Beau McKenna
Phoenix, AZ
45
Kayla Frederick
Chandler, AZ

46
Michael Kenny
Prescott Valley, AZ
47
Kyle Klein
Phoenix, AZ
48
Kylae Kane
Phoenix, AZ
cuts: scratch -138; handicap minus 112
Ball Winner: Tyler Shipman's family
TOTAL AWARDED THIS EVENT: $2,962