STARLIGHT LANES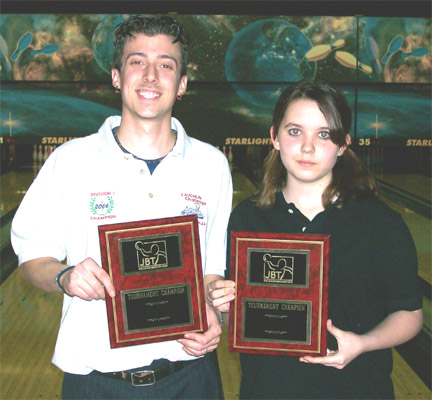 champs Bill Grant & Cassie Bacoccini
Bill Grant and Cassie Bacoccini captured JBT titles in exciting NM-TX Conference action at Starlight Lanes.
Jeremy Medina opened up the scratch division finals with as close a call as you can get, edging Jerod Florez 198-197 in game one. Omnipresent Andy Byer then defeated Medina 196-184, before following with a 2217-216 win over steady Sam Cuevas to reach the title match.
A Byer-Grant title match is no surprise to anyone who follows this division, as the two talented bowlers found themselves the last ones standing. They put on an entertainng finale, with Grant escaping with a 200-193 win, and his 7th career JBT title.
Andrea Jaramillo defeated Nathan Hughes 208-170 to open the handicap division stepladder finals. Miss Bacoccini then took over, defeating Jaramillo 224-174, and backed that up with a 232-215 win over her good buddy Blake Brown to reach the finals.
Top seed William Yoder had a great day en route to capturing the top seed, but the talented right was unable to get lined up in the title match, and Cassie took advantage for a 192-156 win, good for her first career JBT title.
Everyone who finished in the top 5 qualifies for the 2007 JBT NM-TX Invitational Tournament, the regular season's year end event, featuring a guaranteed minimum $1,000 first place scholarship in each division. Top season-long point scorers also qualify for the 2007 JBT Touring Players' Championship, featuring a guaranteed minimum $2,000 first place scholarship per division!
Big thanks to everyone at Starlight for another terrific job hosting our event. Over $1,600 in scholarships was awarded to the field.
Starlight Lanes- final results and optional scholarship winners
1/27/2007
NM-TX Conference
Scratch Division
rank
name
city, state
score
prize
1
Bill Grant
Rio Rancho, NM
p 290
$230
2
Andy Byer
Albuquerque, NM
p 58
$170
3
Sam Cuevas
Lubbock, TX
p 66
$60
4
Jeremy Medina
Santa Fe, NM
p 49
$181
5
Jerod Florez
Bosque Farms, NM
p 34
$20
6
Nathan Shock
Thornton, CO
p 11
$8
7
Josh Brown
Albuquerque, NM
even

8
Paul Carper
Rio Rancho, NM
m 52

9
Michelle Snyder
Alamogordo, NM
m 99
$16
10
Jamison Spam
Rio Rancho, NM
m 106
$15
11
Zachary Barnard
Albuquerque, NM
m 188

12
Justin Medina
Santa Fe, NM
m 231
$15
13
Justin Silva
Albuquerque, NM
m 134

14
Robbie Alley
Tijeras, NM
m 134

15
Mark Mares
Los Lunas, NM
m 149

16
Thomas Gutierrez
Albuquerque, NM
m 155
$15
17
Eric Ratliff
Albuquerque, NM
m 165

18
Thomas Ratliff
Albuquerque, NM
m 168

19
Stephanie Merrell
Albuquerque, NM
m 222

20
Ricky Griego
Santa Fe, NM
m 223
21
Jeremy Baca
Albuquerque, NM
m 290

Handicap Division
rank
name
city, state
score
prize
1
Cassie Bacoccini
Albuquerque, NM
p 157
$300
2
William Yoder
Albuquerque, NM
p 172
$159
3
Blake Brown
Albuquerque, NM
p 170
$50
4
Andrea Jaramillo
Santa Fe, NM
p 115
$55
5
Nathan Hughes
San Jose, NM
p 118
$75
6
Devyn Cordova
Albuquerque, NM
p 108
$35
7
Janeyl Carper
Rio Rancho, NM
p 92
$22
8
Ryan Scheer
Rio Rancho, NM
p 81
$15
9
Armando Ortega
Albuquerque, NM
p 79
$15
10
Jordan Oppenheim
Rio Rancho, NM
p 74
$23
11
Debbie Jarzemba
Santa Fe, NM
p 60
12
Brittany Leiby
Albuquerque, NM
p 47
$30
13
Taylor Cruz
Santa Fe, NM
p 14
$15
14
Annabeth Griego
Santa Fe, NM
p 10

15
Sara Vargas
Albuquerque, NM
p 1

16
Sabrina Vargas
Albuquerque, NM
m 8

17
Elizabeth Romero
Santa Fe, NM
m 35

18
Jacob Sanchez
Bernalillo, NM
m 35

19
Olivia Silva
Albuquerque, NM
m 70

20
Kyle Pearce
Espanola, NM
m 15
$15
21
Jordan Spam
Rio Rancho, NM
m 20

22
Billy Read
Albuquerque, NM
m 23

23
Marcos Armijo
Albuquerque, NM
m 24

24
Maisie Martinez
Albuquerque, NM
m 30

25
Jonah Seawright
Albuquerque, NM
m 40

26
Shawna Bellman
Albuquerque, NM
m 44

27
Wendy Shelton
Albuquerque, NM
m 46
$15
28
Seth Jaramillo
Albuquerque, NM
m 48
$45
29
Pablo Guss
Santa Fe, NM
m 54

30
Sydney Bowerman
Amarillo, TX
m 70
31
Ashley Olriksen
Albuquerque, NM
m 72
32
Susan Kurzeka
Albuquerque, NM
m 72

33
Joey Grant
Rio Rancho, NM
m 82

34
Trevor Pedroncelli
Albuquerque, NM
m 114

35
RJ Bellman
Albuquerque, NM
m 128

36
Mariah Martinez
Albuquerque, NM
m 148
37
Zahary Tanner
Albuquerque, NM
m 160
38
Justin Sanchez
Bernalillo, NM
m 219

Ball Winner: Andrea Jaramillo
TOTAL AWARDED THIS EVENT: $1,619