SUNSET BOWL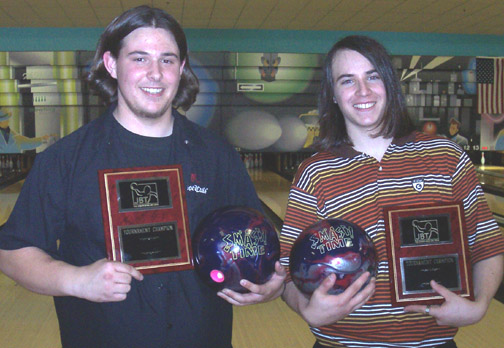 champs JR Monteith & Mike May
JR Monteith and Mike May captured very important titles as the Mojave Conference JBT season began its stretch run with an exciting event at Sunset Bowl.
Nathan Panaligan opened the scratch division of the stepladder finals with a 247-206 win over Brandon Watts. Then it was all about Monteith. He defeated Panaligan in a shootout, 267-246, then outlasted Brandon Allred in a great battle, 236-226, to reach the title match.
Jordan Ferrer has improved all season, and found himself as the tournament leader in the scratch division for the first time. However, he picked a bad time to face Monteith, who didn't slow down at all, defeating Ferrer 248-192 for the win. Jr shot 751 for his 3 stepladder games, and the win, the 6th of his career, gave him a huge lead in the Mojave Conference points race as we head into the final regular season event.
Ryan Yadao, who had been struggling in the scratch division, tried out the handicap division this week to get his confidence up, and did just that by making the finals, then defeating Alicia Sullivan in round one, 206-179. Mike May then defeated Yadao 224-203, and followed with a 234-175 victory over Donovan Koff to reach the title match.
Top seed Drew Stern was enjoying his best event of the season by far, but May needed the win badly for a potential Bowler of the year run. In the end, Mike defeated Drew 228-199, good for his third title of the season, bumping him up to 4th in the all-important points race.
71 bowlers competed in the event, so we hope everyone who attended had a great time, and will spread the word about the great benefits of bowling JBT. Everyone who finished in the top 5 qualifies for the 2007 JBT Mojave Invitational Tournament, the regular season's year end event, featuring a guaranteed minimum $1,000 first place scholarship in each division. Top season-long point scorers also qualify for the 2007 JBT Touring Players' Championship, featuring a guaranteed minimum $2,000 first place scholarship per division!
Big thanks to Sunset for hosting a JBT event for the first time. Over $2,000 in scholarships were awarded. Want in on the fun? Come on out to the next JBT event, it's as simple as that!
Sunset Lanes- final results and optional scholarship winners
4/29/2007
Mojave Conference
Scratch Division
rank
name
city, state
prize
1
JR Monteith
Orange, CA
$465
2
Jordan Ferrer
Henderson, NV
$100
3
Brandon Allred
Las Vegas, NV
$60
4
Nathan Panaligan
N. Las Vegas, NV
$65
5
Brandon Watts
Lake Havasu City, AZ
$90
6
Cameron Smith
Santee, CA
$20
7
Justin Spurrier
Las Vegas, NV
$25
8
Jeremy Medina
Santa Fe, NM

9
Kris George
Glendale, AZ
$15
10
Eddie Schaub
Las Vegas, NV
$35
11
Justin Medina
Santa Fe, NM

12
Shane Peck
Riverside, CA
$195
13
Andy Reynoso
Las Vegas, NV
$15
14
Ryan Jacobson
Las Vegas, NV

15
Cayson Coyle
Las Vegas, NV

16
Matt Cormack
Woodland Hills, CA
$15
17
April Urban
Henderson, NV
$15
18
DJ Sloan
Las Vegas, NV
$10
19
Chris Kutcher
Las Vegas, NV

20
Joe Claspell
Lake Havasu City, AZ

21
Matt Jones
Canoga Park, CA
22
Alyssa Madrid
Las Vegas, NV
23
Chris Kagawa
Las Vegas, NV
24
Cory Keraly
Las Vegas, NV

25
Maceo Ross
Las Vegas, NV
26
Lana Lycan
San Diego, CA
27
Forrest Holland
Escondido, CA
$10
28
Matt McHann
Las Vegas, NV

29
Kary Nguyen
Las Vegas, NV

30
Adam Bruce
Las Vegas, NV
31
Preston Fukumizu
Los Angeles, CA
32
Jordan Katz
Las Vegas, NV

33
Erika Mox
Henderson, NV
$10
Handicap Division
rank
name
city, state
prize
1
Mike May
San Diego, CA
$330
2
Drew Stern
Northridge, CA
$145
3
Donovan Koff
Las Vegas, NV
$65
4
Ryan Yadao
Las Vegas, NV
$65
5
Alicia Sullivan
Kingman, AZ
$94
6
Ricky Overton
Las Vegas, NV
$20
7
James Hawkins Jr
Anaheim, CA
$49
8
Alesha Pannier
Lake Havasu City, AZ
9
Kyle Akers
Kingman, AZ

10
Taelor McKenrick
Henderson, NV

11
Kenny Herbster
Las Vegas, NV

12
Wesley Low
Palmdale, CA
$5
13
Sean Huggins
Las Vegas, NV

14
Dylan Lucas
Las Vegas, NV

15
Ian Hanuscin
Las Vegas, NV
$15
16
Chris Martin
Las Vegas, NV
$15
17
Sarah Ansteth
Las Vegas, NV

18
Darcie Staggs
Bullhead City, AZ
$30
19
Nicole Wellington
Las Vegas, NV

20
Justin Claspell
Lake Havasu City, AZ

21
Melissa Huether
Las Vegas, NV
$10
22
Brian Grupe
Las Vegas, NV

23
Kevin Foss
Pahrump, NV

24
Taylor Aldridge
Las Vegas, NV

25
Logan Kennedy
Henderson, NV
$15
26
Casey Rosenberg
Las Vegas, NV
$15
27
Blaine Hellman
Henderson, NV

28
Aaron Watkins
Las Vegas, NV

29
Brandon Owen
Las Vegas, NV

30
Teri Haennelt
Las Vegas, NV
31
Kaitlin Mayall
Chula Vista, CA
$15
32
Kyle Bridgman
Kingman, AZ

33
Justin Karas
Las Vegas, NV

34
Paul Huether
Las Vegas, NV

35
Brittany Humann
Las Vegas, NV

36
Sean Caliebe
Henderson, NV

37
Eric Hatchett
Las Vegas, NV
38
Zach Hattori
Las Vegas, NV

Ball Winner: Alesha Pannier
TOTAL AWARDED THIS EVENT: $2,003