VISTA ENTERTAINMENT CENTER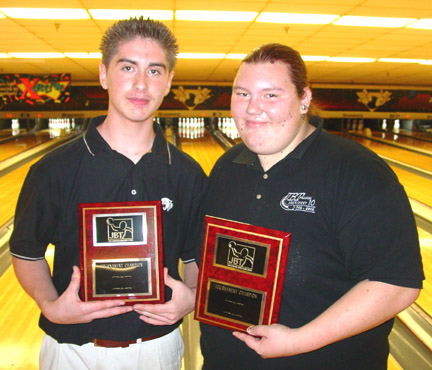 champs Shane Peck & Lisa Marine
Shane Peck won his first scratch title in dominant fashion, while Lisa Marine topped a high-scoring handicap field, in exciting JBT Southern California Conference action at Vista Entertainment Center, sponsored by Convoy Big Screen.
Mathew Jones highlighted qualifying with his 2nd career JBT 300 game, but just missed the finals in sixth place. Forrest Holland opened the stepladder with a 211-195 win over Kyle King, who moved up to second in So Cal points. Jeff Spiesman then came on and ran the front eight strikes for a 279-150 win over Holland. It was all Spiesman in the semis as well, defeating Cameron Smith 245-160 to reach the title match.
Peck, a 3-time handicap winner, and Spiesman, with 5 JBT runner-up finishes to his credit, were both looking to break through for a scratch division win. Shane left no doubt as to the result by thrilling the crowd with the first ten strikes, good for a 288-179 victory and his fourth career JBT title. Combined with throwing an Ebonite ball, wearing Etonic shoes, and having a big day in brackets, Peck cashed in for a whopping $529 in scholarships on the day!
The handicap finals opened with Karlie Loop gutting out a 213 to beat Anthony Stevenson (202) and Shayne Huntley (192). Loop's 217 was big enough to win round two over Tyler Boscarino (198) and Tabetha Reynolds (190). Marine then escaped a tight semifinal with a 208 to edge Loop (205) and Ricky Clabaugh (181) to advance to her first title match.
Top qualifier Kaitlin Mayall brought all the experience to the title match, with 4 previous JBT wins, and a get-out-your-frustrations +339 8-game qualifying score on a day filled with gaudy numbers by the whole field. However, it was Marine who stayed in control the entire title match, and her 221-193 win gave her her first career victory.
82 bowlers competed in the event, and we hope everyone who attended had a great time, and will spread the word about the great benefits of bowling JBT. Everyone who finished in the top 5 qualifies for the 2007 JBT So Cal Invitational Tournament, the regular season's year end event, featuring a guaranteed minimum $1,000 first place scholarship in each division. Top season-long point scorers also qualify for the 2007 JBT Touring Players' Championship, featuring a guaranteed minimum $2,000 first place scholarship per division!
Big thanks to Priscilla Rojo and everyone at Vista for a terrific job hosting our event for the first time. Over $1,900 in scholarships were awarded. Want in on the fun? Come on out to the next JBT event, it's as simple as that!
Vista Entertainment Center- final results and optional scholarship winners
10/21/2006
Southern California Conference
Scratch Division
rank
name
city, state
score
prize
1
Shane Peck
Riverside, CA
p 307
$529
2
Jeff Spiesman
Ventura, CA
p 278
$100
3
Cameron Smith
Santee, CA
p 294
$90
4
Forrest Holland
Vista, CA
p 208
$40
5
Kyle King
Phoenix, AZ
p 235
$64
6
Matthew Jones
Canoga Park, CA
p 187
$100
7
Kyle Ruzylo
Oceanside, CA
p 178
8
Brenden Lou
San Diego, CA
p 157
$10
9
Foster Phandanouvong
San Diego, CA
p 157

10
Matt Hutchinson
Escondido, CA
p 142
11
Kris George
Glendale, AZ
p 133
$10
12
Shane Lien
San Diego, CA
p 101

13
Devin Bidwell
Simi Valley, CA
p 75
$5
14
Brian Ballard
San Diego, CA
p 73

15
JR Monteith
Orange, CA
p 54

16
Ricky Brown
RSM, CA
p 9

17
Lana Lycan
San Diego, CA
p 3

18
Steven Sensabaugh
Yorba Linda, CA
m 5

19
Steven Manier
Vista, CA
m 5

20
Will Jackson
Gardena, CA
m 19

21
Chris Fore
Oceanside, CA
m 21

22
Armando Garcia
San Diego, CA
m 24

23
Danielle Schilling
Ventura, CA
m 40

24
Arisha Piper
Gardena, CA
m 59

25
Preston Fukumizu
Los Angeles, CA
m 62
$10
26
Brittany Page
Los Angeles, CA
m 63

27
Josh Wilson
Fallbrook, CA
m 66

28
Allie Ijams
Mission Viejo, CA
m 78

29
Jason Larcome
Chula Vista, CA
m 82

30
Nicholas Vinyard
Oceanside, CA
m 88

31
Nick Powanda
San Diego, CA
m 158

Handicap Division
rank
name
city, state
score
prize
1
Lisa Marine
San Diego, CA
p 235
$200
2
Kaitlin Mayall
Chula Vista, CA
p 336
$190
3
Ricky Clabaugh
San Diego, CA
p 262
$90
4
Karlie Loop
Murietta, CA
p 217
$60
5
Tabetha Reynolds
Alpine, CA
p 234
$50
6
Tyler Boscarino
Alpine, CA
p 224
$70
7
Anthony Stevenson
San Diego, CA
p 199
$65
8
Shayne Huntley
Misssion Viejo, CA
p 192
$30
9
Sam Meyers
Mission Hills, CA
p 186
$10
10
Brittany Kolatzny
San Diego, CA
p 184

11
James Hawkins, Jr.
Anaheim, CA
p 182

12
Kyle DeCew
Riverside, CA
p 178
$35
13
Mike May
San Diego, CA
p 177

14
Nick Arms
San Diego, CA
p 173

15
Martika Cabezas
Cathedral City, CA
p 169
$40
16
Monica Lozano
San Diego, CA
p 156

17
Danielle Foo
Vista, CA
p 151
$10
18
Christina Fraijo
Corona, CA
p 131
$15
19
Justin Basom
San Diego, CA
p 124

20
Jeff Ingram
San Diego, CA
p 121
$30
21
Brian Castelloe
Carlsbad, CA
p 92

22
Shalynne Schmid
Indio, CA
p 85

$15

23
Kirk Chui
San Diego, CA
p 70

24
Brandy Dyer
Vista, CA
p 48

25
Matt McLaughlin
Tierra Santa, CA
p 43

26
Mimi Duong
San Diego, CA
p 28
$65
27
Jaymes Conn
El Cajon, CA
p 45

28
Wesley Low
Palmdale, CA
p 44

29
Kristian Lusterio
San Diego, CA
p 42

30
Brandon Turner
San Diego, CA
p 38
31
Robert Page
San Diego, CA
p 29
32
Alex Forbes
San Diego, CA
p 21

33
Michael Lozano
San Diego, CA
p 20

34
David Clabaugh
San Diego, CA
p 18

35
Eric Demo
San Diego, CA
p 16

36
Brendalee Sparks
San Diego, CA
p 15

37
Dorian Hererro
San Diego, CA
p 10

38
Susy Monteith
Orange, CA
p 8

39
Rodney Isaacson
Vista, CA
m 5

40
Troy Lien
San Diego, CA
m 9

41
Cameron Peck
Riverside, CA
m 9

42
Anthony Cruz
San Diego, CA
m 16

43
Richard Martin
Murietta, CA
m 29
44
Cristine Lehman
Escondido, CA
m 32
45
Billy Lockett
Fallbrook, CA
m 36
46
Drew Stern
Northridge, CA
m 62
47
Kelly Ruzylo
Oceanside, CA
m 65
48
Stephanie Clifton
Oceanside, CA
m 66
49
Ashley Speeg
Valley Center, CA
m 82
50
Zach Hattori
Las Vegas, NV
m 104
51
Amanda Fazio
Vista, CA
m 143
Cuts: scratch +4; handicap +49
Ebonite Ball Winner: Kris George
Convoy Big Screen TV Winner: the DeCew Family
TOTAL AWARDED THIS EVENT: $1,953