PAC NW DOUBLES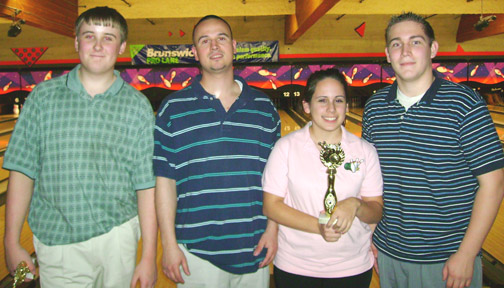 champs Jake Klemsen, Nate Davis, Danielle Mansanarez, and Thomas Nylund
Jake Klemsen and Danielle Mansanarez captured their first JBT titles with a little help from their friends in exciting Pacific Northwest JBT Doubles action at Roxbury Lanes.
Dean Richards continued his hot bowling en route to the top seed with his partner Tom Anderson, but this time it was Klemsen who denied him his first JBT title, as Jake and adult partner Nate Davis were able to get victory #1 for themselves with the title match win.
In the handicap division, Mansanarez and Nylund qualified first for the finals, and were able to defend the position with a title match win over the hard-charging mother/son team of Denise and Sam Burns to capture their first JBT titles.
33 teams competed in the event, and over $1,800 in scholarships were awarded. We hope everyone who attended had a great time, and will spread the word about the great benefits of bowling JBT. Every junior who finished in the top 5 qualifies for the 2007 JBT Pacific Northwest Invitational Tournament, the regular season's year end event, featuring a guaranteed minimum $1,000 first place scholarship in each division. Top season-long point scorers also qualify for the 2007 JBT Touring Players' Championship, featuring a guaranteed minimum $2,000 first place scholarship per division!
Big thanks to everyone at Roxbury for hosting our event. Want in on the fun? Come on out to the next JBT event, it's as simple as that!
Pac NW Doubles- final results and optional scholarship winners
12/2/2006
Pacific Northwest Conference
Scratch Division
rank
name
prize
partner
prize
score
total
1
Jake Klemsen
$400
Nate Davis

p 255
$300
2
Dean Richards
$230
Tom Anderson

p 382
$230
3
Jordan Plunkett
$80
Jimmy Yost
$50
p 216
$130
4
Robbie Edwards
$38
Cody Stone
$38
p 189
$76
5
Cameron Weier
$90
Sam Neves
$60
p 69
$150
6
Matt Kemper
Kirk Williams

m 110
7
Katrina Everett
Robert Preston
$30
m 163
$30
8
Adam Nadasky
Mike Finnestad

m 216
9
Matt West
$15
Rick West

m 75
$15
10
Catherine Rawsthorne
Dan Rawsthorne

m 88
11
Ashley Brock
Daniel Nadasky

m 98
12
Kevin Nagasana
Norman Jones

m 99
13
Nick Amrein
Ryan Losli

m 100
14
Amanda Richards
Boeby Marks

m 220
15
Jeff Callahan
Bobby Bray

m 241
16
Tristan Curtis
Nick Tourangean

m 248
Handicap Division
rank
name
city, state
prize
score
1
Thomas Nylund
$150
Danielle Mansanarez
$165
p 243
$315
2
Sam Burns
$200
Denise Burns

p 93
$200
3
Robert Powell
$100
Laurie Powell

p 185
$100
4
Nate Whitson
$75
Lane Whitson

p 125
$75
5
Chelsea Lynch
$120
Roy Lynch

m 12
$120
6
Kyle Frederick
$45
Ron Frederick

m 46
$45
7
Clayton Bult
Todd Bult

m 72
8
James Nagasana
Neil Nagasana

m 113
9
Brandon Nylund
Justin David

m 231
10
Ryan Laird
Ron Laird

m 50
11
Zach Hemming
$15
Ron Hemming

m 71
$15
12
Daniel Carroll
Mitzi Carroll

m 79
13
Connor Gracia
Traci Bult

m 85
14
Travis McAllister
Mike McAllister

m 177
15
Jordan Fidecaro
Dean Fidecaro

m 205
16
Megan Page
$5
Jesse Baggen

m 242
17
Brett Hall
Matt Dettinger

m 307
Cuts: scratch -67; handicap -25
Ebonite Ball Winner: James Brock
TOTAL AWARDED THIS EVENT: $1,811