20th CENTURY LANES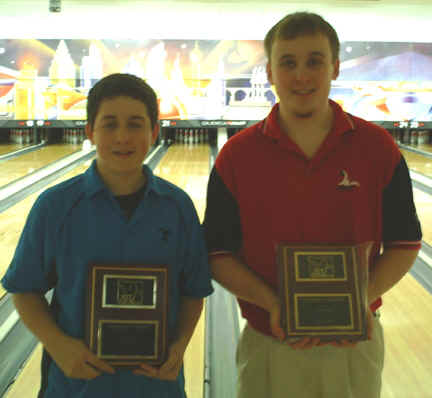 champs Andrew Mohr & Jake Klemsen
Jake Klemsen and Andrew Mohr proved they are just as good in singles competition as they are in doubles in exciting JBT Pacific Northwest Conference action at Portland's 20th Century Lanes.
Lucas Stone made his third consecutive scratch divsion stepladder finals a success by defeating Rob Edwards in round one 208-201. Stone then squeaked by Lori Hanken, who is having one of the best female scratch seasons in JBT, 206-199. Curtis Dicken then blasted a 260 to beat Stone 260-174 and move on to the title match.
Top qualifier Klemsen's only two previous JBT titles came in the annual Doubles event, and the talented bowler erased that anomaly from his record with a 258-239 victory over first time finalist Dicken in a well bowled match by both bowlers, for his third career JBT victory.
Newcomer Jared Yamasaki found the stepladder finals format very much to his liking. He began with a 199-195 close victory over Brett Hall. Yamasaki then defeated Andy Walker 241-201, and followed with another nailbiter win, this time 206-196 over Dawn Kemper, to reach the title match.
Top qualifier Mohr won his first JBT title earlier this year in the Doubles event with Walker, and escaped in a very tight match with Yamasaki 225-216, to claim his second JBT victory.
Big thanks to everyone at 20th Century Lanes for hosting a JBT event for the first time! Over $1,200 in scholarships was awarded to bowlers of all ages and averages. Want in on the fun? Come on down to the next JBT event, it's a s simple as that!
AMF 20th Century- final results and optional scholarship winners
2/2/2008
Pacific Northwest Conference
Scratch Division
rank
name
city, state
prize
1
Jake Klemsen
Milwaukie, OR
$319
2
Curtis Dicken
Portland, OR
$109
3
Lori Hanken
Oregon City, OR
$65
4
Lucas Stone
Tigard, OR
$40
5
Rob Edwards
Vancouver, WA
$34
6
Todd Hopfner
Bonney Lake, WA

7
Tyler Cruz
Seattle, WA
8
Nick Stone
Tigard, OR

9
Matt West
Gresham, OR
$75
10
Chris Kirk
Everett, WA
$15
11
Nick Ferguson
Portland, OR

12
Austin Marshall
Tacoma, WA

13
Rachel Kreighbaum
Portland, OR

14
Jordan Plunkett
Everett, WA

15
Michelle Wallace
Bend, OR

16
Cameron Weier
Federal Way, WA
$4
17
Catherine Rawsthorne
Seattle, WA

18
Matthew Kemper
Hillsboro, OR
19
Cody Stone
Tigard, OR

20
Patrick Hickok
Gresham, OR

21
Bret Baldwin
Toledo, OR

22
Falisha Forgash
Seattle, WA

23
Scrader White
Portland, OR
24
Daniel Carroll
Seattle, WA
Handicap Division
rank
name
city, state
prize
1
Andrew Mohr
Tigard, OR
$230
2
Jared Yamasaki
Salem, OR
$100
3
Dawn Kemper
Hillsboro, OR
$60
4
Andy Walker
Lake Oswego, OR
$55
5
Brett Hall
Buckley, WA
$70
6
Makayla Douglas
Gresham, OR
$30
7
Bailee Bridgewater
Troutdale, OR

8
Sam Burns
Federal Way, WA
$33
9
Ronnie Goodman
Portland, OR
$15
10
Matt Matias
Kent, WA

11
Justin David
Bellevue, WA
$15
12
Kyle Hays
Tacoma, WA
$30
13
Brandon Nylund
Kent, WA

14
Andrew Heritage
Beaverton, OR
$30
15
Cody Nelson
Kent, WA

16
Michael Moreci
Portland, OR

17
Jessica Bubnich
Tacoma, WA
$15
18
Bryan Switzer II
Tacoma, WA

19
Kaitlyn Coovert
Gresham, OR

20
Thomas Nylund
Kent, WA

21
Tyler Boe
Redmond, WA

22
Ryan Nikolas
Milwaukie, OR
$9
23
AJ Scott
Puyallaup, WA
24
Courtney Nikolas
Milwaukie, OR

25
Jimmy Smith
Troutdale, OR

26
Robert Powell
Puyallaup, WA

27
Nicole Stickler
Milwaukie, OR
28
Chris Yamasaki
Salem, OR

29
Megan Page
Covington, WA

30
Zach Hemming
Woodinville, WA
31
Matt Curtin
Portland, OR
32
Malachi Kahr
Portland, OR
33
Brett Scott Jr
Puyallaup, WA
34
Brittany Arndt
Portland, OR
35
Megan Green
Gresham, OR
36
Stephen Switzer
Fife, WA
Ball Winner:
Scratch High Games: Klemsen 277, Dicken 258, Edwards, Weier 257
Handicap High Games: Burns 274, Nikolas 271, Walker 267
TOTAL AWARDED THIS EVENT: $1,283