TRACI WARREN OPEN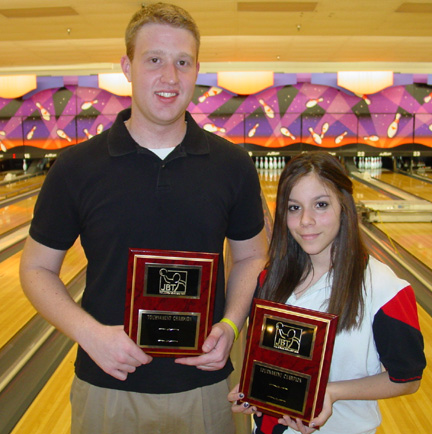 champs BJ Baker & Pamela Perez

BJ Baker caught a great break, while Pamela Perez stopped the man getting every break in the book, in thrilling Arizona Conference action at the JBT Traci Warren Memorial Open, hosted by AMF Deer Valley.

Randy Cote, enjoying his best JBT season, opened the scratch stepladder finals with a 202-183 win over Greg Garbera. In a very high scoring match for the day's challenging lane conditions, Eric Rubin then struck in the tenth for a 260-247 decision over the crestfallen Cote. Eric rode that momentum to a 213-176 semifinal win over Mike Cross to reach the title match.

Top seed Baker hadn't needed any luck in qualifying, putting on one of the most dominant performances of his amazing JBT career, going +354 for his 8 games on a day with a –85 cut, and when second place checked in at +157. However, the title match turned into a corner-pin contest between BJ and the confident Rubin. When BJ unexpectedly whiffed a 6-10 spare in the ninth, it looked like Eric would snatch away the win. However, needing any mark in the tenth, Rubin left a 4-7-10 which he couldn't convert, and the stunned Baker claimed his 26th career JBT title. The win ALREADY puts him over the top of the single-season earnings list with nearly $10,000, with over half the season and most of our big prize fund events yet to come!

Daniel Cotten opened up round one of the handicap stepladder finals with a 205, which beat Kolt Downey's 180 but still had him packing his bags, as Amanda Ailport needed only 8 pins in her tenth to advance. To the crowd's shock, though, she ended with 7-out, finishing at 204 and giving Daniel the win.

Daniel then put on a clinic on how one break can balloon into a huge run, firing 259 in round two and needing most of it to beat Shawn Peters (251) and Shannon Ryan (195). Cotten again needed most every bit of his semifinal effort, as his 250 stood up against Kayla Goad (234) and Benjamin Meils (200).

Top seed Pamela Perez, leading a JBT event for the first time, had to wonder if she'd have any chance against the roll Daniel was on, but those worries were put to rest as she put on a clinic herself. Despite yet another great game from Cotten, Pamela came up with a late four-bagger for her best game of the day, a 214 scratch effort, resulting in a 275-259 win and her first career JBT title.

We are proud yet saddened to name this JBT event each year in honor of Traci Warren, who we lost in an auto accident. We miss Traci and remind everyone to be very careful at all times when they're traveling around to all this JBT fun, and everywhere else as well.

Huge thanks to Peggy Cianciola for making this another one of our favorite stops every year- Peggy does so much for bowling, and youth bowling specifically, and our Tour- she rocks!

Over $2,300 was awarded at the event- want in on the fun? Come on down to the next JBT event, it's as simple as that!
Traci Warren Memorial Open- final results and optional scholarship winners
1/19/2008
Arizona Conference
Scratch Division
rank
name
city, state
prize
1
BJ Baker
Tempe, AZ
$540
2
Eric Rubin
Phoenix, AZ
$100
3
Mike Cross
Tucson, AZ
$60
4
Randy Cote
Tucson, AZ
$50
5
Greg Garbera
Tempe, AZ
$69
6
Theo Douthit
Phoenix, AZ
$30
7
Kyle King
Phoenix, AZ
$49
8
Greg Geering
Phoenix, AZ
9
Greg Shoaf
Chandler, AZ

10
Jacob Fischer
Peoria, AZ

11
Will McPherson
Chandler, AZ

12
Cameron Smith
Santee, CA
$150
13
Kyle Klein
Phoenix, AZ

14
Kris George
Las Vegas, NV
$10
15
CJ Crowley
Gilbert, AZ
$49
16
Chris Weyrauch
Chandler, AZ
$15
17
Miguel Lopez
Peoria, AZ

18
Mike Armstrong
Tucson, AZ
$5
19
DeShaun Jefferson
Phoenix, AZ

20
Andy Holick
Tucson, AZ

21
Forrest Holland
Escondido, CA
$60
22
Mikey May
Vista, CA

23
Labriel Leach
Tucson, AZ

24
Tyler Shipman
Gilbert, AZ

25
Nicholas Lee
Tucson, AZ

26
Brian Weyrauch
Tempe, AZ

27
Chelsea Zemelka
Phoenix, AZ

28
Gino Salaverria
Phoenix, AZ

29
Allie Ijams
Flagstaff, AZ

30
Eduardo Perez
Peoria, AZ

31
Chris Varholdt
Chandler, AZ

32
Bear Wiltfang
Tempe, AZ
$15
33
Martika Cabezas
Thousand Palms, CA

34
Tiffany King
Surprise, AZ

35
Tim Radney
Mesa, AZ

36
Eric Warren
Phoenix, AZ

37
Zach Simon
Wittman, AZ
38
Courtney Dutton
Chandler, AZ

39
Philip Stephens
Phoenix, AZ

40
Erica Lockhart
Tucson, AZ
41
Matt Payne
Phoenix, AZ

42
Zach Martinez
Chandler, AZ
Handicap Division
rank
name
city, state
prize
1
Pamela Perez
Peoria, AZ
$200
2
Daniel Cotten
Glendale, AZ
$130
3
Kayla Goad
Phoenix, AZ
$135
4
Ben Meils
Cave Creek, AZ
$60
5
Shannon Ryan
Mesa, AZ
$140
6
Shawn Peters
Peoria, AZ
$40
7
Amanda Ailport
Phoenix, AZ
$30
8
Kolt Downey
Phoenix, AZ
$20
9
Josue Chavez
Phoenix, AZ

10
Quinn Ledvina
Phoenix, AZ
$50
11
Steven Cheatham
Phoenix, AZ
$15
12
Amanda Vadnais
Prescott, AZ
$14
13
JD Sweet
Phoenix, AZ

14
Ryan Rhoades
Phoenix, AZ

15
Danny Varholdt
Chandler, AZ

16
Jeff Goad
Phoenix, AZ

17
Nick Ledvina
Phoenix, AZ

18
Rebecca Meils
Cave Creek, AZ
$20
19
Anthony Tripi
Avondale, AZ
$15
20
Kristin Raz
Las Vegas, NV

21
Dennan Boscarino
Phoenix, AZ
$15
22
Gregg Kern
Phoenix, AZ

23
Marina Stever
Mesa, AZ
$30
24
Kaitlin Mayall
Chula Vista, CA

25
Brandon Longo
Chandler, AZ
$45
26
Charlie Sykes IV
Phoenix, AZ

27
Justin Givler
Phoenix, AZ

28
Bryce Techmer
Phoenix, AZ

29
Lee Kirby
Chandler, AZ

30
Jessica Suitt
Phoenix, AZ

31
Rachel Lynn
Peoria, AZ

32
Riley Dempsey
Phoenix, AZ

33
Justin Jordan
Phoenix, AZ
$15
34
Kyle Frederick
Chandler, AZ

$30

35
Jeffrey Schultz
Phoenix, AZ

36
Bethany Baker
Tempe, AZ

37
Cody Taylor
Phoenix, AZ

38
Dillon Brand
Phoenix, AZ

39
Chris Rodriguez
Phoenix, AZ

40
Robert Atherton
Glendale, AZ
41
Lindsey Ailport
Phoenix, AZ

42
Taylor King
Phoenix, AZ
$30
43
Travis Scott
Peoria, AZ
44
Kyle Karpovich
Chandler, AZ
45
Jay Prewitt
Chandler, AZ

46
Will Cawthon
Phoenix, AZ

47
Jordan Vanderweyst
Glendale, AZ
48
Mike Kenny
Prescott Valley, AZ
$15
49
Joey Longo
Phoenix, AZ
50
Rebekkah Cortez
Phoenix, AZ
51
Troy Dennis
Phoenix, AZ
52
Daniel Duskin
Phoenix, AZ
53
Joe Meyer
Phoenix, AZ
54
Alex Pellegrino
Queen Creek, AZ
55
Amanda Elston
Phoenix, AZ
56
Eric Vitzthum
Glendale, AZ
57
Nick Armstrong
Tucson, AZ
58
Nicki Nunez
Peoria, AZ
59
Eric Demo
San Diego, CA
60
Jacob Smith
Tucson, AZ
61
Cris Boyle
Mesa, AZ
62
Alicia Sullivan
Kingman, AZ
63
Savannah Carr
Tolleson, AZ
64
Jewel Leigh Cassesse
Phoenix, AZ
65
Rebeca Reguero
Glendale, AZ
66
Jared Boscarino
Phoenix, AZ
67
Rane Lacona
Phoenix, AZ
68
Amy Johnson
Mesa, AZ
69
Cody Vanderweyst
Glendale, AZ
70
Taylor Knight
Phoenix, AZ
71
Kristen Lee
Tucson, AZ
72
Josh Shoup
Tolleson, AZ
73
Brittany Riccelli
Surprise, AZ
74
Jon Pletcher
Chandler, AZ
Impact Challenge Winner: Quinn Ledvina
High Games: Scratch: Crowley 269, 267, Garbera 268.

Handicap: Suitt 265, Vadnais 262, Rodriguez 257
Ebonite Ball Winner: Kris George
TOTAL AWARDED THIS EVENT: $2,330