DESERT OPEN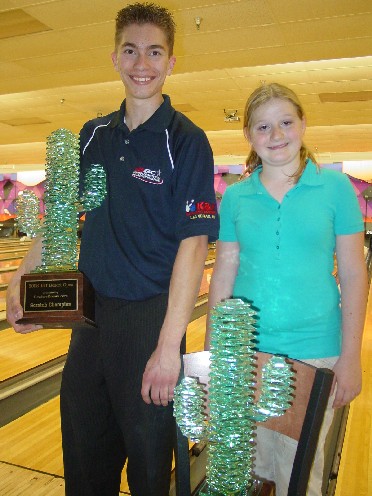 champs Brandon Allred & Sabrina Myracle
Brandon Allred and Sabrina Myracle picked up $1,000 scholarships and the beautiful glass cactus trophy as champions of the 2008 JBT Desert Open, presented by BowlersDream.com, and hosted by AMF Deer Valley Lanes.
Allred qualified third after 14 games of qualifying for the 32-person matchplay finals, and then began a tear through matchplay. He opened with a 4-0 sweep of #29 Zach Simon in round one, then fired 762 for his final three games to dispatch #14 Matt Herbert 4-2 in the round of 16.
Other top seeds also fared well in the opening round, with #1 Kyle King beating Rebeca Reguero 4-1, #2 Matt Jones beating Martika Cabezas 4-0, and #4 JR Monteith sweeping Tiffany King 4-0. #5 Brian Weyrauch was the highest first round upset, as Rachelle Davis doubled in the tenth frame of the final game to eliminate Brian 4-3. However, the match that drew the biggest crowd was BJ baker playing Chris Weyrauch, both veterans in their final JBT appearance. In a back and forth battle, Weyrauch won game seven 216-209 for a 4-3 win, eliminating Baker and the 35-time champs' outstanding career.
Weyrauch continued to extend his own career, upsetting King 4-2 in the round of 16, while defending champ Kris George orchestrated the only sweep of the round, 4-0 over Jake Peters.
The round of 8 proved to be much tougher for Allred, as #10 Alex Chuo had put on a clinic himself in matchplay. In the end though, a 244-236 game six decision gave him a hard fought 4-2 win, advancing him to the round of 8. In other action, Monteith won the final four games to beat Miguel Lopez 4-2, Jones survived a tough battle against Mike Armstrong 4-2, and George swept Weyrauch 4-0, sending Chris off into the adult world as well.
In one-game semifinal matches, Monteith doubled in the tenth to defeat George 210-205, while Allred escaped by Jones, 213-195, to set up a highly talented title match featuring bowlers with 15 JBT titles and over $20,000 in JBT earnings between the two of them.
The title match was dramatic, with Allred's early lead being eclipsed by a late charge from JR. However, needing a mark to win, Monteith came up high in the tenth, leaving a 4-6 which he could not convert. Needing 19 pins to win, Allred got 9-spare in the tenth, and then struck on his fill ball for the thrilling 217-216 win and the title, the second major and seventh win of his JBT career.
Deer Valley league bowlers, under the tutelage of GM Peggy Cianciola, a huge supporter of junior bowling, continued to make the Desert Open their own personal playground, grabbing six of the sixteen handicap division matchplay spots. Top seed and defending champ Steven Cheatham, who practices daily at Deer Valley, continued to reap the rewards of improvement, grabbing the top seed and sweeping his first match 4-0 over Danny Varholdt. Top seeds fared well here also, as #2 Ryan Rhaodes beat Eric Demo 4-2, Myracle beat #14 Kyle Karpovich 4-0, and #4 Marina Stever got by Justin Givler 4-2.
In the round of 8, #8 Aaron Bristow upset Cheatham 4-1, Stever beat Deven Johnston in a 4-3 slugfest, Myracle beat Jacqui Gerchak 4-2, and Rhoades got by Nick Armstrong 4-1, advancing the winners to the final four.
The semifinal matches went to the ladies, as Myracle beat Rhoades 228-187, and Stever got by Bristow 240-212, to set up the title match. In the finale, Stever, who was enjoying her best JBT result of the season, struggled a bit, and Sabrina, who hadn't stopped smiling since ball one of the tournament, came up with her high game of the whole tournament (in the 20th game!) to easily get by Marina 248-193, good for her first JBT title and the $1,000 top prize.
Almost $7,000 in scholarships was awarded at the event, bringing the total awarded by the JBT to over $300,000 for the 07-08 season! Want in on all this fun and opportunity? Visit us at a JBT event as the 08-09 season starts in late August!
Desert Open- final results and optional scholarship winners
8/10/2008
Scratch Division
rank
name
city, state
prize
1
Brandon Allred
Las Vegas, NV
$1,150
2
JR Monteith
Orange, CA
$510
3
Matt Jones
Winnetka, CA
$535
4
Kris George
Las Vegas, NV
$385
5
Mike Armstrong
Tucson, AZ
$245
6
Miguel Lopez
Peoria, AZ
$150
7
Alex Chuo
Thermal, CA
$150
8
Chris Weyrauch
Chandler, AZ
$210
9
Kyle King
Phoenix, AZ
$270
10
Theo Douthit
Phoenix, AZ
$30
11
Cameron Smith
Santee, CA
$15
12
Christian Jensen
Wichita, KS
13
Matt Herbert
Prescott, AZ
$45
14
Ricky Brown
RSM, CA
15
Shawn Peters
Glendale, AZ
16
Rachelle Davis
Tucson, AZ
$100
17
Brian Weyrauch
Tempe, AZ
18
DJ Sloan
Las Vegas, NV
19
James Hawkins
Quail Valley, CA
20
BJ Baker
Tempe, AZ
$50
21
Randy Cote
Tucson, AZ
22
Nathan Shock
Thornton, CO
23
April Urban
Henderson, NV
$50
24
Greg Garbera
Tempe, AZ
25
Mike Cross
Tucson, AZ
26
Mikey May
Vista, CA
27
Jacob Smith
Tucson, AZ
28
Allie Ijams
Flagstaff, AZ
29
Tiffany King
Surprise, AZ
30
Zach Simon
Tempe, AZ
31
Martika Cabezas
Palm Springs, CA
32
Rebeca Reguero
Phoenix, AZ
33
Chris Varholdt
Chandler, AZ
34
Scott Alavarez
La Quinta, CA
35
Elias Ewert
Chandler, AZ
36
Chris Kutcher
Las Vegas,NV
37
Chelsea Zemelka
Phoenix, AZ
$5
38
Alyse McGinnes
La Crescenta, CA
39
Robert Hines
Tucson, AZ
40
Tyson Lewis
Peoria, AZ
41
Lana Lycan
Santee, CA
42
Matt Payne
Phoenix, AZ
Handicap Division
rank
name
city, state
prize
1
Sabrina Myracle
Phoenix, AZ
$1,000
2
Marina Stever
Mesa, AZ
$545
3
Ryan Rhaodes
Phoenix, AZ
$300
4
Aaron Bristow
Farmington, NM
$300
5
Steven Cheatham
Phoenix, AZ
$180
6
Deven Johnston
Glendale, AZ
$165
7
Jacqui Gerchak
Phoenix, AZ
$150
8
Nick Armstrong
Tucson, AZ
$150
9
Kyle Chambers
Chandler, AZ
$15
10
Brandon Longo
Chandler, AZ
11
Jeffrey Schultz
Phoenix, AZ
12
Kristen Lee
Tucson, AZ
13
Justin Givler
Phoenix, AZ
14
Kyle Karpovich
Chandler, AZ
$60
15
Eric Demo
San Diego, CA
16
Danny Varholdt
Chandler, AZ
$30
17
Cris Boyle
Mesa, AZ
18
Anthony Tripi
Avondale, AZ
$30
19
Sam Zermeno
El Paso, TX
$15
20
Lindsey Ailport
Phoenix, AZ
21
Benjamin Meils
Cave Creek, AZ
22
Justin Villa
San Diego, CA
$75
23
Kolt Downey
Phoenix, AZ
24
Jeremy Throne
Farmington, NM
$15
25
Alexis Atkin
Phoenix,AZ
26
Amanda Ailport
Phoenix, AZ
27
Josh Shoup
Tolleson, AZ
28
Savannah Carr
Goodyear, AZ
29
Jewel-Leigh Cassesse
Phoenix, AZ
30
Blake Kalaf
Chandler, AZ
$30
31
Becki Meils
Cave Creek, AZ
32
Taylor Knight
Phoenix, AZ
33
Taylor Coleman
Scottsdale, AZ
$5
34
Taylor King
Phoenix, AZ
$30
35
Jay Prewitt
Chandler, AZ
36
Debbie Read
Albuquerque, NM
37
Daniel Cotten
Glendale, AZ
38
Sandy Truman
Phoenix, AZ
$5
39
Brandon Turner
San Diego, CA
40
Bethany Baker
Tempe, AZ
$15
41
Keith Thomas
Phoenix, AZ
42
Jared Billman
Peoria, AZ
43
Stephen Haanpaa
Phoenix, AZ
44
Shannon Ryan
Mesa, AZ
45
Megan Carlson
Chandler, AZ
46
Kyle Frederick
Chandler, AZ
47
Travis Johnson
Phoenix, AZ
Ebonite Ball Winner: BJ Baker, Kyle King
TOTAL AWARDED THIS EVENT: $6,875