RIVERSIDE LANES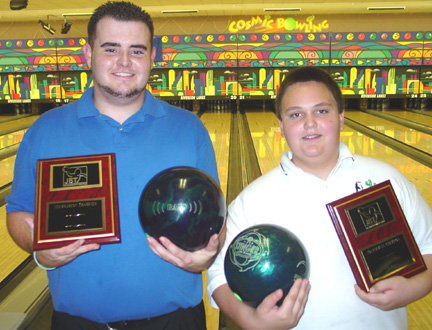 champs Mike Cross and Cris Boyle
Mike Cross and Cris Boyle outlasted the field to capture titles in Laughlin in exciting JBT Mojave Conference action.
Boyle climbed the ladder, something that's been happening a lot lately, to capture his first career JBT title. He began with a 206-162 win over newcomer Keith Williams. He then beat fellow Arizonan Danielle Stewart 210-185, and followed with a 288-226 win over red-hot Eric Hatchett, who was making his third straight finals, to reach the title match.
Top seed Andrew Kellogg was enjoying his best JBT event by far, going +393 for 8 games en route to the top seed. However, he struggled in the final match, and Boyle had just enough left in the tank for a 203-186 win and the tournament championship.
The scratch division used our Nerve-wracker format, and it again lived up to its name in a big way, with tension-filled matches all over the top 16. Our #1 seed jinx continued, as top-seed Kyle King was swept by #16 CJ Crowley in round one. Three round one matches went to the one-ball nerve-wracker, highlighted by Cross' three-shot 10-9 win over Kyle Bridgman. History was also made in round one, with JR Monteith and Matt McHann engaging in the longest one-shot rolloff ever, 5 shots, with McHann striking on the fifth shot to win just the first game of the round (he'd go on to sweep).
In round two, #9 Cross beat Crowley in a nerve-wracker; #6 Theo Douthit and #5 Cameron Smith swept, and #10 Martika Cabezas kept alive her best run ever in the scratch division with a nerve-wracker win over the exhausted McHann.
In the semifinals, Smith swept Cabezas, while Douthit and Cross going to nervewracker, where a solid-9 for Douthit spelled a heartbreaking end for him and a trip to the title match for Cross.
Cross easily got by Smith in game one of the finals, but Smith did the same in game two, forcing a one-shot nerve-wracker for the title. Unfortunately for Cameron, he only got 6 on his shot, and Cross came through with 9, winning his 4th nerve-wracker on the day, and his 4th career JBT title with the incredible win.
Big thanks to everyone at Riverside for a great job-- Viva Laughlin!!! 75 bowlers shared in over $2,000 in scholarships awarded- want in on the fun? Come on out to the next JBT event, it's as simple as that!
Riverside Lanes- final results and optional scholarship winners
12/2/2007
Mojave Conference
Scratch Division
rank
name
city, state
prize
1
Mike Cross
Tucson, AZ
$320
2
Cameron Smith
Santee, CA
$110
3
Theo Douthit
Phoenix, AZ
$85
4
Martika Cabezas
Thousand Palms, CA
$40
5
DJ Sloan
Las Vegas, NV
$30
6
Jordan Ferrer
Henderson, NV
$20
7
Matt McHann
Las Vegas, NV
$20
8
CJ Crowley
Gilbert, AZ
$85
9
Kyle King
Phoenix, AZ
$180
10
JR Monteith
Orange, CA
$30
11
Shane Peck
Riverside, CA
$8
12
James Hawkins
Anaheim, CA
$20
13
Lana Lycan
Santee, CA

14
Kyle Bridgman
Kingman, AZ

15
Mike May
San Diego, CA

16
Brandon Watts
Lake Havasu City, AZ

17
Ricky Overton
Las Vegas, NV

18
Kalani Diliner
Las Vegas, NV

19
Logan Kennedy
Las Vegas, NV

20
Tiffany King
Surprise, AZ

21
Greg Geering
Phoenix, AZ
22
Miguel Lopez
Peoria, AZ
23
Allie Ijams
Flagstaff, AZ
24
Alyssa Madrid
Las Vegas, NV

25
Kevin Schoenfeld
Phoenix, AZ
26
Josh Ferrer
Henderson, NV
Handicap Division
rank
name
city, state
prize
1
Cris Boyle
Mesa, AZ
$320
2
Andrew Kellogg
Las Vegas, NV
$130
3
Eric Hatchett
Las Vegas, NV
$152
4
Danielle Stewart
Chandler, AZ
$50
5
Keith Williams
Bullhead City, AZ
$40
6
Bethany Baker
Tempe, AZ
$45
7
Andrew Gottlieb
Las Vegas, NV
$25
8
Josh Shoup
Tolleson, AZ
$20
9
Nick McCoy
Kingman, AZ
$15
10
Jon Gutierrez
Las Vegas, NV

11
Kenny Herbster
Las Vegas, NV

12
James Gabour
Las Vegas, NV
$15
13
Brian Grupe
Las Vegas, NV
$30
14
David Atwood, Jr
Las Vegas, NV

15
Shani Snowden
Bullhead City, AZ

16
Tracy Cordell
Kingman, AZ

17
Cory Keraly
Las Vegas, NV
$15
18
Doug Taylor
Fort Mohave, AZ

19
Kyle Klein
Phoenix, AZ
$60
20
Daniel Duskin
Phoenix, AZ
$15
21
Kyle Akers
Kingman, AZ

22
Kaitlin Mayalllllllllllllllllllll
Chula Vista, CA

23
Sasha Black
Fort Mohave, AZ

24
Breezy Sharma
Lake Havasu City, AZ
$15
25
Brandon Regano
Henderson, NV

26
Darcie Staggs
Bullhead City, AZ

27
Andrew Watkins
Las Vegas, NV
$60
28
Sean Currie
Fort Mohave, AZ

29
Shannon Miller
Kingman, AZ

30
Dericka Badilla
Kingman, AZ
$5
31
Josh Chefalo
Las Vegas, NV

32
Donovan Koff
Las Vegas, NV

33
Joseph Pherreigo
Fort Mohave, AZ
$15
34
Samantha Meyers
Mission Hills, CA
$45
35
Justice Lynch Stewart
Bullhead City, AZ

36
Amanda Ailport
Phoenix, AZ

37
Alesha Pannier
Lake Havasu City, AZ

38
Drew Stern
Northridge, CA

39
Victor Pherreigo
Fort Mohave, AZ
40
Marina Stever
Mesa, AZ
$50
41
Rebeca Reguero
Phoenix, AZ
42
Aaron Watkins
Las Vegas, NV
43
Karissa Tafoya
Chandler, AZ
44
Jake Miller
Kingman, AZ
45
Lindsey Ailport
Phoenix, AZ

46
Aubrey Calabrese
Las Vegas, NV
47
Brandon Owen
Las Vegas, NV
48
Tyler Nall
Kingman, AZ
49
John Carter
Bullhead City, AZ

Ball Winner: Brandon Watts
TOTAL AWARDED THIS EVENT: $2,070