OASIS LANES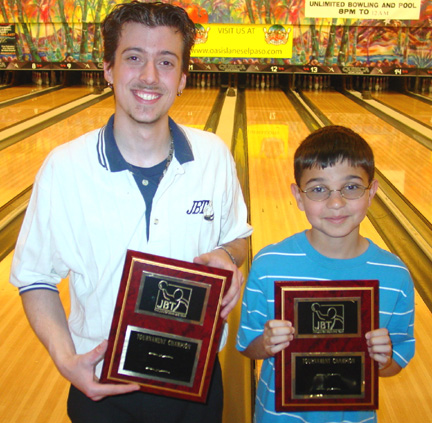 champs Bill Grant & Jeff Russell
Bill Grant capped off a dominant weekend with back to back wins, and Jeff Russell was fortunate to have the dominant handicap name of the weekend, in exciting JBT TX-NM Conference action at Oasis Lanes.
Bowling on the US Open pattern, the toughest pattern most of these bowlers will ever see, yielded a cut score under a 170 average, and the obvious premium on shotmaking and spares. That describes Bill in a nutshell, so it's no surprise he opened the stepladder finals with a 237-151 win over Justin Medina, and then never looked back. He then got by Jess Gagliardi 187-171, and followed aith a 197-168 win over BJ Eichensehr to reach the title match.
Top seed Andy Byer has also shined on the tough shots throughout his career, and was the only 200+ average bowler on the day, cruising to the top seed. A title match rematch from the day before came down to nearly the exact same situation as the day before in a tight, tough battle between two very talented bowlers. This time, it was Grant who finished last, and he filled the 19 pins in the tenth he needed for a 187-185 win, his 12th career JBT title and back to back on the weekend. It continued an insanely frustrating run for Byer, as the 15-time winner has now gone an almost impossible to believe 0-8 for his last 8 title matches!
Bowling a whole season on our Tour gives all ages and averages a chance to shine, and this time it turned out to be our smaller kids' time to shine. David Morgan was the oldest of the finalists by far, and Dominic Cuomo took care of him in round one of the finals 220-172. Cuomo then got by newcomer Jeff Wicker in a very close match 214-211, before Jeff Russell beat Cuomo in the highest scoring match of the day by far, 256-247, to reach the title match.
Top qualifier Samantha McFarland, already our youngest title-winner with a win last year at Oasis, was looking to become our youngest two-time winner by a mile here, but had to get past fellow 7 year-old Russell in the final match. Jeff wasn't having any of that, as he bowled more like yesterday's much older champ Kirk Russell (no relation) in a 244-193 win, good for his first career JBT title.
Oasis Lanes- final results and optional scholarship winners
5/4/2008
NM-TX Conference
Scratch Division
rank
name
city, state
prize
1
Billy Grant
Rio Rancho, NM
$200
2
Andy Byer
Albuquerque, NM
$205
3
BJ Eichensehr
El Paso, TX
$19
4
Jess Gagliardi
Alamosa, CO
$50
5
Justin Medina
Santa Fe, NM
$115
6
Carlos Mendez
El Paso, TX
$20
7
Nathan Shock
Thornton, CO

8
William Entsminger
El Paso, TX
$21
9
Dan Romero
Santa Fe, NM

10
Zachary Barnard
Albuquerque, NM

11
Nicholas Lee
Tucson, AZ

12
Paul Carper
Rio Rancho, NM

13
Diego Lucero
Santa Fe, NM

14
Nicholas Muller
Santa Fe, NM

Handicap Division
rank
name
city, state
prize
1
Jeff Russell
El Paso, TX
$320
2
Samantha McFarland
El Paso, TX
$100
3
Dominic Cuomo
El Paso, TX
$94
4
John Wicker
El Paso, TX
$55
5
David Morgan
El Paso, TX
$50
6
Joshua Barress
Albuquerque, NM
$15
7
Taylor Quintana
El Paso, TX
$15
8
Andrew Esparza
El Paso, TX

9
Steven Buster
El Paso, TX

10
Tricia Barress
Albuquerque, NM
$15
11
Reanne Quesada
El Paso, TX

12
Ryan Fast
Albuquerque, NM
$15
13
Lacey Shelton
Albuquerque, NM
$10
14
Bobby Morgan
El Paso, TX
$50
15
Dillon Bridge
El Paso, TX
$15
16
Jonah Seawright
Albuquerque, NM

17
Peter Cane
Albuquerque, NM
$15
18
Jonathan Frederick
El Paso, TX

19
Debbie Read
Albuquerque, NM
$15
20
Tim Baribeau
Albuquerque, NM
$15
21
Stephanie Barela
Santa Fe, NM

22
Cyera Quintana
El Paso, TX

23
Bailey McFarland
El Paso, TX

24
Manny Reyes
El Paso, TX

25
Kirk Russell
Amarillo, TX

26
Josh Reyes
El Paso, TX

27
Tevynn Laws
Albuquerque, NM

28
Aurora Popple
El Paso, TX

29
Jamar McDaniel
Albuquerque, NM

30
Corey Prater
El Paso, TX
$15
31
Sam Zermeno
El Paso, TX

32
Eric Sanford
Santa Fe, NM

33
Seth Jaramillo
Rio Rancho, NM

34
Wendy Shelton
Albuquerque, NM
35
Leo Guzman
El Paso, TX
36
Ryan Doan
Las Cruces, NM
37
Jeremy Larance
Amarillo, TX
Scratch High Games: Medina 233, Entsminger 232, 210
Handicap High Games: Morgan 274, Cuomo 233,232
Ebonite Ball Winner: William Entsminger
TOTAL AWARDED THIS EVENT: $1,398