AMF SHEA VILLAGE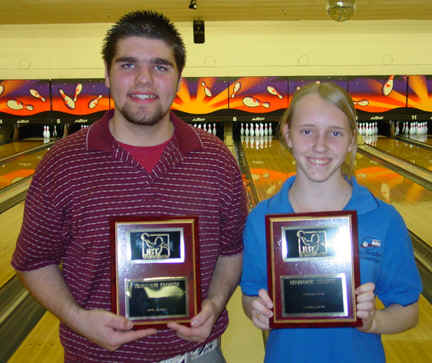 champs Kyle King and Krystal Gray
Kyle King and Krystal Gray "k"aptured JBT titles in exciting Arizona Conference action, hosted by AMF Shea Village.
Matt Herbert returned from a long absence to open up the scratch division stepladder finals with a 212 game that beat Forrest Holland (188) and Caycee Landers (168). Cameron Smith then stepped in with a big 246 to eliminate BJ Baker (234) and Herbert (188). In the semifinal match, another Californian, Matt Cormack, rolled 209 to oust Smith (172) and Greg Garbera (187) to advance to the title match.
Top seed Kyle King is simply doing it all on our Tour this season, and nothing changed here, making a great ball change late in the match to capture the 15th title of his JBT career with a 221-202 victory over Cormack.
Alicia Sullivan opened the handicap stepladder finals with a 184, but could only watch as Kayla Goad and Deven Johnston tied at 228, forcing a rolloff which Kayla won 58-40 to advance. Goad was very goad in the next match, firing 243 to eliminate Joshua Ebert (222) and Nick Ledvina (172). In the semifinals, former Main Event champ Kyle Karpovich rolled 223 to beat Goad (198) and Savannah Carr (193) to reach the title match.
Top seed Krystal Gray was enjoying the best performance of her JBT career, thanks in part to some great lessons from Gary Hicks in Tucson. She kept rolling in the title match, beating Karpovich 251-229, for her first career JBT title.
Big thanks to the whole crew at Shea for another great job hosting our Tour. 112 bowlers shared in over $2,600 in scholarships awarded to all ages and averages at the event. Want in on the fun? Come on down to the next JBT event, it's as simple as that!
AMF Shea Village- final results and optional scholarship winners
2/23/2008
Arizona Conference
Scratch Division
rank
name
city, state
prize
1
Kyle King
Phoenix, AZ
$420
2
Matt Cormack
Van Nuys, CA
$490
3
Greg Garbera
Tempe, AZ
$111
4
BJ Baker
Tempe, AZ
$100
5
Cameron Smith
Santee, CA
$60
6
Forrest Holland
Escondido, CA
$50
7
Matt Herbert
Prescott, AZ
$55
8
Caycee Landers
Mission Hills, CA
$49
9
Miguel Lopez
Peoria, AZ
$105
10
Kris George
Las Vegas, NV
$20
11
Mike Ingeman
Tempe, AZ

12
Randy Cote
Tucson, AZ

13
Theo Douthit
Phoenix, AZ

14
Chris Weyrauch
Chandler, AZ

15
James Hawkins
Anaheim, CA

16
CJ Crowley
Gilbert, AZ
$14
17
Will McPherson
Chandler, AZ

18
Eduardo Perez
Peoria, AZ
$10
19
Mike Cross
Tucson, AZ

20
Kalyn Washburn
Tucson, AZ

21
Tiffany King
Surprise, AZ

22
Brian Scholl
Maricopa, AZ

23
Jacob Fischer
Peoria, AZ

24
Courtney Dutton
Chandler, AZ

25
Gino Salaverria
Glendale, AZ

26
Eric Rubin
Phoenix, AZ
$5
27
David Johnston
Glendale, AZ

28
Steven Pizzi
Avondale, AZ

29
Labriel Leach
Tucson, AZ

30
Greg Geering
Phoenix, AZ

31
Lee Alpert
Chatsworth, CA

32
Nicholas Lee
Tucson, AZ

33
Bear Wiltfang
Tempe, AZ

34
Mikey May
Vista, CA

35
Rachelle Davis
Tucson, AZ

36
Anthony Miranda
Phoenix, AZ

37
Mike Armstrong
Tucson, AZ
38
Brian Ballard
San Diego, CA

39
Martika Cabezas
Thousand Palms, CA
$10
40
Christian Jensen
Wichita, KS
41
Zach Simon
Glendale, AZ

42
Tim Radney
Mesa, AZ
43
Matt Payne
Phoenix, AZ
44
Chris Varholdt
Chandler, AZ
45
Justin White
Phoenix, AZ
46
Allie Ijams
Flagstaff, AZ
47
Andrew Benias
Scottsdale, AZ
48
John O'Donald
Yuma, AZ
49
Brandon Gallimore
Phoenix, AZ
50
Andy Holick
Tucson, AZ
Handicap Division
rank
name
city, state
prize
1
Krystal Gray
Tucson, AZ
$200
2
Kyle Karpovich
Chandler, AZ
$203
3
Kayla Goad
Phoenix, AZ
$80
4
Savannah Carr
Goodyear, AZ
$75
5
Nick Ledvina
Goodyear, AZ
$74
6
Josh Ebert
Prescott Valley, AZ
$65
7
Deven Johnston
Phoenix, AZ
$40
8
Alicia Sullivan
Kingman, AZ
$80
9
Quinn Ledvina
Goodyear, AZ
$35
10
Taylor King
Phoenix, AZ
$19
11
Brandon Longo
Chandler, AZ

12
Daniel Cotton
Glendale, AZ
$15
13
Jay Prewitt
Chandler, AZ
$10
14
Pamela Perez
Peoria, AZ

15
Danny Varholdt
Chandler, AZ
$5
16
Michael Struble
Scottsdale, AZ
$30
17
Shannon Ryan
Mesa, AZ
$30
18
Justin Givler
Phoenix, AZ

19
Josh Shoup
Tolleson, AZ
$30
20
Amanda Ailport
Phoenix, AZ

21
Jessica Reed
Tucson, AZ

22
Marcus Stanley
Tucson, AZ
$50
23
Kyle Frederick
Chandler, AZ

24
Kaitlin Mayall
Chula Vista, CA
$15
25
Candace Gardner
Surprise, AZ

26
Bethany Baker
Tempe, AZ

27
Jordan Vanderweyst
Glendale, AZ

28
Anthony Tripi
Avondale, AZ
$30
29
Justin Jordan
Phoenix, AZ
$15
30
Cris Boyle
Mesa, AZ
$10
31
Blake Kalaf
Chandler, AZ
$30
32
Guy Prewitt
Chandler, AZ

33
Jordan Hastings
Prescott Valley, AZ

34
Rebeca Reguero
Glendale, AZ

35
Cody Vanderweyst
Glendale, AZ

36
Chris Mott
Phoenix, AZ

37
Lindsey Ailport
Phoenix, AZ

38
Ashley Collins
Tucson, AZ

39
Taylor Knight
Phoenix, AZ

40
Jacob Smith
Tucson, AZ
41
Rane Lacona
Phoenix, AZ
$15
42
Troy Dennis
Peoria, AZ

43
Sandy Truman
Phoenix, AZ
44
Marina Stever
Mesa, AZ
45
Chris Rodriguez
Chandler, AZ
$15
46
Mike Kenny
Prescott Valley, AZ

47
Kyle Vitzthum
Glendale, AZ
48
Eric Vitzthum
Glendale, AZ

49
Kristen Lee
Tucson, AZ
50
Andrew Gottlieb
Las Vegas, NV
51
Travis Scott
Peoria, AZ
52
Nicki Nunez
Peoria, AZ
$10
53
Tony Marin
Phoenix, AZ
$15
54
Tanner Hill
Phoenix, AZ
55
Joe Meyer
Phoenix, AZ
56
Taylor Coleman
Scottsdale, AZ
57
Jon Reed
Tucson, AZ
58
Jon Pletcher
Chandler, AZ
59
James Burke
Green Valey, AZ
60
Jacqui Gerchak
Phoenix, AZ
61
Eric Demo
San Diego, CA
62
Gregg Kern
Tucson, AZ
63
Robert Atherton
Glendale, AZ
Impact Challenge Winner: Marcus Stanley
High Games: Scratch: Garbera 269, Landres 268, Crowley 268
Handicap: Karpovich 292, N Ledvina 272, Q Ledvina 256, D Varholdt 256
Ebonite Ball Winner:

Savannah Carr
TOTAL AWARDED THIS EVENT: $2,685