SOUTH POINT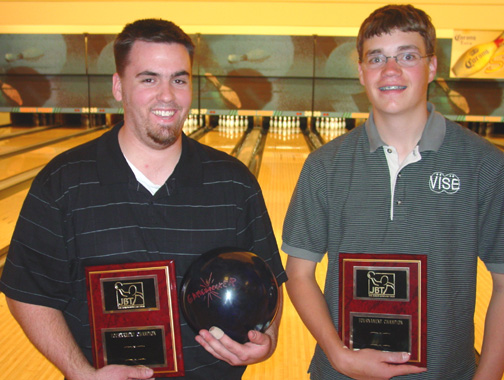 champs Theo Douthit & Jordan Hastings
Theo Douthit survived the nervewracker, while Jordan Hastings captured his first career title, in exciting JBT Mojave Conference action at South Point Bowling Center.
Dylan Lucas opened up his first handicap division stepladder finals with a 166-156 win over Aaron Watkins in round one. Hastings then came on to defeat Lucas 185-152, and he followed with a 191-170 win over Aaron's brother Andrew Watkins, to reach the title match.
Top seed Chase Nadeau had put on a great show all day in an event filled with strikes for everyone, but it was bad carry on the right lane that did him in in the finale, with Hastings throwing a clean game to emerge victorious 215-189 for his first JBT title.
JR Monteith averaged over 240 in qualifying to get the top seed for the round of 16 nervewracker format, but drew a tough match in April Urban, who threw 248-247 against JR's 235-259 to tie at 1-1 and force the one shot nervewracker, which Monteith won 10-9 to advance. #2 Cameron Smith also advanced, but other top seeds didn't fare so well, as #3 Kyle King (thanks to a great 298 from Brain Ballard), #4 Jordan Ferrer, and #5 Adam Reynoso were all first round victims.
In round of 8 action, #10 Douthit outlasted Smith in the longest nerveracker of the day, four shots, going 10-9 in the 4th. Other matches saw Monteith beat #9 Ken McElvaney, the "mayor of strike-town" (sheeesh), #6 Shawn Hrisca beat #13 Cory Keraly, and #12 Kayln Washburn ousting #14 Ballard.
In the semifinals, Douthit squeezed by Washburn in two tight games, while Monteith escaped via his third straight nervewracker, this time over Hrisca, to set up the title match.
JR won game one of the finals, forcing Theo to win game two, forcing a nervewracker for the title. JR, who had lost his carry in game two, only got 7 on his first shot, and that was good news for Theo as it turned out, as he left a 6-8, but 8 was enough for the win, the 13th of his JBT career.
Big thanks to Mike Monyak and the whole crew at South Point for always doing a great job hosting us. Over $1,400 in scholarships were awarded to bowlers of all ages and averages... want in on the fun? Come on down to the next JBT event, it's as simple as that!
South Point- final results and optional scholarship winners
3/9/2008
Mojave Conference
Scratch Division
rank
name
city, state
prize
1
Theo Douthit
Phoenix, AZ
$300
2
JR Monteith
Orange, CA
$155
3
Shawn Hrisca
Las Vegas, NV
$60
4
Kalyn Washburn
Tucson, AZ

5
Cameron Smith
Santee, CA
$112
6
Ken McElvaney
Chatsworth, CA
$30
7
Cory Keraly
Las Vegas, NV
$13
8
Brian Ballard
San Diego, CA

9
Kyle King
Phoenix, AZ
$223
10
Jordan Ferrer
Henderson, NV

11
Andy Reynoso
Las Vegas, NV

12
Jordan Katz
Las Vegas, NV

13
DJ Sloan
Las Vegas, NV

14
Alyssa Madrid
Las Vegas, NV

15
Nick Lamek
Las Vegas, NV

16
April Urban
Henderson, NV

17
Mikey May
San Diego, CA

18
Matt Jones
Winnetka, CA
$5
19
Matt McHann
Las Vegas, NV
$15
20
Tom Barbee
Las Vegas, NV

21
Brandon Watts
Lake Havasu City, AZ
22
James Hawkins
Quail Valley, CA
23
Logan Kennedy
Las Vegas, NV
24
Alex Katz
Las Vegas, NV

25
Lana Lycan
Santee, CA
26
Rachelle Davis
Tucson, AZ
27
Joshua Ferrer
Henderson, NV
28
Chris Kutcher
Las Vegas, NV
29
Greg Geering
Phoenix, AZ
30
Martika Cabezas
Thousand Palms, CA
Handicap Division
rank
name
city, state
prize
1
Jordan Hastings
Prescott Valley, AZ
$15
2
Chase Nadeau
Las Vegas, NV
$200
3
Andrew Watkins
Las Vegas, NV
$118
4
Dylan Lucas
Las Vegas, NV
$60
5
Aaron Watkins
Las Vegas, NV
$70
6
Skyler McGowan
Las Vegas, NV
$30
7
Zak Lucas
Las Vegas, NV

8
Eric Hatchett
Las Vegas, NV
$5
9
Alesha Pannier
Lake Havasu City, AZ
$15
10
Justin Givler
Phoenix, AZ

11
Jonathan Kozich
Las Vegas, NV
$25
12
Brian Grupe
Las Vegas, NV
$30
13
Andrew Kellogg
Las Vegas, NV
$15
14
Josh Shoup
Tolleson, AZ
$26
15
Teo Cipriaso
Las Vegas, NV

16
Brandon Owen
Las Vegas, NV

17
Tracy Cordell
Kingman, AZ

18
Dericka Badilla
Kingman, AZ

19
Jackie Southam
Las Vegas, NV

20
Kaitlin Mayall
Chula Vista, CA

21
Austin Signoretti
Las Vegas, NV

22
Joseph Sorce
Las Vegas, NV
$15
23
Darcie Staggs
Bullhead City, AZ

24
Josh Chefalo
Las Vegas, NV
$15
25
Rebeca Reguero
Phoenix, AZ
$25
26
Rachel Csanyi
Las Vegas, NV

27
Douglas Csanyi
Las Vegas, NV

28
Kyle Akers
Kingman, AZ

29
Josh Ebert
Prescott Valley, AZ

30
Krysta Nadeau
Las Vegas, NV

31
Ian Hanuscin
Las Vegas, NV

32
James Gabour
Las Vegas, NV

Ball Winner: Chris Kutcher
TOTAL AWARDED THIS EVENT: $1,402