STARLITE LANES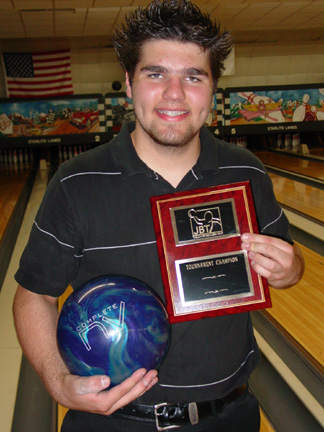 champ Kyle King
Kyle King enjoyed a dominant day in Flagstaff, capturing his 16th career JBT title- matching his age- in exciting scratch-only action at Starlite Lanes.
Our popular 'scratchplay' format features a cut to the top 16 after five games of all-matchplay qualifying. King went 5-0 in qualifying to nab the top seed, while a score of -16 was good enough to make the cut on the very challenging lane conditions. Three females and two handicap-division regulars made the cut, creating a diverse 16-person field that featured nearly 100 JBT titles between them!
#3 Miguel Lopez was the highest-seeded upset in round one, falling 2-0 to #14 Chris Weyrauch, in a round where 7 of the 8 matches were 2-0 sweeps, with only #12 Greg Geering's beating of #5 Jeff Spiesman going to the third game.
In the round of 8, King swept #8 Cameron Smith with 493 for two, Geering swept Weyrauch in two tough games, Garbera got by #7 Nathan Shock in three games, and #10 BJ Baker edged #13 Jess Gagliardi 2-1, by three pins in game three.
In one game semifinal matches, Geering beat Garbera in an "all-Greg G." matchup 236-211, while King got by BJ in a true clash of the titans 204-178 to set up the final game.
Geering has improved a lot this year and had been knocking on the door of his first scratch title match for a while, but now that he had arrived, he got stuck playing the red-hot King, who nobody has been able to figure out this year. Early opens by Greg gave Kyle all the room he needed, and he and his Ebonite Complete NV cruised to a 214-148 win and his 16th career win, already tied for 5th on our all-time title list.
Thanks as always to Roger and Ilene Hailey and everyone at Starlite for a great job hosting our tour in beautiful Northern Arizona. Over $1,400 was awarded- want in on the fun? Come on down to the next JBT event, it's as simple as that!
Starlite Lanes- final results and optional scholarship winners
4/20/2008
Arizona Conference
Scratch Division
rank
name
city, state
prize
1
Kyle King
Phoenix, AZ
$405
2
Greg Geering
Phoenix, AZ
$152
3
Greg Garbera
Tempe, AZ
$152
4
BJ Baker
Tempe, AZ
$105
5
Nathan Shock
Thornton, CO
$70
6
Cameron Smith
Santee, CA
$115
7
Jess Gagliardi
Alamosa, CO
$46
8
Chris Weyrauch
Chandler, AZ
$11
9
Miguel Lopez
Peoria, AZ
$26
10
Jerod Florez
Flagstaff, AZ
$125
11
Jeff Spiesman
Ventura, CA
$123
12
Bill Grant
Rio Rancho, NM
$60
13
Chelsea Zemelka
Phoenix, AZ
$15
14
Kaitlin Mayall
Chula Vista, CA
$40
15
Rebeca Reguero
Phoenix, AZ

16
Mike Cross
Tucson, AZ

17
Tiffany King
Surprise, AZ

18
James Hawkins
Quail Valley, CA

19
Jeff Ellis
Phoenix, AZ

20
Matt Herbert
Prescott, AZ

21
Kalyn Washburn
Tucson, AZ

22
Robert Atherton
Glendale, AZ
$50
23
Diego Lucero
Santa Fe, NM

24
Bethany Baker
Tempe, AZ

25
Mike Armstrong
Tucson, AZ
$15
26
Andy Holick
Tucson, AZ

27
Andrew Bienias
Scottsdale, AZ

28
Chris Varholdt
Chandler, AZ
29
Allie Ijams
Flagstaff, AZ
30
Josh Shoup
Tolleson, AZ
31
Matt Payne
Phoenix, AZ
32
Brandon Longo
Chandler, AZ
33
Brian Ballard
San Diego, CA
34
Alex Holbrook
Flagstaff, AZ
35
Eric Vitzthum
Glendale, AZ
36
Eric Demo
San Diego, CA
37
Matthew Young
Flagstaff, AZ
38
Nick Muller
Santa Fe, NM
39
Matt Cormack
Van Nuys, CA
$5

Scratch High Games: Spiesman 278, Geering 258, Lopez 246
Ebonite Ball Winner: Rebeca Reguero
TOTAL AWARDED THIS EVENT: $1,493