JBT TOURNAMENT OF ALL-TIME CHAMPS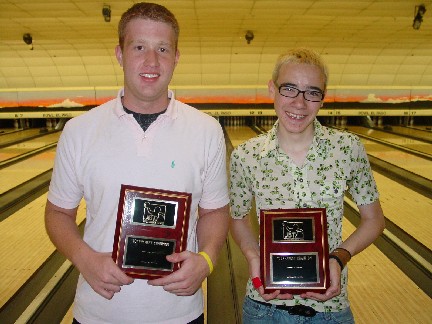 champs BJ Baker & Eric Sanford
BJ Baker capped off a dream weekend with another win, while Eric Sanford rolled to his second career title, in the JBT's Tournament of All-Time Champions (and almost champs), hosted at Bowl El Paso.
The unique event is open to anyone who ever finished in the top two of a JBT event. JBT alumni Mike Moyer was the only adult to make either stepladder final, but he was stopped in the opening match of the scratch division stepladder final, 245-229, by Chris Pierson. Pierson then defeated 2-time winner Jess Gagliardi 224-201 to advance to the title match.
Because this event allows 2nd-place finishers, Pierson was looking to become the 3rd bowler to have the statistical quirk of winning their first title in a Tournament of Champions, but to do so he'd have to get by the bowler who has stopped him in most of his title quests, top seed BJ Baker. BJ has been on yet another of the big-time rolls he's gotten on in his long, successful JBT career, having won the Invitational the day before, and winning the 50 clean jackpot TWICE in the process. Although Pierson beat Baker in matchplay, BJ was able to earn the top seed for the finals, and early opens in the title match by Chris created too big of a hole for him to dig out of. Baker ended up stringing strikes for a 268-176 title match win, and his 34th career JBT victory.
Eric Sanford had already had an interesting weekend, winning a rolloff to get into the Invitational finals the day before, then sneaking into the stepladder finals at the T of C, all with a ball won in our Ebonite raffle, drilled Saturday morning at Bowl El Paso! He began the finals with a 202-184 win over Jacob Gill, and followed with a 227-215 win over Leo Guzman, to advance to the title game.
Top seed Seth Jaramillo had led most of the day in a mission, like Eric, to win his second career title. In a well-bowled match from both players, Sanford escaped with the 236-213 win for the T of C championship and the $300 scholarship,
Thanks to everyone for their participation, and Bowl El Paso for once again being great hosts. We hope to see you over the summer at our big-money summer events, or in September for the start of the 08-09 JBT NM-TX season!
NM-TX Invitational- final results and optional scholarship winners
6/7/2008
NM-TX Conference
Scratch Division
rank
name
city, state
prize
1
BJ Baker
Tempe, AZ
$695
2
Chris Pierson
Waukesha, WI
$225
3
Jess Gagliardi
Alamosa, CO
$115
4
Mike Moyer
Las Cruces, NM
$75
5
George Gaucin
El Paso, TX
6
Amanda Falk
Tucson, AZ
7
William Entsminger
El Paso, TX
$40
8
Stephen Gaucin
El Paso, TX
$30
9
Greg Garbera
Tempe, AZ
$39
10
Geoffrey Young
Denton, TX
11
Brandy Silva
Albuquerque, NM
12
Paul Carper
Rio Rancho,NM
13
Allie Ijams
Flagstaff, AZ
$15
14
BJ Eichensehr
El Paso, TX
15
Kyle King
Phoenix, AZ
$75
16
Cory Shepan
Las Cruces, NM
17
Chris Weyrauch
Chandler, AZ
18
Rachel Carr
Chandler, AZ
19
Justin Medina
Santa Fe, NM
20
Jose Gabaldon
Santa Fe, NM
21
Andy Byer
Albuquerque, NM
22
Charlie Elliott
Santa Fe, NM
23
Nathan Shock
Thornton, CO
24
Jerod Florez
Tempe, AZ
25
Chris Varholdt
Chandler, AZ
26
Randy Cote
Tucson, AZ
27
Mike Cross
Tucson, AZ
28
Dan Romero
Santa Fe, NM
Handicap Division
rank
name
city, state
prize
1
Eric Sanford
Santa Fe, NM
$400
2
Seth Jaramillo
Rio Rancho, NM
$165
3
Leo Guzman
El Paso, TX
$130
4
Jacob Gill
Albuquerque, NM
$75
5
Kyla Casuas
Roswell, NM
$50
6
Sophie Diaz
Santa Fe, NM
$30
7
Jonathan Frederick
El Paso, TX
8
Billy Read
El Paso, TX
$50
9
Kyle Chambers
Glendale, AZ
10
Elizabeth Romero
Santa Fe, NM
$15
11
Sam Zermeno
El Paso, TX
$35
12
Josh Barress
Albuquerque, NM
13
Bailey McFarland
El Paso, TX
14
Mike Romero
Santa Fe, NM
$30
15
Stephanie Barela
Santa Fe, NM
16
Jamar McDaniel
Rio Rancho, NM
17
Bethany Baker
Tempe,AZ
18
Jonah Seawright
Albuquerque, NM
19
Jeremy Larance
Amarillo, TX
20
Kaitlin Mayall
Chula Vista, CA
21
Krista Casaus
Roswell, NM
22
Andrew McKinsey
Rio Rancho, NM
$15
23
Andrew Esparza
El Paso, TX
$15
24
Ryan Doan
Las Cruces, NM
25
Sara Vargas
Albuquerque, NM
26
David Morgan
El Paso, TX
27
Kara Casaus
Roswell, NM
$15
28
Wendy Shelton
Albuquerque, NM
29
Janeyl Carper
Rio Rancho, NM
30
Olivia Silva
Albuquerque, NM
31
Josh Reyes
El Paso, TX
32
Samantha McFarland
El Paso, TX
33
Brandy Main
El Paso, TX
34
Taylor Quintana
El Paso, TX
35
Brandon Gill
Albuquerque, NM
Ebonite Ball Winner: Kyle Chambers
TOTAL AWARDED THIS EVENT: $2,334