JBT TOUR TRIALS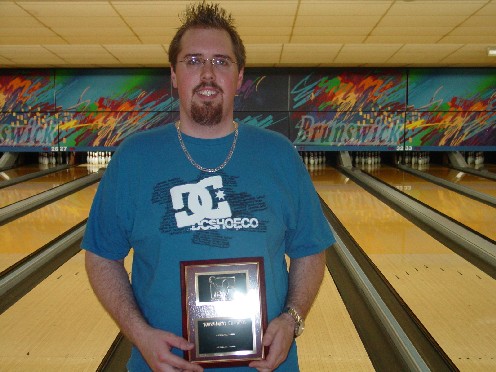 champ Mike Wodzinski

Mike Wodzinski, an east-coast JBT superstar from New York, outlasted Kyle King, Phoenix, in the 25th and final game, to capture the JBT Tour Trials, hosted by BRC Zone Mesa. Over $6,800 in scholarships was awarded to the sold out 73 player field.

All bowlers rolled 5 games each on all 5 PBA experience patterns, making this arguably the toughest event in JBT history. After a relatively slow (but still top-10) start on the Cheetah pattern, Wodzinski was never out of the money again, finishing 2nd, 2nd, 8th, and 3rd on the remaining four patterns. However, he was flip-flopping all day with King for the lead. Kyle was the only bowler to 'cash' on all five patterns, never finishing lower than sixth, an amazing display of versatility. Nathan Panaligan's all-top 10 performance helped him to a solid third place finish, while fellow Las Vegan Kris George led the shark block en route to finishing fourth. BJ Baker rounded out the top five in his penultimate JBT appearance, leading on Viper but struggling on shark and chameleon to deny him a higher finish.

William Entsminger had the high 5-game block of anyone, 1150 to lead on scorpion, while Matt Jones' 1132 on chameleon was secon-best and boosted him all the way up to 7th in the overall results.

Nine bowlers earned more than $200 in scholarship prizes, with Wodzinski piling up a huge $1,400 windfall. Big thanks to Zone Mesa for being gracious hosts and getting the five patterns laid out for these talented juniors.
| | | | | | | | | | | | | | |
| --- | --- | --- | --- | --- | --- | --- | --- | --- | --- | --- | --- | --- | --- |
| rank | Bowler | Cheetah | rank | Viper | rank | Shark | rank | Scorpion | rank | Chameleon | rank | TOTAL | prize |
| 1 | Wodzinski, Mike | 992 | 10 | 1089 | 2 | 1119 | 2 | 1018 | 8 | 1029 | 3 | 5247 | $1,400 |
| 2 | King, Kyle | 1061 | 3 | 1030 | 5 | 1037 | 6 | 1101 | 3 | 1001 | 6 | 5230 | $745 |
| 3 | Panaligan, Nathan | 995 | 8 | 1078 | 3 | 1020 | 10 | 1079 | 4 | 976 | 10 | 5148 | $305 |
| 4 | George, Kris | 1078 | 2 | 986 | 9 | 1123 | 1 | 1004 | 10 | 949 | 19 | 5140 | $613 |
| 5 | Baker, BJ | 1037 | 5 | 1103 | 1 | 924 | 29 | 1002 | 11 | 919 | 30 | 4985 | $760 |
| 6 | Geering, Greg | 1122 | 1 | 962 | 16 | 973 | 15 | 967 | 15 | 947 | 20 | 4971 | $525 |
| 7 | Jones, Matt | 921 | 25 | 864 | 49 | 1025 | 9 | 977 | 14 | 1132 | 1 | 4919 | $325 |
| 8 | Smith, Cameron | 870 | 46 | 1028 | 6 | 978 | 14 | 1020 | 7 | 965 | 13 | 4861 | $165 |
| 9 | Herrero, Dorian | 906 | 30 | 1036 | 4 | 949 | 23 | 962 | 18 | 980 | 9 | 4833 | $175 |
| 10 | Entsminger, William | 969 | 16 | 869 | 47 | 859 | 42 | 1150 | 1 | 966 | 12 | 4813 | $290 |
| 11 | McGinnes, Alyse | 926 | 22 | 955 | 18 | 1034 | 8 | 951 | 22 | 945 | 24 | 4811 | $125 |
| 12 | Weyrauch, Chris | 1046 | 4 | 913 | 29 | 1008 | 12 | 934 | 25 | 895 | 40 | 4796 | $260 |
| 13 | Carper, Paul | 930 | 20 | 959 | 17 | 1068 | 4 | 918 | 30 | 907 | 34 | 4782 | $65 |
| 14 | Varholdt, Chris | 912 | 29 | 1023 | 8 | 915 | 32 | 879 | 47 | 1026 | 4 | 4755 | $75 |
| 15 | Garbera, Greg | 985 | 11 | 876 | 42 | 955 | 22 | 924 | 26 | 988 | 7 | 4728 | $70 |
| 16 | Ferrer, Jordan | 951 | 17 | 984 | 11 | 938 | 28 | 859 | 54 | 974 | 11 | 4706 | |
| 17 | Monteith, JR | 878 | 43 | 1026 | 7 | 1056 | 5 | 890 | 40 | 844 | 53 | 4694 | $50 |
| 18 | Armstrong, Mike | 842 | 54 | 921 | 25 | 1036 | 7 | 863 | 53 | 1021 | 5 | 4683 | $75 |
| 19 | Phandanouvong, F. | 917 | 26 | 929 | 23 | 971 | 16 | 962 | 19 | 904 | 38 | 4683 | |
| 20 | Douthit, Theo | 970 | 15 | 913 | 30 | 955 | 21 | 934 | 24 | 910 | 32 | 4682 | $15 |
| 21 | Sloan, DJ | 900 | 34 | 861 | 50 | 945 | 25 | 1127 | 2 | 845 | 52 | 4678 | $105 |
| 22 | Stevenson, Anthony | 972 | 14 | 948 | 20 | 942 | 26 | 921 | 29 | 887 | 42 | 4670 | $75 |
| 23 | Tubis, Matt | 997 | 7 | 974 | 13 | 838 | 48 | 964 | 17 | 859 | 47 | 4632 | $25 |
| 24 | Leach, Labriel | 848 | 52 | 986 | 10 | 966 | 17 | 901 | 33 | 922 | 28 | 4623 | $13 |
| 25 | Herbert, Matt | 951 | 18 | 899 | 36 | 940 | 27 | 880 | 45 | 943 | 25 | 4613 | $30 |
| 26 | McHann, Matt | 923 | 23 | 864 | 48 | 961 | 20 | 1026 | 6 | 830 | 57 | 4604 | $25 |
| 27 | Davis, Rachelle | 906 | 31 | 885 | 39 | 1013 | 11 | 906 | 32 | 883 | 43 | 4593 | $55 |
| 28 | Lycan, Lana | 885 | 39 | 857 | 51 | 962 | 19 | 1029 | 5 | 845 | 51 | 4578 | $55 |
| 29 | Washburn, Kalyn | 881 | 41 | 845 | 52 | 981 | 13 | 924 | 27 | 946 | 22 | 4577 | |
| 30 | Reynoso, Adam | 846 | 53 | 908 | 32 | 817 | 55 | 965 | 16 | 1035 | 2 | 4571 | $100 |
| 31 | Falk, Amanda | 798 | 66 | 972 | 14 | 949 | 24 | 996 | 12 | 856 | 48 | 4571 | |
| 32 | Vanderweyst, Cody | 1011 | 6 | 791 | 66 | 962 | 18 | 850 | 56 | 953 | 18 | 4567 | $25 |
| 33 | Atherton, Robert | 974 | 13 | 909 | 31 | 835 | 49 | 913 | 31 | 936 | 26 | 4567 | |
| 34 | Mayall, Kaitlin | 837 | 56 | 953 | 19 | 905 | 35 | 956 | 21 | 905 | 37 | 4556 | |
| 35 | Karpovich, Kyle | 896 | 35 | 870 | 45 | 1069 | 3 | 854 | 55 | 853 | 49 | 4542 | $65 |
| 36 | Shock, Nathan | 874 | 45 | 881 | 40 | 914 | 33 | 897 | 35 | 954 | 17 | 4520 | |
| 37 | Lee, Nicholas | 858 | 48 | 966 | 15 | 861 | 41 | 980 | 13 | 843 | 54 | 4508 | |
| 38 | Peters, Shawn | 922 | 24 | 916 | 27 | 774 | 66 | 937 | 23 | 955 | 16 | 4504 | |
| 39 | Raymond, Aaron | 887 | 38 | 877 | 41 | 923 | 30 | 892 | 39 | 916 | 31 | 4495 | |
| 40 | Robinson, Bradley | 977 | 12 | 924 | 24 | 787 | 64 | 875 | 49 | 920 | 29 | 4483 | $15 |
| 41 | Shipman, Tyler | 938 | 19 | 810 | 60 | 888 | 37 | 869 | 50 | 963 | 14 | 4468 | |
| 42 | Hawkins, James | 995 | 9 | 812 | 59 | 873 | 38 | 803 | 68 | 961 | 15 | 4444 | $25 |
| 43 | Dutton, Courtney | 836 | 58 | 902 | 35 | 828 | 51 | 887 | 42 | 985 | 8 | 4438 | $25 |
| 44 | McMillen, Brandon | 857 | 49 | 977 | 12 | 846 | 44 | 838 | 60 | 907 | 35 | 4425 | |
| 45 | Crowley, CJ | 888 | 36 | 893 | 38 | 910 | 34 | 866 | 52 | 861 | 46 | 4418 | |
| 46 | Cote, Randy | 875 | 44 | 801 | 64 | 846 | 45 | 889 | 41 | 945 | 23 | 4356 | |
| 47 | Payne, Matt | 914 | 28 | 832 | 55 | 863 | 40 | 839 | 59 | 896 | 39 | 4344 | |
| 48 | Ewert, Elias | 883 | 40 | 920 | 26 | 917 | 31 | 923 | 28 | 690 | 71 | 4333 | |
| 49 | Pletcher, Jon | 869 | 47 | 845 | 53 | 804 | 60 | 830 | 63 | 947 | 21 | 4295 | $5 |
| 50 | Lucero, Diego | 840 | 55 | 942 | 21 | 780 | 65 | 828 | 64 | 894 | 41 | 4284 | |
| 51 | Kern, Gregg | 900 | 33 | 875 | 43 | 699 | 73 | 892 | 37 | 905 | 36 | 4271 | |
| 52 | Lacona, Rane | 879 | 42 | 904 | 34 | 824 | 52 | 894 | 36 | 758 | 67 | 4259 | |
| 53 | Barress, Josh | 786 | 67 | 941 | 22 | 851 | 43 | 832 | 62 | 839 | 55 | 4249 | |
| 54 | Cormack, Matt | 916 | 27 | 796 | 65 | 714 | 71 | 1016 | 9 | 793 | 59 | 4235 | $195 |
| 55 | Longo, Brandon | 804 | 64 | 905 | 33 | 845 | 46 | 884 | 43 | 787 | 61 | 4225 | |
| 56 | Holick, Andy | 837 | 57 | 915 | 28 | 896 | 36 | 879 | 46 | 692 | 70 | 4219 | |
| 57 | Humphrey, Sarah | 854 | 51 | 836 | 54 | 795 | 62 | 815 | 66 | 909 | 33 | 4209 | |
| 58 | Cabezas, Martika | 831 | 60 | 790 | 67 | 812 | 58 | 840 | 57 | 933 | 27 | 4206 | |
| 59 | Boyle, Cris | 823 | 62 | 804 | 61 | 770 | 67 | 899 | 34 | 864 | 45 | 4160 | |
| 60 | Johnston, Deven | 729 | 70 | 813 | 58 | 802 | 61 | 961 | 20 | 851 | 50 | 4156 | |
| 61 | King, Tiffany | 831 | 59 | 802 | 62 | 805 | 59 | 867 | 51 | 793 | 60 | 4098 | |
| 62 | Kremer, Mike | 804 | 65 | 895 | 37 | 723 | 70 | 892 | 38 | 784 | 63 | 4098 | |
| 63 | Madrid, Alyssa | 826 | 61 | 870 | 46 | 733 | 68 | 878 | 48 | 787 | 62 | 4094 | |
| 64 | Cross, Mike | 807 | 63 | 816 | 57 | 823 | 54 | 834 | 61 | 781 | 64 | 4061 | |
| 65 | Stever, Marina | 855 | 50 | 874 | 44 | 789 | 63 | 778 | 71 | 761 | 66 | 4057 | $5 |
| 66 | Johnson, Travis | 653 | 73 | 802 | 63 | 845 | 47 | 840 | 58 | 883 | 44 | 4023 | |
| 67 | Demo, Eric | 679 | 72 | 825 | 56 | 873 | 39 | 778 | 70 | 836 | 56 | 3991 | |
| 68 | Ailport, Lindsey | 758 | 68 | 735 | 70 | 824 | 53 | 882 | 44 | 776 | 65 | 3975 | |
| 69 | Givler,Justin | 906 | 32 | 761 | 68 | 816 | 57 | 755 | 72 | 715 | 68 | 3953 | |
| 70 | Zermeno, Sam | 888 | 37 | 672 | 73 | 835 | 50 | 803 | 69 | 712 | 69 | 3910 | |
| 71 | Cheatham, Steven | 754 | 69 | 719 | 71 | 724 | 69 | 810 | 67 | 817 | 58 | 3824 | |
| 72 | Weyrauch, Brian | 928 | 21 | 739 | 69 | 707 | 72 | 820 | 65 | 509 | 73 | 3703 | |
| 73 | Toth, Elijah | 681 | 71 | 709 | 72 | 817 | 56 | 742 | 73 | 617 | 72 | 3566 | |
Ebonite Ball Winner: Jerod Florez
TOTAL AWARDED: $6,841