STRIKE ZONE at SUNSET STATION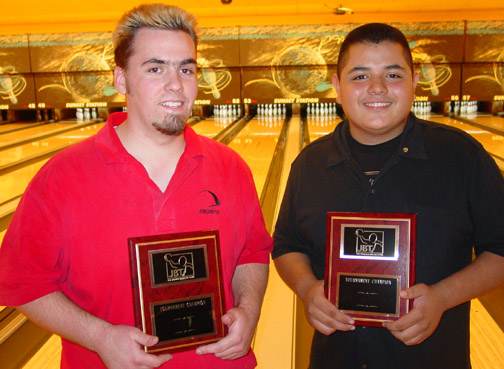 champs Theo Douthit & Albert Torres
Theo Douthit and Albert Torres captured important titles in exciting double points Mojave Conference JBT action at Sunset Station's Strike Zone.
Andy Reynoso had a fantastic qualifying round, but struggled in the semifinals and was ousted 191-176 by Miguel Lopez in round one of the scratch division stepladder finals. Mike Cross and Lopez then engaged in a classic, with Cross getting three strikes in the tenth for a 202-201 victory over Miguel. Kyle King then blasted a big 244 game on the tough conditions for a 244-156 win over Cross to advance to the title match.
Top seed Douthit was trailing for most of the title match, but a 4-9 late in the game from King gave Theo new life, and he ran the back four strikes to force King to double for the win. Kyle was unable to get the first strike, and Douthit claimed his 11th career JBT title with the resulting 224-202 win.
Newcomer Dericka Badilla opened the handicap division stepladder finals with a 213 game that squeaked by James Gabour (211) and Jon Gutierrez 9195). Justin Claspell then fired an even 200 game, and it was enough to beat Badilla (172) and Melissa Huether (196). In the semifinals, Torres came up with a 228 effort, beating Jonathan Kozich (216) and Claspell (175), advancing to the title match.
Top seed Douglas Csanyi grabbed the #1 position in his first-ever JBT event, and was able to deal with the stressful environment of the title match, bowling very well. However, Torres managed to throw a late turkey through the tenth frame, giving him the edge he needed for a 257-224 win, good for his first career JBT title.
Big thanks to everyone at the spectacular Strike Zone center for their usual top notch hosting job- a big turnout for this crucial double points event was handled with ease by their great crew and facilities.
Strike Zone- final results and optional scholarship winners
10/14/2007
Mojave Conference
Scratch Division
rank
name
city, state
prize
1
Theo Douthit
Phoenix, AZ
$470
2
Kyle King
Phoenix, AZ
$200
3
Mike Cross
Tucson, AZ
$60
4
Miguel Lopez
Peoria, AZ
$65
5
Andy Reynoso
Las Vegas, NV
$145
6
Greg Geering
Phoenix, AZ
$75
7
Brandon Watts
Lake Havasu City, AZ
$20
8
JR Monteith
Orange, CA
$25
9
Zach Hattori
Las Vegas, NV
10
Sean Khureya
Las Vegas, NV

11
Chris Kagawa
Las Vegas, NV

12
Foster Phandanouvong
San Diego, CA
$10
13
Allie Ijams
Flagstaff, AZ

14
Ricky Overton
Las Vegas, NV

15
DJ Sloan
Las Vegas, NV

16
Lana Lycan
Santee, CA

17
Cameron Smith
Santee, CA

18
Kalani Dilliner
Las Vegas, NV

19
Alyssa Madrid
Las Vegas, NV

20
Matt McHann
Las Vegas, NV

21
Shane Peck
Riverside, CA
22
Jordan Ferrer
Henderson, NV
23
Chris Kutcher
Las Vegas, NV
24
April Urban
Henderson, NV

25
Sean Huggins
Las Vegas, NV
26
Kary Nguyen
Las Vegas, NV
27
Tiffany King
Surprise, AZ

28
Anthony Cruz
San Diego, CA

29
Tom Barbee
Las Vegas, NV

30
Kyle Bridgman
Kingman, AZ
31
Chelsea Zemelka
Phoenix, AZ
32
Matt Jones
Dub-town, CA

33
Kevin Schoenfeld
Phoenix, AZ

34
Erik Matthewson
Las Vegas, NV
35
Logan Kennedy
Las Vegas, NV
36
James Hawkins
Anaheim, CA
37
Ferrer, Josh
Henderson, NV
38
AJ Garcia
Azusa, CA
Handicap Division
rank
name
city, state
prize
1
Albert Torres
San Diego, CA
$261
2
Douglas Csanyi
Las Vegas, NV
$170
3
Jonathan Kozich
Las Vegas, NV
$75
4
Justin Claspell
Lake Havasu City, AZ
$75
5
Melissa Huether
Las Vegas, NV
$50
6
Dericka Badilla
Kingman, AZ
$55
7
James Gabour
Las Vegas, NV
$35
8
Jon Gutierrez
Las Vegas, NV
9
Amanda Ailport
Phoenix, AZ
$69
10
Ian Hanuscin
Las Vegas, NV
$25
11
Rachel Csanyi
Las Vegas, NV
$35
12
Alesha Pannier
Lake Havasu City, AZ
$45
13
Darcie Lee Staggs
Bullhead City, AZ
$15
14
Kyle Klein
Phoenix, AZ
$15
15
Marina Stever
Mesa, AZ
$15
16
Andrew Watkins
Las Vegas, NV

17
Devni Wade
Las Vegas, NV

18
Eric Hatchett
Las Vegas, NV
$15
19
Jenny Phandanouvong
San Diego, CA
$15
20
Taylor Aldridge
Las Vegas, NV

21
Wesley Low
Palmdale, CA

22
Drew Stern
Northridge, CA
$27
23
Walter Olriksen
Las Vegas, NV

24
Rebeca Reguero
Phoenix, AZ
$15
25
Alicia Sullivan
Kingman, AZ
$30
26
Josh Shoup
Tolleson, AZ
$30
27
Cassy Canoy
Ft Mohave, AZ
$15
28
Andrew Kellogg
Las Vegas, NV

29
Evan Gluck
Las Vegas, NV

30
Paul Huether
Las Vegas, NV

31
Michael Butz
Las Vegas, NV

32
Kristin Raz
Las Vegas, NV

33
Aubrey Calabrese
Las Vegas, NV

34
Dylan Lucas
Las Vegas, NV

35
Andrew Guba
Las Vegas, NV

36
Brandon Owen
Las Vegas, NV

37
Brian Grupe
Las Vegas, NV
$10
38
Joe Girencser
Henderson, NV

39
Jason Pappas
Las Vegas, NV
40
Tracy Cordell
Las Vegas, NV
41
Bethany Baker
Tempe, AZ
42
Kyle Akers
Kingman, AZ
43
Teofisto Cipriaso
Las Vegas, NV
44
Aaron Watkins
Las Vegas, NV
45
Kaitlin Mayall
Chula Vista, CA
46
Katelyn Scott
Las Vegas, NV
47
Michael Pebley
Kingman, AZ
48
Cory Keraly
Las Vegas, NV
49
Sarah Ansteth
Las Vegas, NV
50
Kenny Herbster
Las Vegas, NV
51
Taelor McKenrick
Henderson, NV
52
Kirk Chui
San Diego, CA
53
Daniel Duskin
Phoenix, AZ
54
Zack Lucas
Las Vegas, NV
55
Merrill Hill
Las Vegas, NV
56
Mark Caparas
Las Vegas, NV
57
Donovan Koff
Las Vegas, NV
58
Jacob Hawkins
Las Vegas, NV

Ball Winner: Drew Stern
TOTAL AWARDED THIS EVENT: $2,142