JBT TOUR TRIALS/ DESERT OPEN COMBO MARATHON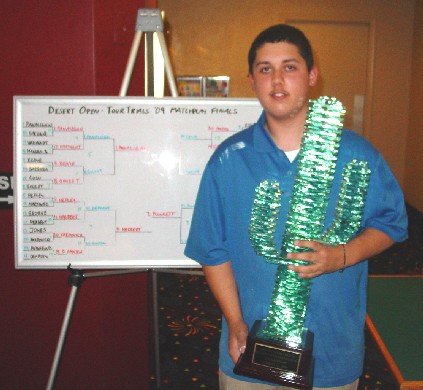 champ Tyler Cruz
Well, at least one cactus now grows in Washington. Tyler Cruz, Tacoma WA, mowed down the field in matchplay to capture the title and $1,000 top scholarship in the JBT Desert Open - Tour Trials Marathon, hosted by Glenfair Lanes.
'Marathon' was the key word in the title of this event, as the field rolled a TWENTY game qualifying round on four demanding lane conditions, with the top 32 advancing to best 4-of-7 matchplay. Nathan Panaligan was the dominant bowler in qualifying, finishing in the top 3 in all four qualifying blocks, an incredible display of talent and versatility that earned him the #1 matchplay seed, with #2 Jordan Plunkett, Kyle King, Riley Dempsey, and Jimmy Hefley the only other ones able to average over 200 in the brutal format. Nothing changed in round one of matchplay for Nathan and Jordan, who each cruised through their first round matches, but the story was different for King and Dempsey, who both were upset victims.
In the best 3-of-5 round of 16, Panaligan earned the choice of lane conditions as another top-seed bonus, and chose Viper. It was a wise choice, as he swept #17 Chris Varholdt in that round. Plunkett beat #15 Mark Curtis 3-1, Cruz beat #30 Sam Parks 3-0, and the big upset of the round was #21 Matt Herbert ousting #5 Hefley 3 games to 1.
Down to eight players, the pressure was ratcheted up with a best 2-of-3 round. In those matches, Panaligan beat #8 Charlie Goulet 2-0, Cruz beat #11 Cameron Smith 2-0, Punkett outed #23 Kylee Bonneville 2-0, and in the only 3-game match, Herbert outlasted #29 "Dirty Dan" Hansen 2-1.
In single game semifinal action, Nathan eliminated Herbert 200-146, while in an all-Washington semi, Cruz prevented the 1 vs 2 finale by beating Plunkett 233-204, setting up the title match.
In the title game, with the pattern starting to get chopped up, Cruz made a brilliant move right into the 'out of bounds', and found a great reaction, which he rode to a 217-188 win over Nathan for the title. It was the second title of his JBT career, and by far the most lucrative. At just sixteen years old, Tyler joins Zach Hattori as winners of major summer JBT events this summer at that young number- yet again showing that age is far from the dominant factor in JBT success!
Thanks to the whole crew at Glenfair for a great hosting job- if you haven't seen the new Glenfair yet, check it out! Over $4,000 was awarded to the talented field- want in on all that fun? Come on out as the 14th season of JBT competition begins in your area very soon!
Desert Open / Tour Trials- final results and optional scholarship winners
8/22/2009
Scratch Division
rank
name
prize
1
Tyler Cruz
Tacoma, WA
$1,100
2
Nathan Panaligan
N. Las Vegas, NV
$810
3
Jordan Plunkett
Everett, WA
$425
4
Matt Herbert
Prescott, AZ
$315
5
Charlie Goulet
Antioch, CA
$200
6
Cameron Smith
Santee, CA
$195
7
Kylee Bonneville
Mesa, AZ
$150
8
Dan Hansen
Huntington Beach, CA
$150
9
Jimmy Hefley
Bakersfield, CA
$50
10
Brandon Allred
Las Vegas, NV
$155
11
Charlie Hair
Lake Forest, CA
$30
12
Brandon Kraye
Las Vegas, NV
$30
13
Mark Curtis
Torrance,CA
$70
14
Chris Varholdt
Chandler, AZ
$30
15
Kyle Karpovich
Chandler, AZ
16
Sam Parks
Everett, WA
17
Kyle King
Phoenix, AZ
$45
18
Riley Dempsey
Phoenix, AZ
19
Courtney Dutton
Chandler, AZ
$100
20
Kris George
Las Vegas, NV
$105
21
Matt Jones
Winnetka, CA
22
Mark Myers
Anaheim, CA
$100
23
Brad Hansen
Huntington Beach, CA
24
Lana Lycan
Santee, CA
$45
25
Kaitlin Mayall
Chula Vista, CA
26
Greg Garbera
Tempe, AZ
$90
27
Wesley Low
Palmdale, CA
28
Rachelle Davis
Tucson, AZ
29
Chelsea Zemelka
Phoenix, AZ
30
Zach Martinez
Chandler, AZ
31
Justin Givler
Phoenix, AZ
32
Rane Lacona
Phoenix, AZ
33
Jeff Williams
Surprise, AZ
34
Zach Simon
Phoenix, AZ
35
Billy Read
Albuquerque, NM
36
Justin Penwell
Tucson, AZ
$30
37
Trevor Roberts
Phoenix, AZ
38
Josh Barress
Albuquerque, NM
39
Eddie Sayles
Los Angeles, CA
40
Kevin Tindell
Portland, OR
41
Maria Stever
Mesa, AZ
42
Cody Taylor
Phoenix, AZ
43
Gregg Kern
Tucson, AZ
44
Elijah Toth
Snowflake, AZ
45
Mike Kremer
Peoria, AZ
46
Zach Herbert
Prescott, AZ
47
Michael Savoia
Prescott, AZ
48
Blake Kalaf
Chandler, AZ
TOTAL AWARDED THIS EVENT: $4,175
Qualifying round block-by-block totals:
| | | | | | | | | | | | |
| --- | --- | --- | --- | --- | --- | --- | --- | --- | --- | --- | --- |
| Overall | | | Natl's | | Easy St | | Dead Man's | | viper | | |
| Rank | Bowler | State | Block 1 | rank | Block 2 | rank | Block 3 | rank | Block 4 | rank | TOTAL |
| 1 | Panaligan, Nathan | NV | 1088 | 1 | 1146 | 2 | 1068 | 3 | 1015 | 2 | 4317 |
| 2 | Plunkett, Jordan | WA | 984 | 7 | 1106 | 6 | 1037 | 8 | 1073 | 1 | 4200 |
| 3 | King, Kyle | AZ | 1006 | 4 | 1112 | 5 | 1047 | 5 | 968 | 4 | 4133 |
| 4 | Dempsey, Riley | AZ | 977 | 8 | 1071 | 9 | 1037 | 7 | 952 | 6 | 4037 |
| 5 | Hefley, Jimmy | CA | 1024 | 2 | 1145 | 3 | 982 | 16 | 883 | 19 | 4034 |
| 6 | Allred, Brandon | NV | 1015 | 3 | 1045 | 13 | 998 | 12 | 931 | 10 | 3989 |
| 7 | Hair, Charlie | CA | 994 | 5 | 1060 | 10 | 1008 | 10 | 888 | 18 | 3950 |
| 8 | Goulet, Charlie | CA | 892 | 24 | 1042 | 14 | 1097 | 1 | 903 | 13 | 3934 |
| 9 | Kraye, Brandon | CA | 864 | 32 | 1087 | 7 | 1077 | 2 | 903 | 14 | 3931 |
| 10 | Dutton, Courtney | AZ | 910 | 20 | 1121 | 4 | 967 | 19 | 924 | 11 | 3922 |
| 11 | Smith, Cameron | CA | 977 | 9 | 1033 | 16 | 1053 | 4 | 848 | 26 | 3911 |
| 12 | George, Kris | NV | 953 | 13 | 1035 | 15 | 1040 | 6 | 875 | 21 | 3903 |
| 13 | Jones, Matt | CA | 943 | 15 | 1083 | 8 | 1002 | 11 | 870 | 22 | 3898 |
| 14 | Cruz, Tyler | WA | 954 | 12 | 1020 | 19 | 987 | 15 | 920 | 12 | 3881 |
| 15 | Curtis, Mark | CA | 817 | 40 | 1149 | 1 | 934 | 25 | 976 | 3 | 3876 |
| 16 | Hansen, Brad | CA | 867 | 30 | 1048 | 12 | 995 | 13 | 943 | 8 | 3853 |
| 17 | Varholdt, Chris | AZ | 987 | 6 | 1050 | 11 | 938 | 23 | 843 | 28 | 3818 |
| 18 | Myers, Mark | CA | 927 | 17 | 980 | 24 | 941 | 21 | 938 | 9 | 3786 |
| 19 | Lycan, Lana* | CA | 868 | 29 | 976 | 26 | 974 | 17 | 957 | 5 | 3775 |
| 20 | Karpovich, Kyle | AZ | 956 | 11 | 857 | 43 | 1026 | 9 | 895 | 15 | 3734 |
| 21 | Herbert, Matt | AZ | 959 | 10 | 977 | 25 | 938 | 22 | 852 | 25 | 3726 |
| 22 | Mayall, Kaitlin* | CA | 933 | 16 | 1014 | 22 | 937 | 24 | 812 | 33 | 3696 |
| 23 | Bonneville, Kylee | AZ | 865 | 31 | 1025 | 17 | 886 | 32 | 890 | 17 | 3666 |
| 24 | Low, Wesley | CA | 871 | 27 | 916 | 36 | 970 | 18 | 893 | 16 | 3650 |
| 25 | Garbera, Greg | AZ | 925 | 18 | 1022 | 18 | 886 | 33 | 817 | 31 | 3650 |
| 26 | Davis, Rachelle* | AZ | 870 | 28 | 1009 | 23 | 902 | 27 | 863 | 23 | 3644 |
| 27 | Zemelka, Chelsea* | AZ | 830 | 37 | 949 | 30 | 887 | 31 | 952 | 7 | 3618 |
| 28 | Martinez, Zach | AZ | 898 | 23 | 938 | 34 | 901 | 28 | 881 | 20 | 3618 |
| 29 | Hansen, Dan | CA | 819 | 39 | 1016 | 21 | 932 | 26 | 818 | 30 | 3585 |
| 30 | Parks, Sam | WA | 947 | 14 | 940 | 32 | 887 | 30 | 809 | 35 | 3583 |
| 31 | Givler, Justin | AZ | 757 | 44 | 969 | 27 | 992 | 14 | 816 | 32 | 3534 |
| 32 | Lacona, Rane | AZ | 892 | 25 | 938 | 33 | 892 | 29 | 807 | 36 | 3529 |
| 33 | Williams, Jeff | AZ | 916 | 19 | 891 | 39 | 863 | 36 | 844 | 27 | 3514 |
| 34 | Simon, Zach | AZ | 822 | 38 | 955 | 29 | 863 | 35 | 861 | 24 | 3501 |
| 35 | Read, Billy | NM | 833 | 36 | 944 | 31 | 954 | 20 | 759 | 40 | 3490 |
| 36 | Penwell, Justin | AZ | 900 | 22 | 874 | 40 | 884 | 34 | 829 | 29 | 3487 |
| 37 | Roberts, Trevor | AZ | 854 | 33 | 1018 | 20 | 807 | 41 | 802 | 38 | 3481 |
| 38 | Barress, Josh | NM | 852 | 34 | 907 | 38 | 850 | 37 | 802 | 37 | 3411 |
| 39 | Sayles, Eddie | CA | 802 | 43 | 805 | 45 | 815 | 39 | 812 | 34 | 3234 |
| 40 | Tindell, Kevin | OR | 834 | 35 | 923 | 35 | 808 | 40 | 654 | 44 | 3219 |
| 41 | Stever, Marina | AZ | 878 | 26 | 767 | 46 | 745 | 44 | 796 | 39 | 3186 |
| 42 | Taylor, Cody | AZ | 745 | 45 | 868 | 41 | 826 | 38 | 733 | 41 | 3172 |
| 43 | Kern, Gregg | AZ | 802 | 42 | 913 | 37 | 737 | 46 | 693 | 42 | 3145 |
| 44 | Toth, Elijah | AZ | 686 | 47 | 867 | 42 | 745 | 45 | 658 | 43 | 2956 |
| 45 | Kremer, Mike | AZ | 731 | 46 | 826 | 44 | 806 | 42 | 430 | 46 | 2793 |
| 46 | Herbert, Zach | AZ | 906 | 21 | 969 | 28 | 789 | 43 | 0 | 47 | 2664 |
| 47 | Savoia, Michael | AZ | 624 | 48 | 695 | 47 | 634 | 47 | 600 | 45 | 2553 |
| 48 | Kalaf, Blake | AZ | 804 | 41 | 127 | 48 | 0 | 48 | 0 | 48 | 931 |
| | | | 42558 | | 46228 | | 43344 | | 38988 | | |
| | | | 177.325 | | 195.88136 | | 184.442553 | | 168.0517 | | |