THE ORLEANS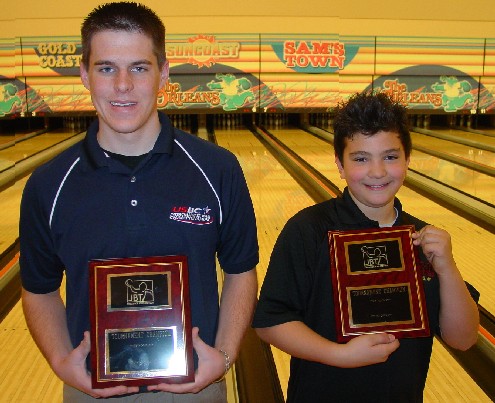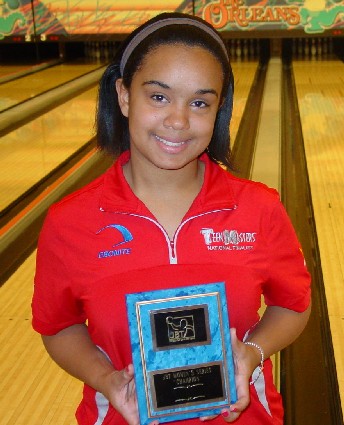 champs Kris George & Donovan Koff; Women's Series champ April Urban
Two JBT veterans - even though their age difference is almost ten years - captured JBT titles in exciting 'survivor' action at The Orleans.
After our 5-game qualifying block, the survivors rolled one-game, low-bowler-out matches the rest of the way, creating do-or-die situations all over the center. Eventually the scratch field was whittled down to eight In those matches, George beat Jordan Ferrer 242-192, Nathan Shock beat Brandon Allred 196-182, DJ Sloan got past James Hawkins (who averaged just under 250 in qualifying for the second straight day) 235-215, and Nathan Panaligan edged Cameron Smith 233-225.
The round of 4 was bad news if you were named Nathan, as DJ beat Shock 204-199, and George beat Panaligan in a brilliant match 248-245, setting up an all-Vegas title match. In that game, Kris stopped Sloan's attempt at two wins in the weekend with a 232-204 victory, good for the 18th title of his wonderful JBT career.
Handicap survivors were eventually carved down to six. In that round, Justin Villa beat Dylan Lucas 210-193, James Gabour squeaked by Randi Speiler 228-223, and Donovan Koff beat Trevor Hochman 210-198.
This set up a 3-way semifinal match, and Villa was the unfortunate low bowler out in that game, advancing Gabour and Koff to their first title match each. If a bowler can possibly be a veteran at 10 years old, Donovan would qualify, having bowled regularly with us for a few seasons. Gabour has bowled plenty of JBT tourneys as well, and finally had a breakthrough event to reach the title match. In the end, it was Koff who came through with the win, and his first career JBT title.
This event was also a JBT Women's Series tournament, with simultaneous girls'-only action simultaneous with the main tournament. In an all-Vegas showdown, April Urban defeated Alyssa Madrid to capture her first Women's Series title, making her the 11th different girl to win in our first 11 Women's Series events.
Thanks to the whole crew at The Orleans for always doing a great job hosting JBT events. Over $1500 in scholarships were awarded to the happy crowd- did you miss it? Why? You're missing the best action in junior bowling, no matter what your age or average. COme on down to the next JBT event and experience what we have to offer!
Orleans (Sun.)- final results and optional scholarship winners
10/18/2008
Mojave Conference
Scratch Division
rank
name
city, state
prize
1
Kris George
Las Vegas, NV
$200
2
DJ Sloan
Las Vegas, NV
$110
3
Nathan Panaligan
N. Las Vegas, NV
$70
4
Nathan Shock
Thornton, CO
$80
5
James Hawkins
Perris, CA
$75
6
Cameron Smith
El Cajon, CA
$75
7
Brandon Allred
Las Vegas, NV
$75
8
Jordan Ferrer
Henderson, NV
9
Kyle King
Phoenix, AZ
$135
10
Dallas Leong
Las Vegas, NV
$30
11
Logan Kennedy
Las Vegas, NV
12
April Urban
Henderson, NV
13
Brian Ballard
San Diego, CA
14
Alyssa Madrid
Las Vegas, NV
15
Matt McHann
Las Vegas, NV
16
Jeff Williams
Surprise, AZ
17
Zach Hattori
Las Vegas, NV
18
Brandon Owen
Las Vegas, NV
19
Kaitlin Mayall
Chula Vista, CA
20
Rebeca Reguero
Phoenix, AZ
21
Melissa Huether
Las Vegas, NV
22
Chris Kagawa
Las Vegas, NV
23
Chris Kutcher
Henderson, NV
24
Allie Ijams
Flagstaff, AZ
25
Chase Nadeau
Las Vegas, NV
26
Eric Hatchett
Las Vegas, NV
27
Nick Lamek
Las Vegas, NV
28
Jerod Florez
Phoenix, AZ
$5
29
Matt Herbert
Prescott, AZ
30
Erik Matthewson
Las Vegas, NV
Handicap Division
rank
name
city, state
prize
1
Donovan Koff
Las Vegas, NV
$200
2
James Gabour
Las Vegas, NV
$100
3
Justin Villa
Simi Valley, CA
$90
4
Randi Speiler
Bodfish, CA
$85
5
Dylan Lucas
Las Vegas, NV
$45
6
Trevor Hochman
Las Vegas, NV
$20
7
Aaron Watkins
Las Vegas, NV
$15
8
Tyler Ottenschot
Las Vegas, NV
9
Zac Hochman
Las Vegas, NV
10
Justin Givler
Phoenix, AZ
$45
11
Jon Gutierrez
Bullhead City, AZ
$35
12
Josh Shoup
Tolleson, AZ
13
Samantha Meyers
Mission Hills, CA
14
Dan Hansen
Huntington Beach, CA
15
Drew Stern
Northridge, CA
16
Paul Huether
Las Vegas, NV
17
Aubrey Calabrse
Las Vegas, NV
$15
18
Katelyn Scott
Las Vegas, NV
$5
19
Brad Hansen
Huntington Beach, CA
$15
20
Kenny Herbster
Las Vegas, NV
21
Austin Signoretti
Las Vegas, NV
22
Dericka Badilla
Kingman, AZ
23
Brian Grupe
Las Vegas, NV
24
Teo Cipriaso
Las Vegas, NV
25
Ian Hanuscin
Las Vegas, NV
Scratch High Games:
Hawkins 279
Hawkins 279
Panaligan 277
Madrid 268
Hattori 268
Handicap High Games:
Villa 275
D Lucas 273
Shoup 271
Meyers 264
Villa 258
Round Leaders (5 pts. Each)
Scratch
Handicap
1
Hawkins
Villa
2
Hawkins
Meyers
3
Hawkins
Koff
4
Hawkins
Villa
5
Hawkins
Koff
6
7
8
High Female:
Madrid 993
Urban 991
Mayall 980
Reguero 957
M Huether 944
TOTAL AWARDED THIS EVENT: $1,540