ALL-BAKER 5-PERSON SHOOTOUT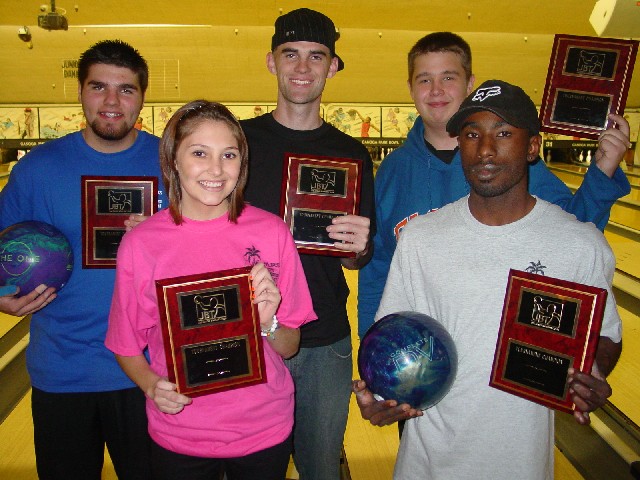 champs Kyle King, Darcie Staggs, Ken McElvaney, Matt Jones, and Doane Cole
"The Mayors Of Striketown" lived up to their name, capturing the JBT So Cal Baker Shootout held at Canoga Park Bowl.
The team that (voluntarily) called themselves The Estrogen Warriors led after 12 games of Baker-style qualifying, a true team effort that led to a raucous, college tournament-like atmosphere that is a clear favorite for everyone. The Mayors were close behind, while #3 Purple People Eaters and #4 Team Dino also earned one-round byes in the best-of-3 matchplay portion.
In the round of 8, those Purple People Eaters ate up #5 Impact Bowling Pro Shop 2-1, 176-173 in the third game. The Mayors eliminated #7 One Love with a big 269 in the finale for a 2-1 win. Team Dino outlasted #11 Team Skittles 237-189 in the third, while the Estrogen Warriors suffered the only sweep and the only upset, as #9 It Is What It Is, riding a wave of momentum, won the match 2-0.
In the semifinals, The Mayors swept out the Purple People 212-176 and 232-190, while Team Dino (Adam Dubia, Dino Bidwell, Brandon Kraye, Scott Kraye, Alex Chuo) came back to win the final two games to eliminate It Is What It Is 2-1, 223-185 in the deciding game.
The title match, filled with talented bowlers from both JBT and So Cal history, proved to be a blowout for The Mayors, who caught a major roll and never let Team Dino in either game, to the bitter, bitter disappointment of a nearly inconsolable Dino Bidwell. The Mayors won the match 235-163, and 265-159, earning 1st JBT wins each for Darcie Staggs and former Team USA member Doane Cole. It was Ken McElvaney's 2nd title, while Matt Jones claimed his landmark 5th, and Kyle King kept his dream season rolling along with JBT victory #26.
Matt Jones was definitely a candidate for "Best Week Ever". After watching his beloved Florida Gators reach the title game in college football on Saturday, he backed up the Baker win by beating the 129 other entrants for a bonus $100 scholarship in the "9's alive" side competition, held after game 6 of qualifying. The event lasted 13 rounds, with bowlers getting an 8-count or less after each shot (strikes only after round five) eliminated. In round 10 it was down to Jones, Spiesman, and Brandon McGinness. Spiesman bowed out in that round, creating a back-and-forth for the ages with the center erupting after Matt and Brandon each went strike for strike, making their respective crowds nearly delirious. After McGinnes finally blinked with a 7-count in round 13, Jones calmly stepped up and struck AGAIN- making it 13 for 13 in the event (no 9 counts at all!), for the well-deserved win.
Big thanks to everyone at Canoga for their usual terrific job making us feel very welcome at their center. Almost $1,600 was awarded at the event- want on on the most fun in junior bowling? Come on down to the next JBT event, it's as simple as that!
So Cal Baker Shootout- final results and optional scholarship winners
12/7/2008
Southern California Conference
rank
name
prize
1
The Mayors of Striketown
$701
Kyle King ($267)
Matt Jones ($267)
Darcie Staggs ($167)
Ken McElvaney (a)
Doane Cole (a)
2
Team Dino
$400
Adam Dubia ($133)
Devin Bidwell ($133)
Brandon Kraye ($133)
Scott Kraye (a)
Alex Chuo (a)
3
The Purple People Eaters
$200
Alyse McGinnes ($50)
Greg Garbera ($50)
Kaitlin Mayall ($50)
Lindsey Hannasch ($50)
Brandon McGinnes (a)
4
It Is What It Is All Day Baby!
$200
Jeremy Glover ($67)
Preston Fukumizu ($67)
Brittany Page ($67)
Matt Harris (a)
Arisha Piper (a)
5
The Estrogen Warriors
$126
Christina Fraijo ($42)
Matt Cormack ($42)
Jeff Spiesman ($42)
Mark French (a)
Lynn Matsubara (a)
6
Impact Bowling Pro Shop
$125
Kris George ($25)
Rebeca Reguero ($25)
Matt Herbert ($25)
Lindsey Ailport ($25)
Josh Shoup ($25)
7
One Love
Cameron Smith
Foster Phandanouvong ($5)
$5
Martika Cabezas
Justin Lou
Courtney Dutton
8
Team Skittles
Lana Lycan
Taylor King
Aaron Steinberg ($5)
$5
Larry Steinberg
Chris Williams
9
Ouch My Knee Hurts!
Kylee Bonneville
Shane Peck
JD Sweet
Tyler Shipman
Mike Hatfield
10
SOC
David Phillips
Kevin Jones
Charlie Hair
Melissa Pena
Deeron Booker
11
Woot!
Mikey May
Brian Le
Natalie Jimenez
Brian Leseberg
Art Leseberg
12
Tennis Anyone?
Tom Shepard
Nicole Shepard
Mark Myers
Travis Zehntner
Lynn Hogan
13
Hey, Uh…
Joey Chuo
Zack Newman
Jimmy Hefley
Wesley Low
Bill Mayall
14
Team 14
Barry Brown
Anthony Cando
Jake Francisco
Jon Dukes
Al Cando
15
Team 15
Billy Ray Dacanay
Michael Lozano
Justine Betcher
Jason Larcome
Christian Napalan
16
Team Randumb
Tiffany King
Tyler Smith
Chelsye Smith
Casey Lescano
Kenny Beaver
17
Eye-Dee-Kay
Allie Ijams
Bethany Baker
Justin Givler
James Hawkins
Brian Ballard
18
Who?!?
AJ Garcia
Daniel Updegraff
Mark Curtis
Abel Gervacio Jr
Danny Cordova
19
The Admirals
Roger Byrd
Kimberly Dukes
Jerico Napalan
Ray Dacanay
Rane Lacona
20
House Mice
Samantha Meyers
Drew Stern
Bill Williams
Daniel Williams
Kevin Gross
21
Navy Bowlers
Raul Guerrero
Armando Maldonaldo
Justin Brown
Andre Hernandez
Daniel Lopez
22
Team 22
Jacob Camacho ($10)
$10
Ty Stahnke
Tanner Long
Karlie Loop
Mike Brown
23
Turd's Team
Brandon Turner
Kyle Holder
Brittany Kolatzny
Arno Kolatzny
David Turner
24
Team 24
Ryan Nacpil
George Sabalboro
Randy Smith
Vincent Smith
Matt Smith
25
Those Five Guys
Mark Comer
Josh Comer
Alex Warnick
Don Saisho
Tyler Baker
26
Mimi and the Boyz
Fred Pasquarella
Andrew Chain
Mimi Duong
Eric Demo
Mitchell Gill
TOTAL AWARDED THIS EVENT: $1,871