BIG ROCK CASINO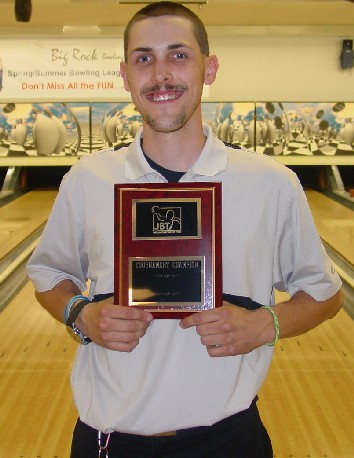 champ William Entsminger
After a successful yet frustrating season, William Entsminger finally put it all together and captured his first JBT title in a big way at Big Rock Casino.
Scratch-only action a sport pattern led to fairly low scores, but the five finalists really performed well in the stepladder. Dan Romero opened up the finals with a 215-188 win over Jess Gagliardi. Romero was strong again match two, beating Diego Lucero 222-187. Romero improved to 235 in the next game, but Kyle King was even better, matching the high game of the day (that he rolled in game one) with a 277 effort to advance to the title match.
Top seed William Entsminger had grabbed the lead away from Kyle in game seven, thanks to a 703 semifinal effort. That's good news for William, but even better news was the 4-count he rolled on his final PowerBowl shot earlier, which just happened to be what he called, earning him a $425 bonus scholarship as the 4th PowerBowl winner this season! Perhaps mentally boosted by the big win, Entsminger looked noticeably more confident in the title match against Kyle. Where he had often made a big mistake late in title matches before, he finished as strong as he started, and claimed the long awaited victory with a 237-204 win over King.
Thanks as always to Jeff Pearce and everyone at Big Rock for hosting our Tour again. Over $1,100 in scholarships were awarded to a nearly sold-out scratch field. Want in on the best action in junior bowling? Come on out to the next JBT event, it's really that simple!
Big Rock Casino- final results and optional scholarship winners
6/6/2009
NM-TX Conference
Scratch Division
rank
name
prize
1
William Entsminger
$625
2
Kyle King
$170
3
Dan Romero
$60
4
Diego Lucero
$85
5
Jess Gagliardi
$40
6
Hannah Stedman
$20
7
Geoffrey Young
$55
8
Christina Waldron
$15
9
Matt Helmick
$45
10
Matt Cormack
11
Matt Jones
12
Thomas Gutierrez
13
Aaron Raymond
14
Zach Barnard
15
Amanda Falk
16
Josh Helmick
17
Nathan Shock
18
Brian Ballard
19
Rebeca Reguero
20
Sara Vargas
21
Eric Sanford
$10
22
Kyle Pearce
23
Tom Crites
24
Charlie Elliott
25
Nick Lee
26
Janeyl Carper
27
Tim Crites
$5
28
Mark Mares
29
Justin Givler
30
Jonah Seawright
31
Tevynn Laws
$5
32
Billy Read
33
Wendy Shelton
34
Tim Baribeau
Scratch High Games:
King 277
King 277
Lucero 258
Jones 258
Cormack 246
TOTAL AWARDED THIS EVENT: $1,135