BIG ROCK CASINO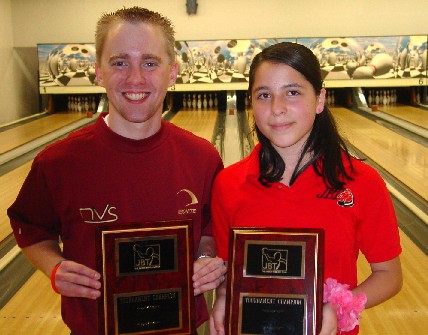 champs Geoffrey Young & Sophie Diaz
Geoffrey Young and Sophie Diaz picked up JBT titles in the exciting regular season wrapup to JBT New Mexico-Texas action at Big Rock Casino.
Our 'survivor' action is always exciting as semifinalists bowl one game, do-or-die matches for a few breathtaking hours, but the tension was amped up even more with Invitational berths and byes on the line. Eventually 15 scratch semifinalists were whittled down to six. In that round, Young defeated William Entsminger 210-191, Nathan Shock ousted Matt Helmick 220-210, and in a wild one, Dan Romero struck out in the tenth to eliminate Amanda Falk 254-252.
In the round of three, more high scores meant that Nathan Shock's clean 205 game was no match for Romero (245) and Young (256), who advanced to the title game. In that finale, Romero's strikes suddenly dried up, while Young showed no signs of slowing down, cruising to a 218-193 win and his 8th career JBT title.
Handicap division survivors also were carved down to six, and in that round Diaz beat Jeff Russell 203-192, Tonia Barela got by 232-196, and Kyle Pearce ousted Jonah Snell 250-229. Now with three remaining, Pearce fired a fine 228, but it wasn't enough as Sophie's 234 and Tonia's 246 advanced the two good friends to the title match.
The final was close in the first half, but Diaz rattled off the back six strikes for a 223 game scratch, which resulted in a 274-221 win for her, and her 3rd career JBT title.
Thanks as always to Jeff Pearce and everyone at Big Rock for hosting our Tour again. Over $1,500 in scholarships were awarded to a nearly sold-out scratch field. Want in on the best action in junior bowling? Come on out to the next JBT event, it's really that simple!
Big Rock Casino- final results and optional scholarship winners
6/6/2009
NM-TX Conference
Scratch Division
rank
name
prize
1
Geoffrey Young
$230
2
Dan Romero
$100
3
Nathan Shock
$85
4
William Entsminger
$85
5
Matt Helmick
$30
6
Amanda Falk
$20
7
Hannah Stedman
$45
8
Aaron Raymond
9
Kyle King
$30
10
Thomas Gutierrez
$15
11
Rebeca Reguero
$65
12
Jess Gagliardi
13
Diego Lucero
14
Wendy Shelton
15
Tom Crites
16
Billy Read
17
Tevynn Laws
18
Matt Cormack
19
Tim Crites
20
Charlie Elliott
21
Brian Ballard
22
Zach Barnard
23
Christina Waldron
24
Mark Mares
Handicap Division
rank
name
prize
1
Sophie Diaz
$300
2
Tonia Barela
$160
3
Kyle Pearce
$120
4
Marcos Armijo
$55
5
Jonah Snell
$30
6
Jeff Russell
$20
7
Justin Givler
$15
8
Jonah Seawright
$30
9
Brittany Leiby
10
Josh Helmick
$15
11
Olivia Stedman
12
Stephanie Barela
13
Seth Jaramillo
14
Alyssa Williams
15
Janeyl Carper
16
Andrea Jaramillo
$30
17
Tim Baribeau
18
Jonathan Lawson
19
Taylor Quintana
20
Tyler Allen
21
Samantha McFarland
22
Ahkeen Williams
23
Elizabeth Romero
24
Mike Romero
25
Olivia Silva
26
Marina Stever
27
Jeremy Larance
Scratch High Games:
Raymond 279
King 279
Raymond 278
Young 278
Young 269
Romero 269
Handicap High Games:
Snell 291
S Barela 289
Givler 285
Diaz 282
Stedman 265
TOTAL AWARDED THIS EVENT: $1,515