SO CAL INVITATIONAL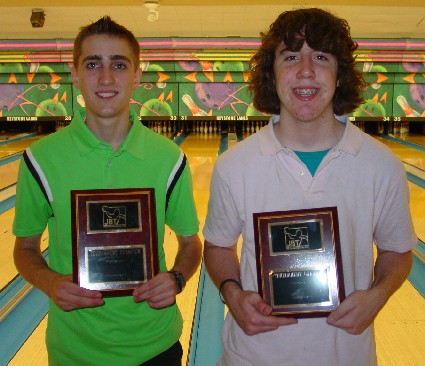 champs Jimmy Hefley & Josh Shoup
Hefley, Shoup Earn $1,000 Scholarships as JBT So Cal Invite Champs; $7,000+ awarded
Jimmy Hefley, Bakersfield CA, and Josh Shoup, Tolleson AZ, each captured $1,000 scholarships as champions of the JBT Southern California Conference Invitational tournament, hosted by Keystone Lanes. Over $7,000 in scholarships were awarded at the event.
85 qualifiers were tested by the demanding PBA Chameleon lane condition, requiring shotmaking, a good spare game, and constant adjustments all day long. Eventually, 11 qualifiers joined 5 exempt bowlers from their season-long JBT performance into a 16-bowler, single elimination, two game total pinfall matchplay finals.
In the scratch division, Hefley qualified as the #16 seed, then after defeating #9 Kris George and #8 Brandon Kraye, upset top seed and 31-time JBT champ Kyle King in the round of eight, 427-410, to reach the semis. Other quarterfinal action saw #5 Foster Phandanouvong beating #4 Matt Herbert 387-296; #6 Greg Geering upending #3 Joey Chuo 397-386, and #10 James Hawkins upsetting #2 Jeremy Glover 360-334. Down to one game semifinal matches, Hefley outlasted Phandanouvong 177-169, while Hawkins outstruck Geering 222-195, setting up a JBT first- a title match between two bowlers using the uber-modern, uber-powerful two-handed bowling style.
Four hands and only two bowlers generally leads to a lot of strikes, but the tricky condition and the title match pressure appeared to affect these two talented players, as they struggled throughout the game. In the end, though, needing a strike to win, Hefley- whose only other JBT win also came from the #16 seed in a matchplay format- shredded the rack, locking up a 174-165 win, his second JBT title, and the $1,000 scholarship windfall.
Handicap division qualifying action was highlighted by Vincent Nolan, who put on his best JBT performance by far en route to grabbing the #1 seed, and consequent two-round bye, for the matchplay rounds. Vincent stayed strong in the round of eight, beating #9 Kaitlin Silva 422-401. In other round of eight matches, #2 Randi Speiler got by #4 Tanner Long 410-370; #6 Josh Shoup beat #3 John Wright 370-327; and #10 Brad Hansen upset the previous day's champion, #2 Jacob Potts, 442-415.
In the semifinal matchups, Speiler defeated Nolan 232-220, while Shoup beat Hansen 183-169, advancing Randi and Josh to the title match. In the finale, Shoup, the all-conference point leader, engaged in a tough battle with Speiler, with Josh's 10th frame spare locking up a 204-196 win, the 4th title of his JBT career, and his biggest JBT payday, a $1,000 scholarship. He also edged out Dan Hansen for the So Cal points lead with the win.
The top 20 So Cal point scorers now advance to the JBT Touring Players Championship, our most prestigious event, featuring a $2,000 first place scholarship per division. Thanks as always to Keystone for hosting our Tour on a very busy weekend. A whopping $7,515 in scholarships was awarded to the talented field- wow!, and over $250,000 has been awarded by the JBT this season alone Tour-wide. These are amazing numbers only made possible by our sponsors and your continued participation. Want in on all this fun? Come down to a JBT event this summer, or when the So Cal Conference kicks off a new season this September!
So Cal Invitational- final results and optional scholarship winners
6/14/2009
Southern California Conference
Scratch Division
rank
name
prize
1
Jimmy Hefley
$1,040
2
James Hawkins
$595
3
Foster Phandanouvong
$415
4
Greg Geering
$200
5
Kyle King
$465
6
Jeremy Glover
$175
7
Joey Chuo
$135
8
Matt Herbert
$135
9
Natalie Jimenez
$75
10
Brandon Kraye
$75
11
Matt Jones
$75
12
Kevin Jones
$65
13
Kris George
$65
14
Lana Lycan
$50
15
Brittany Page
$50
16
Cameron Smith
$110
17
Jamie Ferry
18
Anthony Cruz
19
Mark Myers
20
Robert Page
21
Chris Varholdt
22
Christina Fraijo
23
Shayne Huntley
24
Greg Garbera
25
Eddie Sayles
26
Shane Peck
27
Ronnie Fujita
28
Mark Curtis
29
Devin Bidwell
30
Patrick Smith
$15
31
Tim Ursillo
32
Brian Ballard
33
Rebeca Reguero
34
Justin Lou
35
Martika Cabezas
36
Charlie Hair
37
Kaitlin Mayall
38
Matt Hutchinson
Handicap Division
rank
name
prize
1
Josh Shoup
$1,060
2
Randi Speiler
$515
3
Vincent Nolan
$375
4
Brad Hansen
$215
5
Jacob Potts
$150
6
John Wright
$100
7
Tanner Long
$135
8
Kaitlin Silva
$90
9
Abi Anadilla
$75
10
Karlie Loop
$90
11
Brittany Kolatzny
$170
12
Kirk Chui
$170
13
Jenny Phandanouvong
$65
14
Jacob Camacho
$50
15
Isaiah Cleveland
$90
16
Dan Hansen
$200
17
Samantha Meyers
$60
18
Jeremy Davis
$90
19
Adam Dubia
20
Michael Unger
21
Leann Kampley
22
Luke Holley
23
Wesley Low
24
David Fritz
25
Theron Jouett
26
Abel Gervacio Jr
27
Denny Courtney
28
Eric Demo
29
Rane Lacona
$30
30
Carol Chui
31
Brett Hirsch
32
Harley Sweigart
33
Justin Villa
34
Kyle DeCew
35
Drew Stern
$15
36
JJ Robeniol
37
Steven Kampley
38
Eric Torrence
39
Jeff Bonnett
40
Adrian Duke
41
Jeff Ingram
42
Robert Lim
43
Brandon Turner
44
Andre Hernandez
45
Marina Stever
46
Bethany Baker
47
Vincent Jouett
Scratch High Games:
King 257
George 256
Phandanouvong 244
Jimenez 243
Glover 239
Handicap High Games:
Shoup 252
Potts 241
Speiler 239
Holley 235
Loop 233
Round Leaders (5 pts. Each)
Scratch
Handicap
1
Chuo
L Kampley
2
Glover
Loop
3
King
Nolan
4
King
Nolan
5
King
Nolan
6
7
8
TOTAL AWARDED THIS EVENT: $7,515