SHAKE, RATTLE, and BOWL at Cliff Castle Casino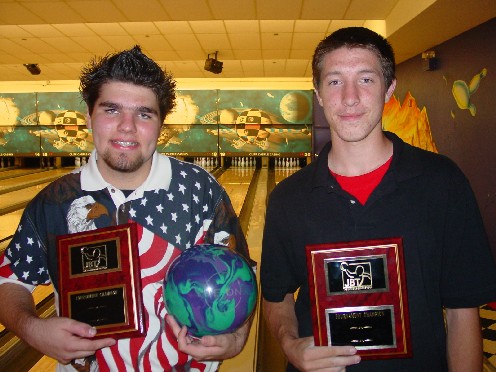 champs Kyle King and Tim Keegan
Kyle King continued his early season dominance, while Tim Keegan tasted victory for the first time, in season-opening JBT Arizona Conference action at Cliff Castle Casino's Shake Rattle and Bowl.
Cameron Smith, who has bowled well at Cliff Castle in the past, opened the scratch division stepladder finals with a 218-193 win over fellow Californian Brian Ballard. Smith and 15-time JBT champ Kris George then engaged in a classic battle, with Smith striking out in the tenth for a 247-246 win over Kris. Cameron had an easier time in the semifinals, defeating first-time scratch finalist Tyler Shipman 245-180, to advance to the title match.
Top seed Kyle King opened the event with a 300 game, the only one of the season thus far, and after early leader Randy Cote stumbled in the semifinals, coasted to the top seed. However, he found himself in a battle with the always-tough Smith. In the end, though, his tenth frame spare was good for a 212-205 win, and the 18th title of his JBT career.
Dylan Taylor opened up the 8-person handicap finals with a 226 game, beating Joey Sorce (218) and Travis Johnson (152). Keegan then took over, rolling 216 to win round two over Savannah Carr (204) and Taylor (187). In the semifinal, Keegan exploded with 275 to oust Kathleen Hastings (172) and Taylor Knight (181) to reach the title match.
Top seed Alex Holbrook had put on an impressive performance all day long to nab the top spot, but struggled a bit in the title match. Fortunately for Alex, so did Tim, and the result was a nailbiter that went down to the final shot. Needing a strike to win, Keegan got nine, tying the match at 192, setting up a two-frame rolloff- the second already in 3 JBT events this season! In the rolloff, Tim escaped 44-31 for the title, the first of his JBT career.
Gino Salaverria and Deven Johnston picked up $50 scholarships each as lucky winners of the Impact Challenge Bonus. Visit them at Impact Bowling Pro Shop, 99th Ave and Bell in NW Phoenix. Huge thanks to everyone at Cliff Castle for always being great hosts for our Tour. $2,415 in scholarships was awarded to the 94 player field- want in on the fun? Come on out to the next JBT event, it's a simple as that!
Cliff Castle (Sat.)- final results and optional scholarship winners
8/30/2008
Arizona Conference
Scratch Division
rank
name
city, state
prize
1
Kyle King
Phoenix, AZ
$460
2
Cameron Smith
Santee, CA
$115
3
Tyler Shipman
Gilbert, AZ
$60
4
Kris George
Las Vegas, NV
$105
5
Brian Ballard
San Diego, CA
$50
6
Greg Garbera
Tempe, AZ
$75
7
Rachelle Davis
Tucson, AZ
$80
8
Randy Cote
Tucson, AZ
$20
9
Nicholas Lee
Tucson, AZ
10
Gino Salaverria
Phoenix, AZ
$65
11
Allie Ijams
Flagstaff, AZ
$30
12
Miguel Lopez
Peoria, AZ
13
Mike Armstrong
Tucson, AZ
$30
14
James Hawkins Jr
Quail Valley, CA
$45
15
Marc Burris
Tucson, AZ
16
Anthony Tripi
Avondale, AZ
$15
17
Matt Cormack
Woodland Hills, CA
18
Amanda Vadnais
Prescott, AZ
19
Chris Varholdt
Chandler, AZ
$15
20
Andy Holick
Tucson, AZ
21
Eduardo Perez
Peoria, AZ
$30
22
Nathan Shock
Thornton, CO
23
David Johnston
Peoria, AZ
24
Tyson Lewis
Peoria, AZ
25
Theo Douthit
Phoenix, AZ
$15
26
Matt Herbert
Prescott, AZ
$15
27
CJ Lee
Gilbert, AZ
28
Rebeca Reguero
Phoenix, AZ
29
Michael Struble
Scottsdale, AZ
30
Jeffrey Williams
Surprise, AZ
31
Courtney Dutton
Chandler, AZ
32
Shawn Peters
Glendale, AZ
33
Tyler Brown
Prescott, AZ
34
Chelsea Zemelka
Phoenix, AZ
35
Jacob Smith
Tucson, AZ
36
Kaitlin Mayall
Chula Vista, CA
37
Kyle Karpovich
Chandler, AZ
38
Tiffany King
Surprise, AZ
$15
39
Jeff Weyrauch
Tempe, AZ
40
Martika Cabezas
Palm Springs, CA
41
Matt Payne
Phoenix, AZ
42
Brian Weyrauch
Tempe, AZ
43
Jared Billman
Peoria, AZ
Handicap Division
rank
name
city, state
prize
1
Tim Keegan
Arleta, CA
$325
2
Alex Holbrook
Flagstaff, AZ
$125
3
Kathleen Hastings
Prescott Valley, AZ
$105
4
Taylor Knight
Phoenix, AZ
$75
5
Savannah Carr
Goodyear, AZ
$65
6
Dylan Taylor
Scottsdale, AZ
$55
7
Joey Sorce
Chino Valley, AZ
$60
8
Travis Johnson
Peoria, AZ
$20
9
Marina Stever
Mesa, AZ
$15
10
Deven Johnston
Glendale, AZ
$45
11
Sandy Truman
Phoenix, AZ
$5
12
Kristen Lee
Tucson, AZ
13
Nicholas Wade
Mesa, AZ
14
Nick Armstrong
Tucson, AZ
15
Justin Givler
Phoenix, AZ
16
Bethany Baker
Tempe, AZ`
$5
17
Taylor Coleman
Scottsdale, AZ
$15
18
Blake Kalaf
Chandler, AZ
$15
19
Amanda Ailport
Phoenix, AZ
20
Alex Pellegrino
Queen Creek, AZ
21
Mike Kenny
Prescott Valley, AZ
$15
22
Krystal Gray
Tucson, AZ
$15
23
Rachel Thompson
Albuquerque, NM
24
Jordan Hastings
Prescott Valley, AZ
25
Eric Demo
San Diego, CA
$75
26
Shannon Ryan
Phoenix, AZ
$15
27
Zac Sugahara
Prescott, AZ
28
Danny Varholdt
Chandler, AZ
$15
29
Gregg Kern
Tucson, AZ
$15
30
Darcie Staggs
Bullhead City, AZ
31
Kyle Frederick
Chandler, AZ
$15
32
Daniel Cotten
Glendale, AZ
33
Sam Zermeno
EL Paso, TX
34
Valry Swaim
Phoenix, AZ
35
Becki Meils
Cave Creek, AZ
36
William Witt
Ft Huachuca, AZ
37
Josh Shoup
Tolleson, AZ
38
Kaitlin Silva
Canyon Country, CA
39
Karissa Tafoya
Chandler, AZ
40
Alexis Atkin
Glendale, AZ
41
Cody Taylor
Phoenix, AZ
42
Bryant Wade
Mesa, AZ
43
Lindsey Ailport
Phoenix, AZ
44
Cris Boyle
Mesa, AZ
45
Benjamin Meils
Cave Creek, AZ
46
Kyle Chambers
Chandler, AZ
$15
47
Jay Prewitt
Chandler, AZ
48
Pamela Perez
Peoria, AZ
49
Terry Wade
Mesa, AZ
50
Sergio Toscano
Phoenix, AZ
51
Emilio Luna
Phoenix, AZ
Impact Challenge Winners: Gino Salaverria and Deven Johnston
Scratch High Games:
King 300
Cote 277
Salaverria 275
Hawkins 268
Lopez 266
Handicap High Games:
Armstrong 279
Demo 276
Keegan 275
Holbrook 264
T. Johnson 263
Coleman 263
Round Leaders (5 pts. Each)
Scratch
Handicap
1
King
Kern
2
King
D. Taylor
3
Cote
K. Hastings
4
King
K. Hastings
5
Cote
K. Hastings
6
King
Holbrook
7
King
Holbrook
8
King
Holbrook
High Female:
David 1045
Vadnais 1034
Ijams 1002
Lee 987
Reguero 932
TOTAL AWARDED THIS EVENT: $2,415