SHAKE, RATTLE, and BOWL at Cliff Castle Casino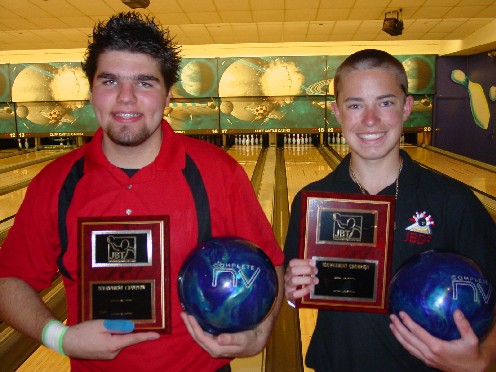 champs Kyle King & Cody Taylor
Kyle King made it two in a row at Shake Rattle and Bowl, while Cody Taylor made it two for his career, in exciting JBT Arizona Conference action at Cliff Castle Casino.
Both divisions used our thrilling survivor format, with low-bowler-out matches after the usual top 50% cut. Kris George put on a clinic in qualifying, averaging over 240 on a pattern so tricky that the cut was -136. The 370+ pin gap betweenfirst and the cut is believed to be our largest ever. Unfortunately for Kris, survivor can be vicious, and he was eliminated in his first match. ,Eventually, the scratch field was whittled down to eight. In those head to head matches, DJ Sloan beat Rebeca Reguero, Cameron Smith got past Courtney Dutton, Greg Garbera beat Randy Cote, and King beat Allie Ijams.
In the semifinals, Sloan beat Smith 199-179 and King edged Garbera 201-184 to set up the championship match. In that game Kyle, who had qualified second, was able to maintain control despite a great effort from Sloan, and King rolled to his 19th career JBT title, and 3rd in 4 events so far this season!
The handicap division went from 24 semifinalists down to 8 survivors. In those matches, Karissa Tafoya beat Dylan Taylor, Mike Kenny beat Ben Meils, Marina Stever beat defending champ Tim Keegan, and Cody Taylor beat Eric Demo. Down to 4 survivors, Taylor edged Tafoya 172-166, and Stever walloped Kenny 253-204 to set up the title match.
Stever was making her second title match within a month, having finished second at the Desert Open. Despite a great effort, it was destined to be another runner-up finish for Marina, as Taylor bowled an excellent title match game to beat Stever 247-186 for his second career JBT title.
April Urban and Amanda Ailport picked up $50 scholarships each as lucky winners of the Impact Challenge Bonus. Visit them at Impact Bowling Pro Shop, 99th Ave and Bell in NW Phoenix. Huge thanks to everyone at Cliff Castle for always being great hosts for our Tour. $2,380 in scholarships was awarded to the 94 player field- want in on the fun? Come on out to the next JBT event, it's a simple as that!
Cliff Castle (Sun.)- final results and optional scholarship winners
9/1/2008
Arizona Conference
Scratch Division
rank
name
city, state
prize
1
Kyle King
Phoenix, AZ
$425
2
DJ Sloan
Las Vegas, NV
$100
3
Cameron Smith
Santee, CA
$110
4
Greg Garbera
Tempe, AZ
$70
5
Randy Cote
Tucson, AZ
$60
6
Allie Ijams
Flagstaff, AZ
$70
7
Rebeca Reguero
Phoenix, AZ
$30
8
Courtney Dutton
Chandler, AZ
$20
9
Rachelle Davis
Tucson, AZ
$15
10
Chris Varholdt
Chandler, AZ
$60
11
Brian Ballard
San Diego, CA
12
Brian Weyrauch
Tempe, AZ
13
Kris George
Las Vegas, NV
$210
14
Nicholas Lee
Tucson, AZ
15
April Urban
Henderson, NV
$50
16
Chelsea Zemelka
Phoenix, AZ
17
Matt Cormack
Woodland Hills, CA
18
Tiffany King
Surprise, AZ
19
Mike Armstrong
Tucson, AZ
$5
20
Matt Herbert
Prescott, AZ
21
Kaitlin Mayall
Chula Vista, CA
22
Martika Cabezas
Palm Springs, CA
23
Eduardo Perez
Peoria, AZ
24
Nathan Shock
Thornton, CO
25
Marc Burris
Tucson, AZ
26
Theo Douthit
Phoenix, AZ
$20
27
James Hawkins
Quail Valley, CA
28
Zach Herbert
Prescott, AZ
29
Alyssa Madrid
Las Vegas, NV
30
Rane Lacona
Phoenix, AZ
31
Andy Holick
Tucson, AZ
32
Kyle Karpovich
Chandler, AZ
$5
33
Tyler Brown
Prescott, AZ
34
Tyler Shipman
Gilbert,AZ
35
Jeff Weyrauch
Tempe, AZ
36
Anthony Tripi
Avondale,AZ
37
Tyson Lewis
Peoria, AZ
38
Shawn Peters
Glendale, AZ
39
Jacob Smith
Tucson, AZ
40
Jeffrey Williams
Surprise, AZ
41
Matt Payne
Phoenix, AZ
42
David Johnston
Peoria, AZ
43
CJ Lee
Gilbert,AZ
44
Amanda Vadnais
Prescott, AZ
45
Gino Salaverria
Peoria, AZ
Handicap Division
rank
name
city, state
prize
1
Cody Taylor
Phoenix, AZ
$315
2
Marina Stever
Mesa, AZ
$100
3
Karissa Tafoya
Chandler, AZ
$70
4
Mike Kenny
Prescott Valley, AZ
$90
5
Eric Demo
San Diego, CA
$110
6
Ben Meils
Cave Creek, AZ
$80
7
Tim Keegan
Arleta, CA
$30
8
Dylan Taylor
Scottsdale, AZ
$35
9
Josh Shoup
Tolleson, AZ
10
Danielle Stewart
Chandler, AZ
11
Jewels Giordano
Phoenix, AZ
$75
12
Alex Pellegrino
Queen Creek, AZ
$15
13
Becki Meils
Cave Creek, AZ
14
Shannon Ryan
Phoenix, AZ
$15
15
Maura Swaim
Phoenix, AZ
16
Lindsey Ailport
Phoenix, AZ
17
Justin Givler
Phoenix, AZ
$10
18
Kaitlin Silva
Canyon Country, CA
19
Jay Prewitt
Chandler, AZ
20
Kayla Goad
Phoenix, AZ
21
Valry Swaim
Phoenix, AZ
22
Deven Johnston
Glendale, AZ
23
Savannah Carr
Goodyear, AZ
24
Darcie Staggs
Bullhead City, AZ
25
Blake Kalaf
Chandler, AZ
$15
26
Amanda Ailport
Glendale, AZ
$50
27
Emilio Luna
Phoenix, AZ
28
Jeff Goad
Phoenix, AZ
29
Danny Varholdt
Chandler, AZ
$15
30
Taylor King
Phoenix, AZ
31
Alexis Atkin
Phoenix, AZ
32
Daniel Cotten
Glendale, AZ
$15
33
Kyle Frederick
Chandler, AZ
34
Jared Billman
Peoria, AZ
35
Jacqui Gerchak
Phoenix, AZ
36
Zac Sugahara
Prescott Valley, AZ
37
Krystal Gray
Tucson, AZ
38
Travis Johnson
Glendale, AZ
39
Bethany Baker
Tempe, AZ
$5
40
Sam Zermeno
El Paso, TX
41
Nick Armstrong
Tucson, AZ
$5
42
Pamela Perez
Peoria, AZ
43
Sandy Truman
Phoenix, AZ
44
Gregg Kern
Tucson, AZ
45
Kristen Lee
Tucson, AZ
46
Alex Holbrook
Flagstaff, AZ
47
Taylor Knight
Phoenix, AZ
Impact Challenge Winners: April Urban and Amanda Ailport
Scratch High Games:
Reguero 278
George 278
George 269
Sloan 266
King 258
Cote 258
Handicap High Games:
C. Taylor 278
Kalaf 259
Shoup 257
D. Taylor 251
Tafoya 232
Round Leaders (5 pts. Each)
Scratch
Handicap
1
Davis
D. Stewart
2
Cote
Ben Meils
3
George
Ben Meils
4
George
Ben Meils
5
George
Stever
6
7
8
High Female:
Davis 1053
Urban 970
Tiff King 918
Reguero 905
Dutton 900
TOTAL AWARDED THIS EVENT: $2,380