AMF DEER VALLEY LANES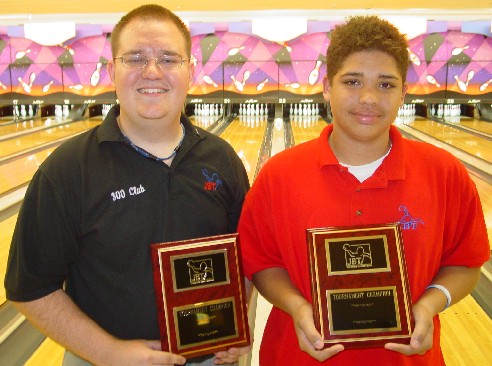 champs Greg Geering & Nick Wade
Greg Geering finally became a JBT titlist, while Nick Wade also tasted victory for the first time, in exciting JBT Arizona Conference action at AMF Deer Valley Lanes.
The exciting 'survivor' format was used for this event, with low-bowler-out elimination matchplay resulting in do-or-die moments all throughout the center. In the scratch division, six survivors eventually remained on the challenging lane conditions. In that round, all six came up with 200+ efforts, but it was Kris George over Eduardo Perez 221-206; Greg Geering over James Hawkins 247-206; and in a thriller, Cameron Smith over Greg Garbera 258-237.
With three bowlers left, Geering moved on with a big 236, while Kris' 187 escaped over Cameron's 177 to set up the title match. Both bowlers are JBT veterans with experience at the highest levels of college bowling, so it was no surprise that they both bowled an excellent title match. The only surprise was that Geering had not yet ever won a JBT title- but that anomaly was finally erased with a 237-234 triumph over George for title #1.
The handicap division was also eventually whittled down to 6 bowlers. In the round of 6, Daniel Cotten beat Jewel-Leigh Casesse 230-192; Nick Wade beat Austin Hinz 195-189, and Deven Johnston got by Alex Pellegrino 212-185. With three bowlers left, a single match left Wade (223) and Johnston (212) standing, while Cotten's 203 effort was good, but relegated to third place.
The title match didn't have the tension of the semifinals, because Wade came out firing with seven marks in eight frames, and Johnston, with the higher average, had trouble re-lining into the pocket on the title pair. The 238-206 win was good for the first title of Wade's career.
Thanks to everyone at Deer Valley for hosting our event, which awarded over $2,500 in scholarships to bowlers of all ages and averages. Want in on the best in junior bowling? Come on down to the next JBT event, it's really that easy!
Impact Challenge Winners- Mike Kremer and Becki Meils
AMF Deer Valley- final results and optional scholarship winners
4/5/2009
Arizona Conference
Scratch Division
rank
name
prize
1
Greg Geering
$225
2
Kris George
$195
3
Cameron Smith
$85
4
Eduardo Perez
$75
5
Greg Garbera
$50
6
James Hawkins
$40
7
April Urban
$30
8
Jacob Smith
9
Anthony Tripi
10
Kyle King
$240
11
Courtney Dutton
12
Jeff Williams
$5
13
Rachelle Davis
$55
14
Matt Herbert
15
Tim Ursillo
$50
16
Labriel Leach
17
Riley Dempsey
18
Brenden Lou
19
Anthony Benicki
20
Ryan Howard
$15
21
Miguel Lopez
$15
22
rebeca Reguero
23
Andy Holick
24
Nicole Bring
25
Shawn Peters
26
Tyson Lewis
27
Nick Lee
28
Joe Lewandowski
29
Eric Rubin
30
Randy Cote
31
Chris Varholdt
32
Jenni Cahn
33
Rane Lacona
$15
34
Kaitlin Mayall
35
Chelsea Zemelka
36
Mike Kremer
37
Kyle Karpovich
38
Steven Pizzi
Handicap Division
rank
name
prize
1
Nick Wade
$385
2
Deven Johnston
$140
3
Daniel Cotton
$190
4
Austin Hinz
$75
5
Alex Pellegrino
$60
6
Jewel Leigh Casesse
$50
7
Lindsey Ailport
$40
8
Jeff Anderson
$80
9
Alexis Atkin
$60
10
Emilio Luna
$25
11
Megan Carlson
$65
12
Justin Givler
13
Derek Iozzio
$50
14
Taylor King
15
Josh Shoup
$15
16
David Wessel
$60
17
Kyle Smith
18
Ashley Benicki
19
Drew Stern
$30
20
Michael Keller
21
Brandon Webster
22
Travis Johnson
$30
23
Dominic Luna
24
Brandon Aiken
25
Marina Stever
26
Jared Billman
27
Brooks Gould
28
Brandon Longo
29
Kyle Chambers
30
Kayla Goad
31
Tyler Edenhofer
32
Pamela Perez
33
Steven Acuff
34
Valry Swaim
35
Danny Varholdt
36
Derek Acuff
37
Andrew Nicla
38
Tanner Hill
39
Cody Taylor
40
Maura Swaim
41
James Adams
42
Jackson Curless
43
Ashley Collins
44
Becki Meils
45
Timothy Jacob
46
Jeffrey Schultz
47
Blake Kalaf
48
Ben Meils
49
Tony Marin
50
Savannah Carr
51
Jared Boscarino
52
Carson Richards
53
Zach Simon
54
Dylan Taylor
55
Bethany Baker
56
JD Sweet
57
Steven Cheatham
Scratch High Games:
Garbera 269
Ursillo 259
Smith C 257
Dutton 257
Leach 253
Handicap High Games:
N Wade 278
Hinz 258
T King 258
J Anderson 256
Webster 256
Round Leaders (5 pts. Each)
Scratch
Handicap
1
Leach
T Hill
2
Peters
K Smith
3
Smith
Atkin
4
King
Hinz
5
King
Hinz
6
7
8
High Female:
Davis 1046
Dutton 1039
Urban 951
L Ailport 923
Reguero 916
TOTAL AWARDED THIS EVENT: $2,455