JBT GIRLS' INVITATIONAL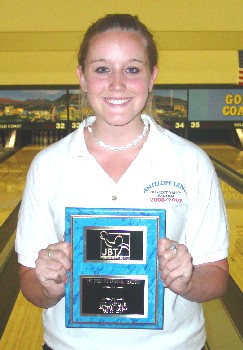 champ Allie Ijams
Allie Ijams, the most dominant bowler in this season's JBT Women's Series, put an exclamation mark on that dominance by capturing the title in the JBT Girls Invitational Tournament, hosted by Las Vegas' Gold Coast bowling center.
Ijams qualified fifth for the sixteen-girl matchplay round, and in her first match she edged #11 Amanda Falk 416-395. In other matches, #8 Wendy Shelton beat #16 Kristen Lee 391-371, #7 Rebeca Reguero beat #10 Marina Stever 422-379, and in a rematch of last season's title match, #6 Courtney Dutton beat #13 Rachelle Davis 422-326.
In the round of 8, #1 April Urban ousted Shelton 436-363, #3 Natalie Jimenez beat Dutton 443-393, Reguero upset #2 Kaitlin Mayall 381-343, and Ijams beat #4 Kalyn Washburn 446-408.
Down to one game semifinal matches, the remaining bowlers really put on a show, tearing up the cheetah pattern. Jimenez got past Reguero 245-22, while Ijams ran off the back nine strikes for a 270-246 win over Urban to set up the title match.
Natalie and Allie were familiar combatants in JBT action this season, most notably in Tucson, where they faced each other in not only the Women's Series title match, but the open scratch title match as well. They split those matches, but here it was Ijams who had enough left in the tank for a 224-198 win over the talented southpaw from California for the championship. With the Women's Series bonus and the bonus for throwing Ebonite equipment, Allie raked in a huge $1,100 scholarship for the win, while Natalie settled for a not so bad $685 in the runner-up spot!
The win was the 4th of Allie's JBT career, all scratch and all coming since this February, and pushed her over $9,000 in career JBT scholarship earnings. Ijams was the only 3-time Women's Series winner this season, while Jimenez joined April Urban and Rebeca Reguero as 2-time Women's Series champs. Ten other girls won one Women's Series event, and eight open scratch titles were won by girls this year (so far)- easily a JBT record. We are very proud of all the accomplishments of these and many other talented female bowlers at JBT events!
Over $2,900 was awarded to 23 bowlers. Thanks to Gold Coast for a stellar hosting job as always! Want in on the best scholarship tournaments around? Come on down to the next JBT event, it's as simple as that!
Girls Invitational- final results and optional scholarship winners
5/30/2009
Scratch Division
rank
name
prize
1
Allie Ijams
$1,125
2
Natalie Jimenez
$685
3
April Urban
$405
4
Rebeca Reguero
$305
5
Kaitlin Mayall
$200
6
Kalyn Washburn
7
Courtney Dutton
$100
8
Wendy Shelton
$80
9
Marina Stever
$50
10
Amanda Falk
11
Alex Katz
12
Rachelle Davis
13
Taylor King
14
Lana Lycan
$15
15
Brittany Page
16
Kristen lee
17
Sarah Boe
$10
18
Kayla Goad
19
Angela Walls
20
Alyssa Madrid
21
Bethany Baker
$5
22
Lindsey Ailport
23
Karlie Loop
TOTAL AWARDED THIS EVENT: $2,980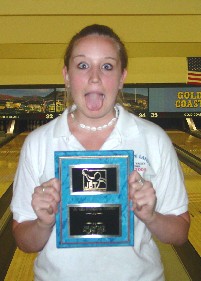 the thrill (?) of JBT victory