KEYSTONE LANES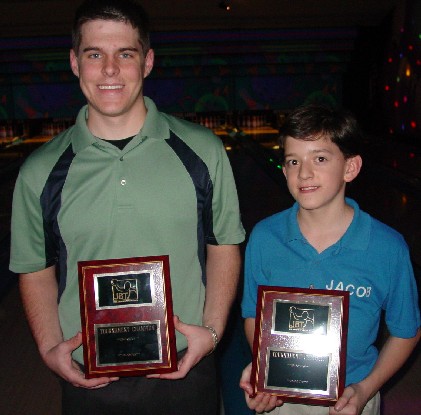 champs Kris George and Jacob Potts
George, Potts capture regular season JBT wrapups at Keystone
One is nearing the end of his JBT career and one is just beginning, but they both know how to win: Kris George and Jacob Potts captured JBT titles in exciting So Cal Conference action at Norwalk's Keystone Lanes.
The very tough PBA shark pattern challenged the bowlers, but Devin Bidwell bit the shark back, firing the event's only 300 game, vaulting him into the stepladder finals, which he began successfully with a 257-188 win over Travis Zehntner. Greg Geering then defeated Bidwell 234-212, and followed with an even bigger 262-198 win over 31-time champion Kyle King in the semifinals.
Top seed Kris George also found a way to string strikes on the shark, putting up a 290 game earlier that helped consolidate the lead. He remained tough in the finals as well, gutting out a 218-204 win for the 21st title of the talented Las Vegan's JBT career.
Kyle DeCew opened up the handicap division stepladder finals with a 207-191 victory over first-time finalist Jordan Bibby. Jacob Potts, a winner in Ventura last month, then took over, beating De Cew 238-196, and following with a 175-167 war of attrition over Michael Unger to return to the title match.
Top seed Ashley Dunn had absolutely owned this tournament, grabbing the lead in game two and never looking back to easily nab the top seed for the first time in a JBT event. However, the title match saw both bowlers struggling, and in the end it was Potts, the youngest bowler in the field, emerging with a 183-159 win and his second career JBT title.
The field is now set for the JBT So Cal Invitational, with $1,000 scholarships going to the champion of each division. Over $2,300 in scholarships were awarded at this event alone- want in on all the fun and excitement that only JBT can offer? Simply check out our schedules and come on out to the next JBT event, it's as simple as that!
Keystone Lanes- final results and optional scholarship winners
6/13/2009
Southern California Conference
Scratch Division
rank
name
prize
1
Kris George
$240
2
Greg Geering
$125
3
Kyle King
$295
4
Devin Bidwell
$140
5
Travis Zehntner
$40
6
Charlie Hair
$30
7
Foster Phandanouvong
$40
8
Tim Ursillo
$20
9
Justin Lou
10
Joey Chuo
11
Mark Curtis
12
Steven Manier
13
Greg Garbera
14
Kevin Jones
$30
15
Lana Lycan
16
Amanda Falk
17
Chris Varholdt
18
Aaron Beck
19
Brittany Page
$15
20
Courtney Dutton
21
Brian Ballard
22
Steven Bojorquez
23
Mark Myers
24
James Hawkins
25
Cameron Smith
26
Jimmy Hefley
$75
27
Matt Herbert
28
Jamie Ferry
29
Robert Page
30
Riley Dempsey
31
Anthony Cruz
32
Kaitlin Mayall
33
Martika Cabezas
34
Natalie Jimenez
35
Rebeca Reguero
$10
36
Ryan Howard
$15
37
Aaron Steinberg
38
Christina Fraijo
39
Shayne Huntley
40
Eddie Sayles
41
Jerome Jordan Jr
42
Shane Peck
43
Preston Fukumizu
44
Shaun Morad
Handicap Division
rank
name
prize
1
Jacob Potts
$370
2
Ashley Dunn
$200
3
Michael Unger
$75
4
Kyle DeCew
$90
5
Jordan Bibby
$40
6
Brittany Kolatzny
$75
7
Bethany Baker
$25
8
Jenny Phandanouvong
$35
9
Luke Holley
$45
10
Isaiah Cleveland
$30
11
David Fritz
$45
12
Kyle Andrews
13
Denny Courtney
14
Jordan Kraye
15
Dan Hansen
16
Tanner Long
$30
17
Karlie Loop
$15
18
Samantha Meyers
$5
19
Wesley Low
20
Jeff Bonnett
21
Layla Sefried
$105
22
Randi Speiler
23
Theron Jouett
24
Adam Dubia
25
Kirk Chui
26
Rane Lacona
27
Adrian Duke
28
Andre Hernandez
29
Michael Ma
30
Brad Hansen
$30
31
Eric Demo
32
Brandon Turner
33
Carol Chui
34
Vincent Jouett
35
Justin Villa
36
Kennison Andrews
37
Thomas Addison
38
Josh Shoup
39
Justin Givler
$15
40
Matthew Green
41
John Wright
42
Marina Stever
43
Jacob Camacho
44
Vincent Nolan
45
Wesley Gee
Scratch High Games:
Bidwell 300
George 290
King 264
Geering 262
Geering 256
Handicap High Games:
Dunn 268
De Cew 257
Unger 253
Potts 251
Fritz 249
Round Leaders (5 pts. Each)
Scratch
Handicap
1
Hair
Unger
2
Lou - Ursillo
Dunn
3
Haig
Dunn
4
George
Dunn
5
Hair
Dunn
6
King
Dunn
7
George
Dunn
8
George
Dunn
TOTAL AWARDED THIS EVENT: $2,355