LEISURE BOWL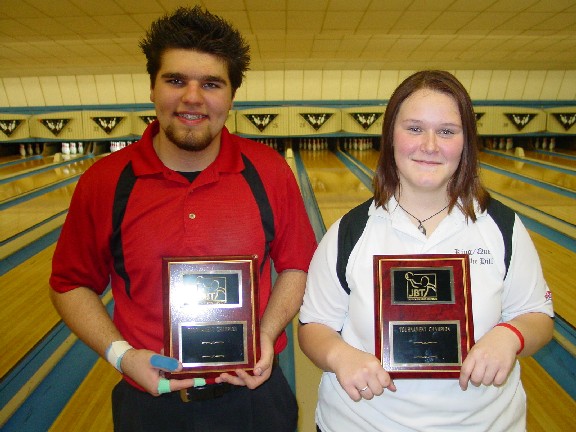 champs Kyle King & Lacey Shelton
Kyle King upped his season-long dominance to the level of all-time historic proportions with yet another win at Leisure, while Lacey Shelton tasted JBT victory for the first time, in thriling NM-TX Conference action at Leisure Bowl.
Jonah Seawright, the previous day's champion, opened the handicap division stepladder finals with a 270-234 win over Santiago Withers. Shelton then squeaked by Seawright 237-225, and then eeked out a 243-231 win over Justin Givler 243-231 to reach the title match.
Top seed Jordan Oppenheim had bowled wonderfully en route to the top seed, but struggled early in the final game. Both players came up with excellent second halves of their title games, but it was Shelton who was stronger overall, and her 245-222 win gave her her first JBT title, joining her sister Wendy as JBT champions.
And now, back to the Kyle King show...
The day before, he squeaked into the finals on a difficult lane pattern, then climbed the ladder for the title. This time, on a relatively easy lane condition, all he did was - you guessed it- sneak into the finals and climb the ladder, giving the scratch division a nasty case of deja vu. He began with a 192-177 win over Matt Helmick, then found the scoring line with a 237-196 win over Diego Lucero. A 225-203 semifinal win over Allie Ijams sent him to yet another title match.
Top seed William Entsminger took over the NM-TX points lead with a fine weekend, but was more focused on finally breaking through for his first career JBT title. It looked like this could be his day, having easily outpaced the field in qualifying. However, King was not to be denied carving out a place in JBT history. Kyle fired off the first ten strikes in the title game, and only a 2-5 denied him perfection in a 288-191 win over Entsminger for the title, the 25th of his JBT career.
There's just too many numbers to go through here, but some of the primary ones are as follows: the win was the fourth in a row (and fourth in nine days), tying Andrew Cain's all-time JBT record. The 25th win keeps him in 3rd place all time, and the nearly $1,800 he's earned in the last nine days puts him well over $25,000 in career JBT earnings. This was his 9th title of the season already (in 21 events bowled)... and, the guy is just 16 years old.
Thanks to Kim Shutts and everyone at Leisure for always making us feel welcome. Over $1,500 was awarded to juniors of all ages and averages- want in on the fun? Get yourself to the next JBT event!
Leisure Bowl (Sun.)- final results and optional scholarship winners
11/9/2008
NM-TX Conference
Scratch Division
rank
name
city, state
prize
1
Kyle King
Phoenix, AZ
$350
2
William Entsminger
El Paso, TX
$140
3
Allie Ijams
Flagstaff, AZ
$300
4
Diego Lucero
Santa Fe, NM
$40
5
Matt Helmick
Rio Rancho, NM
$30
6
Nick Lee
Tucson, AZ
$30
7
Dan Romero
Santa Fe, NM
8
Zach Barnard
Albuquerque, NM
9
Jason Schindwolf
Albuquerque, NM
10
Christina Waldron
Albuquerque, NM
11
Paul Carper
Rio Rancho, NM
$10
12
Nathan Shock
Thornton, CO
13
Ryan Scheer
Rio Rancho, NM
14
Jess Gagliardi
Alamosa, CO
15
Sara Vargas
Albuquerque, NM
16
Charlie Elliott
Santa Fe, NM
17
Billy Read
Albuquerque, NM
18
Tim Crites
Albuquerque, NM
19
Rebeca Reguero
Phoenix, AZ
20
Jacob Wright
Rio Rancho, NM
21
Thomas Gutierrez
Albuquerque, NM
22
Wendy Shelton
Albuquerque, NM
23
Jarrad Espinoza
Albuquerque, NM
24
Michael Call
Albuquerque, NM
25
Tevynn Laws
Albuquerque, NM
Handicap Division
rank
name
city, state
prize
1
Lacey Shelton
Albuquerque, NM
$215
2
Jordan Oppenheim
Rio Rancho, NM
$115
3
Justin Givler
Phoenix, AZ
$60
4
Jonah Seawright
Albuquerque, NM
$40
5
Santiago Withers
Albuquerque, NM
$30
6
Jacob Gill
Albuquerque, NM
$15
7
Andrew McKinsey
Rio Rancho, NM
8
Caleb Goehring
Amarillo, TX
9
Josh Shoup
Tolleson, AZ
$90
10
Marcos Armijo
Santa Fe, NM
$30
11
Sophie Diaz
Santa Fe, NM
12
Erick Aviva
Santa Fe, NM
13
Seth Jaramillo
Rio Rancho, NM
14
Roger Johnson
Albuquerque, NM
$15
15
Josh Barress
Albuquerque, NM
16
Mike Romero
Santa Fe, NM
17
Bailey McFarland
EL Paso, TX
18
Andrea Jaramillo
Santa Fe, NM
$30
19
Olivia Silva
Albuquerque, NM
20
Janeyl Carper
Rio Rancho, NM
$10
21
Angela Walls
Albuquerque, NM
22
Josh Helmick
Rio Rancho, NM
23
Karissa Tafoya
Phoenix, AZ
24
Taylor King
Phoenix, AZ
25
Susan Kurzeka
Albuquerque, NM
26
Tim Baribeau
Albuquerque, NM
27
Cyera Quintana
EL Paso, TX
28
Marina Stever
Mesa, AZ
29
Taylor Quintana
EL Paso, TX
30
Samantha McFarland
EL Paso, TX
31
Stephanie Barela
Santa Fe, NM
Scratch High Games:
King 288
Entsminger 276
Helmick 269
Entsminger 266
Entsminger 256
Handicap High Games:
Seawright 315
Goehring 293
Oppenheim 284
Withers 274
Shelton 273
Round Leaders (5 pts. Each)
Scratch
Handicap
1
King
Givler
2
Entsminger
Aviva
3
Entsminger
Givler
4
King
Seawright
5
Entsminger
R Johnson
6
Entsminger
Oppenheim
7
Entsminger
Oppenheim
8
Entsminger
Oppenheim
High Female:
Ijams 1101
Vargas 1060
Waldron 1006
Reguero 954
L Shelton 913
TOTAL AWARDED THIS EVENT: $1,550