OASIS LANES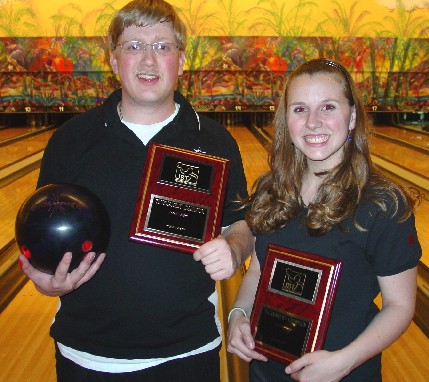 champs Nathan Shock and Angela Walls
Nathan Shock and Angela Walls captured their first JBT titles in exciting NM-TX Conference action at El Paso's Oasis Lanes.
Kyle King, who defeated Jess Gagliardi in a rolloff just to get to the finals, opened up the scratch division stepladder finals with a 211-199 win over Billy Read. King, in search of his 30th JBT title, then got by early leader Diego Lucero 205-164. In the semifinal match, King stopped Shock 206-183 to reach the title match.
In a match destined to eventually happen, Shock faced top seed William Entsminger for the title. William and Nathan are 1-2 in points this season, but neither bowler has ever won a JBT title, despite numerous opportunities and more than enough skills to do so. In a match that was, appropriately enough, tied after 7 frames, Shock had the stronger finish. His strike-spare in the tenth forced Entsminger to get all three strikes in his tenth frame to win, and it was not to be. Shock's 203-170 win earned him the oh-so-long-awaited first career JBT title.
Ryan Red opened up the handicap division stepladder finals with a 224-188 win over fellow first time finalist Nick Priddy. For his efforts, Ryan got to face his big brother next, but he was up to the task, defeating Roman Red 211-173. 7 year-old Nicklaus Myers, who finished the semifinals with a 195 scratch game (!), then defeated Red 241-198, advancing him to his first title match.
Top seed Angela Walls held off the hard-charging Myers by just 8 pins for the top seed, and the Albuquerque bowler was not only the only non El Paso bowler, but also the finalist with by far the most JBT experience. None of that bothered the talented Myers, but in the end, Angela used a good combination of good shots and good-carrying brooklyn hits to defeat Nick 251-187 for her first JBT title.
It should also be noted that although we are thrilled for Angela and Nathan for their wins, they also happen to be two of the best sports on our Tour as well, and it's nice when the nice guys (and gals) finish first.
Over $1,600 in scholarships were awarded to bowlers of all ages and averages. Want in on the fun? Come on down to the next JBT event, it's as simple as that!
Oasis Lanes- final results and optional scholarship winners
3/21/2009
NM-TX Conference
Scratch Division
rank
name
prize
1
Nathan Shock
$300
2
William Entsminger
$140
3
Kyle King
$100
4
Diego Lucero
$70
5
Billy Read
$90
6
Jess Gagliardi
$45
7
Dan Romero
8
Tomas Reyes
9
rebeca Reguero
$15
10
Wendy Shelton
11
Pablo Hererra
$15
12
Ian Meinke
13
Charlie Elliott
14
Tevynn Laws
15
Brandon Dye
16
Sam Zermeno
17
Nick Lee
18
Zach Barnard
19
Brandon Malacky
Handicap Division
rank
name
prize
1
Angela Walls
$200
2
Nicklaus Myers
$100
3
Ryan Red
$75
4
Roman Red
$60
5
Nick Priddy
$65
6
Bailey McFarland
$55
7
Andrew Cabello
$45
8
Kaitlynn McMurtrie
$55
9
Brandon Ginithan
$20
10
Dominic Cuomo
$15
11
Austin Masterson
12
Jeff Russell
$40
13
Taylor Masterson
14
Taylor Quintana
15
Lin Valdez
$15
16
Joleigh Murphy
$15
17
Andrew Esparza
$45
18
Ahkeen Williams
$50
19
Cody Franke
20
Samantha McFarland
21
Cyera Quintana
22
Lindsey Myers
23
Kristina Casaus
24
Krishawna Casaus
25
Jacob Gill
26
Terry Wade
27
Ryan Doan
28
Marina Stever
29
Steven Ray Estrada
$15
30
Aurora Popple
31
Mike Romero
32
Nick Wade
33
Priscilla Red
34
Joe Baldonado
35
Matthew Myers
36
Bryan Weatherly
37
Ryan Fast
38
Krista Casaus
$10
39
Adam Cabello
40
Kyla Casaus
$15
41
Stephanie Barela
42
Lacey Shelton
43
Amber Robinson
44
Tim Baribeau
45
Jonah Seawright
46
Dillon Bridge
47
Seth Jaramillo
48
Dallas Ehlert
49
Kara Casaus
Scratch High Games:
Romero 270
Shock 255
King 245
Shelton 244
Lucero 243
Handicap High Games:
N Myers 282
Walls 264
Walls 252
Andrew Cabello 250
Roman Red 250
Round Leaders (5 pts. Each)
Scratch
Handicap
1
King
Austin Masterson
2
Lucero
Williams / Murphy
3
Lucero
And. Cabello
4
Lucero
And. Cabello
5
Shock
Walls
6
Shock
Walls
7
Entsminger
Walls
8
Entsminger
Walls
High Female:
Walls 934
Shelton 921
Reguero 909
B McFarland 890
Stever 828
TOTAL AWARDED THIS EVENT: $1,680