OASIS LANES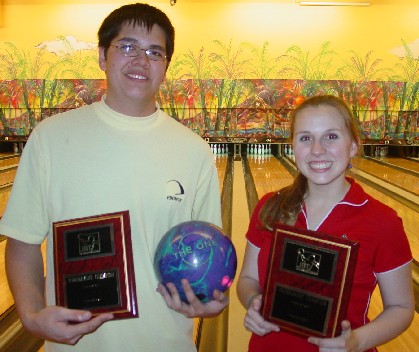 champs Nick Lee & Angela Walls
Nick Lee made a trip from Arizona well worth it, while Angela Walls completed a dream weekend, in exciting JBT NM-TX Conference action at El Paso's Oasis Lanes.
Diego Lucero opened up the scratch division of the stepladder finals with a 165-159 win over Jess Gagliardi. Diego then squeezed by good friend Dan Romero 202-191. Nick Lee, who had led until the final round of qualifying, then defeated Lucero 203-193, to reach the title match.
Top qualifier William Entsminger blasted a 276 to grab the lead away from Nicholas on a very demanding pattern on which no bowler was able to average 200. After a crushing lost to Nathan Shock the day before, William was looking to finally break through for an elusive first JBT title. However, late splits again proved costly to Entsminger, and a late double from Lee sealed a 192-163 win and his third career JBT title.
Dominic Cuomo opened the handicap division stepladder with a 207-189 win over Marina Stever. Joe Baldonado then defeated Cuomo 218-169, before Alyvia Quintana stopped Baldonado in a close match, 228-224, to advance to championship game.
Top seed Angela Walls had already had an amazing weekend, winning the previous day's event, and defeating Stever in the Women's Series finale. To polish off an unprecedented trifecta, she'd have to get by 6 year-old Quintana, one of a slew of younger bowlers who had very successful performances this weekend at Oasis. Despite a great effort from Alyvia, Angela just wouldn't back down, rolling her 3rd title match 200+ game of the weekend to win the game 238-206 for the doubleheader victory. The fantastic weekend also jumped Angela all the way to the handicap division points lead!
Thanks to the whole crew at Oasis for hosting our Tour over the weekend, which awarded over $3,000 in scholarships to juniors of all ages and averages. Want in on the fun? Come on down to the next JBT event, it's as simple as that!
Oasis Lanes- final results and optional scholarship winners
3/22/2009
NM-TX Conference
Scratch Division
rank
name
prize
1
Nick Lee
$360
2
William Entsminger
$115
3
Diego Lucero
$60
4
Dan Romero
$40
5
Jess Gagliardi
$40
6
Billy Read
7
Kyle King
$60
8
Tevynn Laws
9
Ian Meinke
10
Charlie Elliott
11
Rebeca Reguero
$15
12
Wendy Shelton
13
Zach Barnard
14
Nathan Shock
$10
Handicap Division
rank
name
prize
1
Angela Walls
$245
2
Alyvia Quintana
$100
3
Joe Baldonado
$60
4
Dominic Cuomo
$70
5
Marina Stever
$45
6
Aurora Popple
7
Kaitlynn McMurtrie
$15
8
Andrew Esparza
$15
9
Amber Robinson
$30
10
Kristina Casaus
11
Steven Ray Estrada
12
Samantha McFarland
13
Kyla Casaus
14
Brandon Dye
$15
15
Taylor Quintana
16
JoLeigh Murphy
$15
17
Krishawna Casaus
18
Priscilla Red
19
Sam Zermeno
20
Jeff Russell
21
Austin Masterson
22
Bailey McFarland
23
Cyera Quintana
24
Nick Priddy
25
Krista Casaus
26
Kara Casaus
27
Mike Romero
28
Alyssa Williams
$5
29
Ahkeen Williams
30
Lacey Shelton
31
Jonah Seawright
32
Ryan Doan
33
Jacob Gill
34
Cody Franke
35
Tim Baribeau
36
Taylor Masterson
37
Seth Jaramillo
Scratch High Games:
Entsminger 276
Gagliardi 245
Meinke 240
Entsminger 226
Lucero 225
Handicap High Games:
Walls 267
Walls 259
Estarada 256
Cuomo 249
Zermeno 248
Round Leaders (5 pts. Each)
Scratch
Handicap
1
Lee
Cuomo / A Qintana
2
Lee
Cuomo
3
Lee
A Quintana
4
Lee
A Quintana
5
Lee
Walls
6
Lee
Walls
7
Lee
Walls
8
Entsminger
Walls
High Female:
Stever 928
Walls 925
Robinson 885
Shelton 829
Reguero 829
TOTAL AWARDED THIS EVENT: $1,335