PACIFIC NORTHWEST INVITATIONAL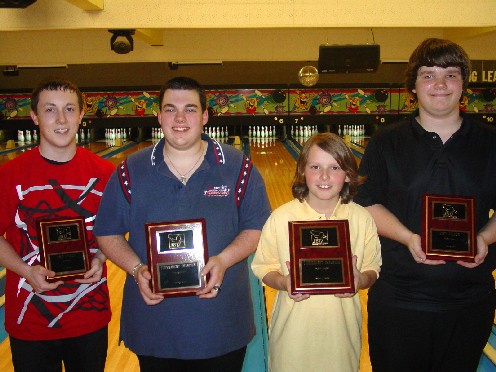 champs Josh Jackson & Zane Hays (center), flanked by runners-up Patrick Hickok & Evan Pendergraft
Josh Jackson and Zane Hays captured $1,000 scholarships each as champions of the JBT Pacific Northwest Invitational tournament, hosted by Husted's Hazel Dell Lanes. Over $7,000 total was awarded to the 71-bowler field of qualifiers from three states.
The bowlers were challenged with a 5-game qualifying block on the demanding PBA chameleon pattern, putting an emphasis on shotmaking and spares for both divisions. Five each division earned exemptions into the 16-person finals based on their season-long performance, and they proved to be valuable as 6 of the 10 would have missed their respective cuts otherwise. The top five 5-game scores plus the next 11 qualifiers advanced to 2-game total pinfall matches. Scratch division top seed Josh Jackson, the only bowler to average over 200 in the qualifier, opened the round of 8 with a 357-314 win over #8 Ray Nugent. Also in that round, #2 Patrick Hickok beat #7 Justin David 375-295, #3 Jordan Yoke ousted #13 Tristan Curtis 419-393, and #5 Jordan Plunkett eliminated #4 Daniel Carroll 361-330.
In the semifinal matches, Hickok eliminated Yoke 410-384, while Jackson ousted Plunkett 431-417, although Plunkett's strong weekend jumped him over 3-time winner Cameron Weier for the points title. In the title match, Hickok, in his first title match since October of 2007, struggled while Jackson maintained the same dominance he had all day long to build a 70-pin cushion that Patrick would not be able to recover from. In the end, the determined Jackson beat Hickok 412-308 for his 2nd career title. With brackets, Josh earned $1,135 in scholarships on the day, while runner-up Hickok was compensated handsomely with a $500 scholarship windfall.
Evan Pendergraft, who only qualified for the Invitational with a top-5 performance the day before at Kellogg, grabbed the top seed for the 16-person finals, and won his round of 8 match against previous day's champ Kelsey Abrahamsen 441-428 to advance. Also winning that round were #4 Kyle Jonas, beating #5 Cody Nelson 437-385; #2 Kyle Hays with a 362-328 decision over #7 Ryan Laird; and #12 Zane Hays, who upset #3 Janai Romanoff 414-366.
Pendergraft eliminated Jonas in one semifinal match, while fate conspired to have the Hays brothers play each other in the other semi, with younger brother Zane beating Kyle to advance to the title match. Matchplay rounds are often all about momentum, and Zane had all of it in the finals against Evan, having rolled the high game of his LIFE in an earlier match. So what could he have left for an encore? How about breaking his lifetime high AGAIN in the second game of the finals with a 167 scratch game, wrapping up a 445-389 win for his first career JBT title and the $1,000 scholarship bonus, while Pendergraft finished up a fine weekend with a $500 runner-up prize.
Thomas Nute's 9th place finish was just enough to vault him past Ryan Gallagher, who grabbed the points lead the previous day, for the season long handicap points championship. Points are one of the six statistical factors weighed in our GoWireless JBT Bowler of the Year races.
All sixteen finalists received a minimum $50 scholarship, and the top 20 point scorers now advance to the 2009 Touring Players Championship, which features the best of the best from all six JBT Conferences competing for a $2,000 top scholarship prize. Thanks to the great crew at Hazel Dell for a top notch job hosting the Pac NW's most prestigious JBT event. Want in on the best junior bowling fun, scholarships, and excitement for all ages and averages? Then come on out for the 2009-10 JBT season, beginning in August, with events to be announced soon!
Pac NW Invitational- final results and optional scholarship winners
5/10/2009
Pacific Northwest Conference
Scratch Division
rank
name
prize
1
Josh Jackson
$1,135
2
Patrick Hickok
$530
3
Jordan Yoke
$310
4
Jordan Plunkett
$310
5
Daniel Carroll
$150
6
Justin David
$100
7
Ray Nugent
$75
8
Tristan Curtis
$75
9
Cameron Weier
$285
10
Marshall Kent
$125
11
Tyler Cruz
$130
12
Lucas Stone
$110
13
Matt Matias
$50
14
Brandon Dunson
$50
15
Brandon Nylund
$50
16
Anthony Douglas
$50
17
Sam Parks
18
Chris Kirk
19
Jeremy Witt
20
Rachel Kreighbaum
21
Chelsea Lynch
22
Sarah Boe
23
Cody Stone
24
Catherine Rawsthorne
$5
25
Eddy Smith
26
Nick Bachteler
27
Perry Crowell IV
28
Shay Thompson
29
Ryan Showalter
$10
30
Nick Stone
31
Todd Hopfner
32
Katie Beismann
33
Eryk Jensen
34
Makayla Douglas
Handicap Division
rank
name
prize
1
Zane Hays
$1,000
2
Evan Pendergraft
$530
3
Kyle Hays
$375
4
Kyle Jonas
$200
5
Janai Romanoff
$150
6
Cody Nelson
$100
7
Ryan Laird
$150
8
Kelsey Abrahamsen
$100
9
Thomas Nute
$220
10
Tyler Boe
$155
11
Thomas Nylund
$100
12
Ryan Gallagher
$200
13
Brittany Arndt
$50
14
Jordan Romanoff
$50
15
Max Polhill
$120
16
Max Cooper
$65
17
Andrew Heritage
$30
18
Bri Hemming
$10
19
Leslie Strong
$30
20
Connor Gracia
21
Ryan Nikolas
$15
22
Courtney Nikolas
23
Krissy Nagasawa
24
Zach Hemming
25
Tanner Clemens
26
Sam Burns
27
Nathan Coigny
28
Ashton Coigny
29
Jessica Bubnich
30
Marina Stever
31
Matt Shaw
32
Greg Lawrence
33
Aaron Waterman
34
Kevin Harja
35
Andy Herrmann
36
Travis McAllister
Scratch High Games:
Hickok 264
Yoke 263
Dunson 255
Plunkett 237
Carroll 235
Handicap High Games:
Z Hays 246
Heritage 245
Z Hays 243
K Hays 234
Pendergraft 227
Round Leaders (5 pts. Each)
Scratch
Handicap
Jackson
Pendergraft
Jackson
Pendergraft
Jackson
Pendergraft
Jackson
Pendergraft
Jackson
Pendergraft
High Female:
Kreighbaum 884
Lynch 878
Sboe 872
Rawsthorne 846
C Nikolas 800
TOTAL AWARDED THIS EVENT: $7,100